Kettlebell Circuit Workout
Hi friends! How's the day going? Hope your morning has been lovely so far. <3 I'm a little later posting today -did get some Livi-isms up on the Family page- because I had an appointment and hit up the gym for an easy run. Now it's time for a workout post–a kettlebell circuit workout!
But before that, I've gotta share my current snack fave: chia pudding! I make it with almond milk, cinnamon, and top with any fruit we have in the house. So so good! (PS Emily has an awesome tutorial here if you want to make a big batch for the week.)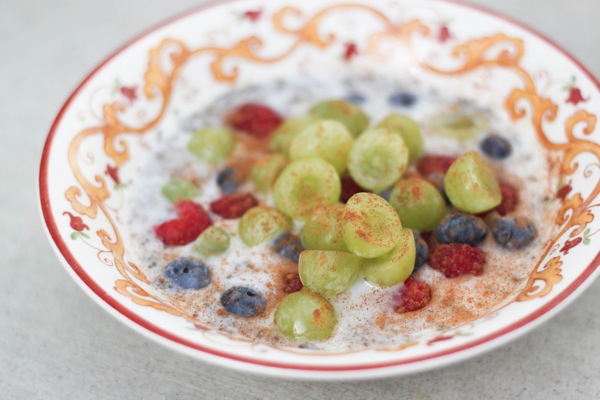 So, as I was saying, today I have a fun new circuit workout to share, that uses one of my favorite pieces of strength equipment: the kettlebell.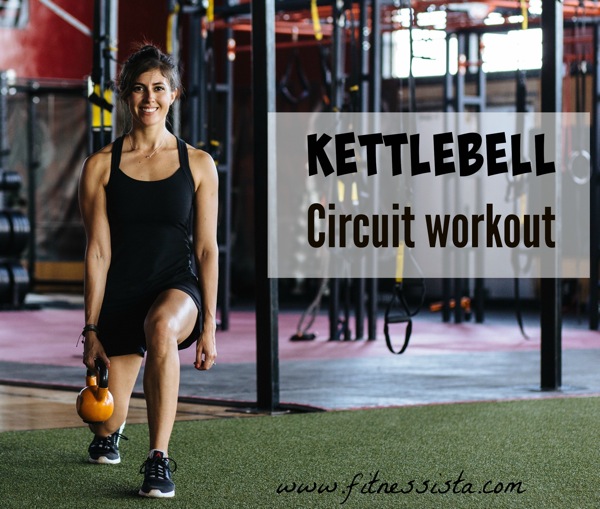 When I first started experimenting with the kettlebell, I thought it would be just like a dumbbell. WRONG. The center of gravity is different (the "bell" is weighted, while the handle is light), so you have to utilize your core to create movement with the bell -it seems to want to pull you back to where you started- and is especially beneficial for cardio blasts, like kettlebell swings. I would love to explore a kettlebell specialty certification in the future, but have been able to build up an arsenal of exercises from workshops and fellow instructors. (For a fantastic workout from my friend Brittany, check out this post!)
Here's a circuit-style kettlebell workout that includes some of my very favorite moves. For this one, you'll want to warm up for about 5-7 minutes with moderate cardio and then move through the exercises quickly, with little to no rest in between. When you complete the circuit, take a one-minute recovery, and then repeat up to two more times.
Kettlebell Circuit Workout

Some form cues and tips:
1) Kettlebell swing: ground into your feet and stand hip-width apart. Hold the kettlebell in between your knees and start to gently swing it so you can gain some momentum. When you're ready, power through your hips, glutes and core to swing the weight up to shoulder height, then bend your knees, swinging it back to start. Remember that you are NOT using your arms to lift the weight; this is pure glute and core power. Every time the weight goes up, make sure you're strongly exhaling.
2) Squat to upright row: place your feet under your hips and hold the kettlebell in one hand. Keep a lifted chest as you sink your hips back and down into a squat (weight in your heels) and lower the kettlebell towards the floor. As you rise from your squat, lift up from your elbow (keeping your shoulder pulled down) into an upright row. Repeat on the opposite side after finishing your set for this arm.
3) Lunge: step one foot forward and the other foot back, keeping your feet hip-width apart. Whatever leg is forward, hold the kettlebell in the opposite hand. Keep your core tight and chest lifted as you lunge and lower your back knee towards the floor (without touching it). After your reps one side are finished, complete on the opposite side.
4) Single leg row: step one foot forward and one foot back, keeping legs hip-width apart. Hinge forward from your hips, and bring all of your weight into the front leg to carefully lift your back leg off the floor. Whatever leg is lifted, be sure to keep that hip pointing DOWN, so your hips remain parallel to the floor. Holding the kettlebell just below your shoulder, exhale and squeeze your back to row. Lower and repeat on the opposite side after all reps on one side are completed.
5) Kettlebell clean and press: here's a great video tutorial.
6) Twist: hold the kettlebell with both hands, elbows wide, and sit on the floor with your ankles crossed. Lean back slightly, keeping a straight spine and use your core to lift your feet off the floor. Contract through your obliques, and exhale as you rotate side to side.
Let me know if you give this kettlebell circuit workout a try!
Do you work out with kettlebells? If so, what's your favorite exercise? Current snack obsession? 🙂
xoxo
Gina
All photos by Danny Chan
More kettlebell workouts: