Hi! Happy Monday! Hope you're having a wonderful morning and enjoyed a relaxing weekend.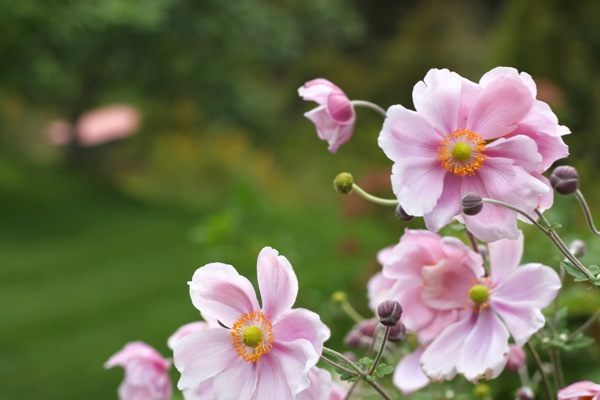 Mine included a traveling day to get home to my favorite people.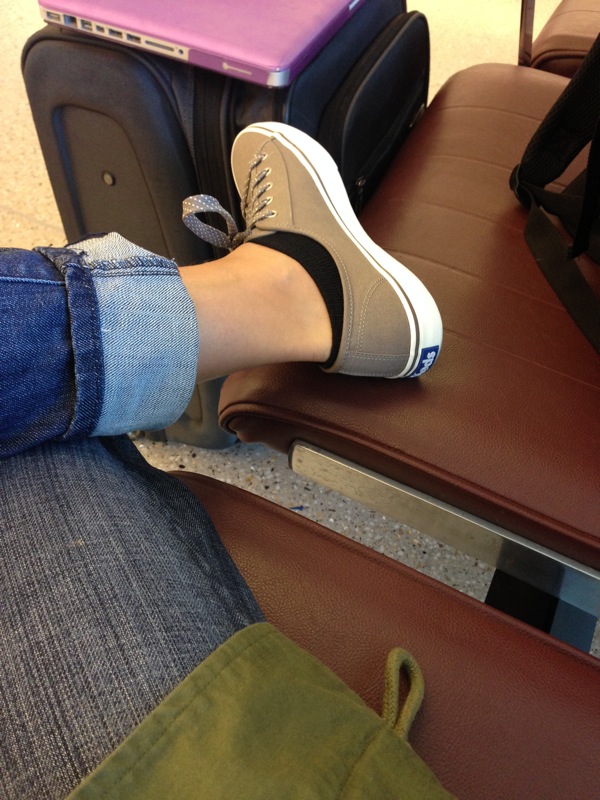 We even had packed snacks (energy balls -recipe is below!- salad, and trail mix) to enjoy at the airport; far more delicious than most airport food I've seen.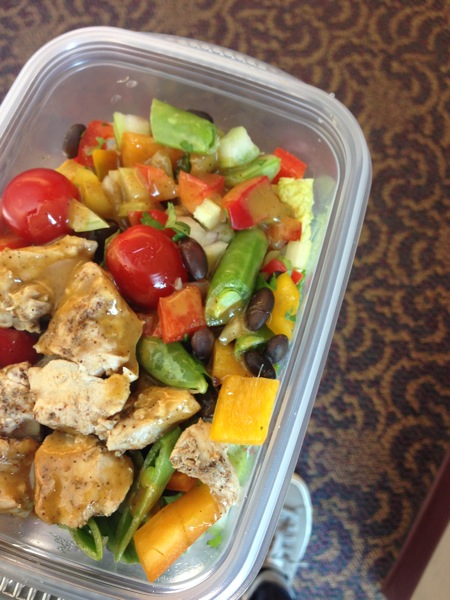 (salad with every chopped veggie under the sun, grilled chicken, black beans and a spicy almond butter vinaigrette)
I've mentioned this many times on the blog before, but I'm not a fan of flying, which is kind of hilarious because of that one thing my husband does for a living. However, this time, I checked my anxiety at the door. We had a some turbulence, but I just thought of how excited I was to be going home. I read trashy tabloid magazines and finished #GIRLBOSS, which was fantastic.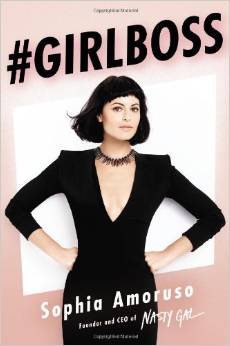 (Source)
Liv ended up getting sick towards the end of the week, so she and the Pilot hung out around the house so she could get lots of rest. Thankfully she's feeling much better, but we're still keeping it low-key since too much activity gets the cough monster going. Tom joked that it was going to be like keeping lightning in a jar; she has so much energy she wants to use (and run, and dance, and spin!), but we've been trying to convince her to chill for a couple more days. Trying is the key word.
Workout-wise, I hit up the gym for a little BODYPUMP practice and treadmill intervals before leaving, and took a much-needed off day yesterday. I'm excited to get back in the Zumba, spin, BODYPUMP, barre swing of things this week.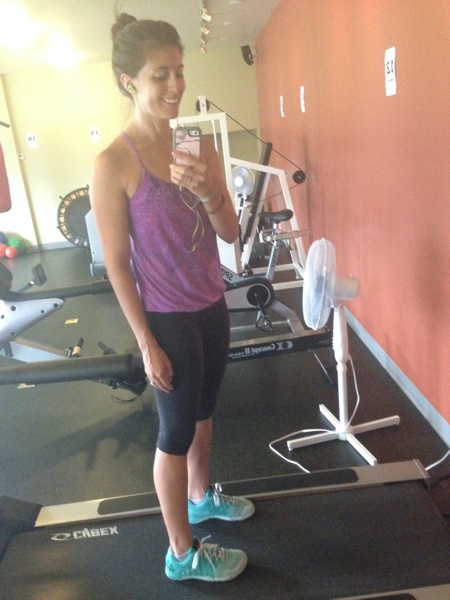 After last week's vacation (and awesome healthy eats), I felt inspired to prep a variety of snacks and staples to have on hand.
I set the timer for an hour during naptime, and cranked out:
Chopped veggies for salads (bell pepper, cucumber, snap peas, onion)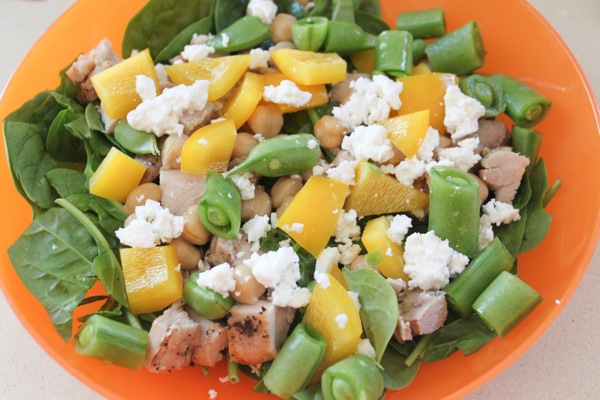 chopped veggies for dipping,
roasted chicken breasts: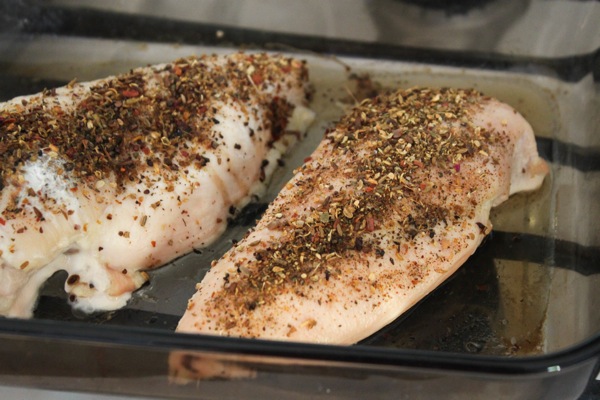 (with a spicy rub: coriander, oregano, cumin, smoked paprika, salt, pepper and red pepper flakes)
salad dressing,
and energy balls!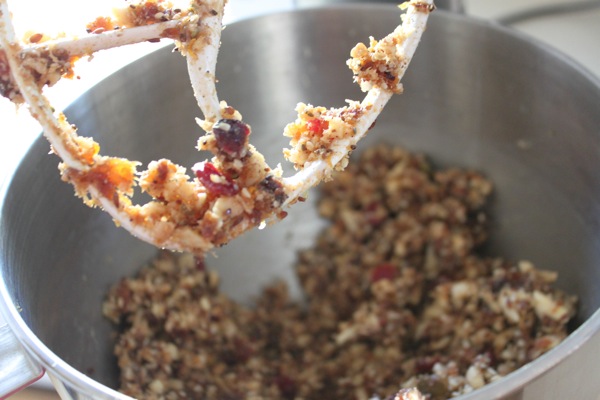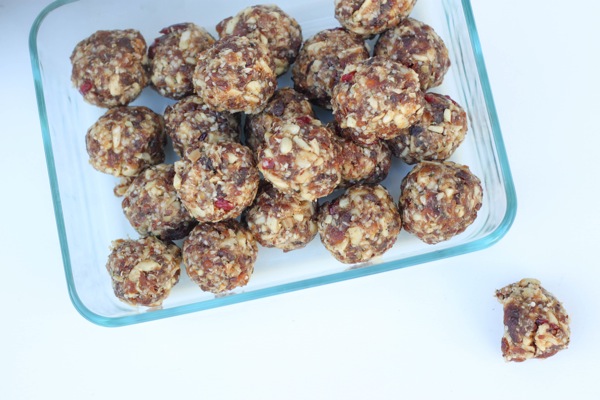 Here's the recipe if you'd like to give them a try. These are a little different than the standard amazeball (even though it's definitely the season for pumpkin!), and have a light sweetness + awesome spice kick. With the spices, they kind of taste like Christmas in ball form. You'll know what I mean.
I doubled the recipe have plenty to last the week, but Liv and I have already had a head start 😉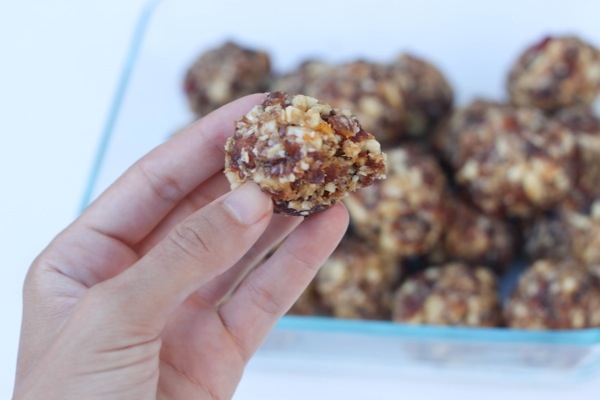 Bliss balls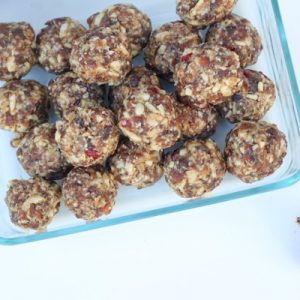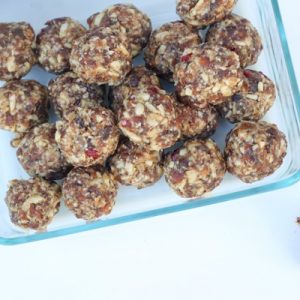 A gluten-free and vegan snack option. Perfect for on-the-go snacking! I suggest doubling the recipe.
Prep Time:

10

Total Time:

10
1/2 cup

slivered almonds

1/4 cup

chopped walnuts

2 tablespoons

hemp seeds

1/4 cup

nut butter (I used Nuttzo peanut-free)

1 cup

chopped dried apricots

1/2 cup

dried unsweetened coconut

2 tablespoons

dried cranberries
pinch of sea salt

1 teaspoon

vanilla

1/2 teaspoon

cinnamon

1/4 teaspoon

pumpkin pie spice
zest of

one

orange
Orange juice to moisten as needed

1/4 cup

pure maple syrup
Instructions
1. In a food processor, combine the nuts and apricots. Pulse to chop well.
2. Add in the remaining ingredients and pulse until a dough forms. Add more orange juice to moisture the mixture as needed.
3. Using a melon ball scooper or tablespoon, scoop the dough and roll each ball with your hands until smooth.
4. Store covered in the fridge.
Notes
If doubling the recipe, you may have to transfer the mixture to a separate bowl after pulsing to chop. Use a large spatula or wooden spoon to stir everything together.
Feel free to substitute any nuts or dried fruit you enjoy! I recommend keeping the apricots -or using medjool dates instead of the apricots if you need to substitute- to keep the texture intact.
Hope you have a very happy Monday <3 See ya later today!
xoxo
Gina