Malted Chocolate Chia Pudding
Hello! Hope you're having a wonderful day 😀
When I woke up this morning, the car bomb cupcakes and frosting were tempting me with their deliciousness.
I withheld from diving in –the fact that they include alcohol and it was 7:30AM helped- and decided to make something equally decadent:
Malted Chocolate Chia Pudding

-1/4 cup chia seeds

-3/4 cup almond milk

-1.5 packs of Stevia

-sprinkle of cinnamon

-1 t raw cacao powder

-1 t maca powder (optional, but gives it a nice malted taste)

-1 t vanilla extract

-pinch of sea salt

Whisk all ingredients thoroughly, so that the dry ingredients are fully absorbed by the almond milk.

Place into the fridge for 10 minutes to allow chia seeds to gelatinize.

Top with whatever you're feelin' (I used a sliced banana and a T of almond butter; strawberries, goji berries or orange slices would be lovely, too)

Feast 😀

© 2009 The Fitnessista
It was a glorious bfast that I followed with an even more glorious yoga practice. I heated the yoga room up to 90* with the trusty space heater, and while it got nice and roasty in there, I made some batter for Spicoli burgers (from Eat, Drink and Be Vegan)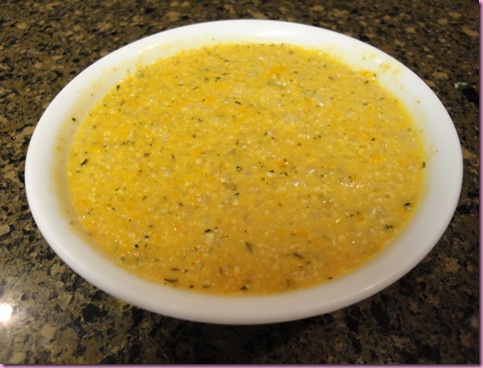 I halved the mixture, stuck in the the fridge to harden, then went upstairs to flow my little heart out. Today's podcast of choice was a 60 minute yoga podcast from Yoga to the People (the one by Greg on 2/10/2009). A few readers had suggested this podcast to me (thank you!!!) and I LOVED it. No mindless chatter, and I was focused, sweating like a monkey and muy contenta when it was over.
Lunch time: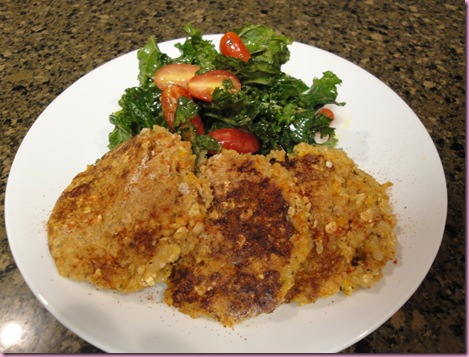 Spicoli Burgers (brown rice, bell pepper, onion, garlic, mustard, ketchup, nama shoyu, oregano, thyme and savory) with a massaged kale salad (Glory, grape tomatoes, lemon juice, sea salt, nama shoyu and Goddess dressing)
When I say "Glory", I'm being serious: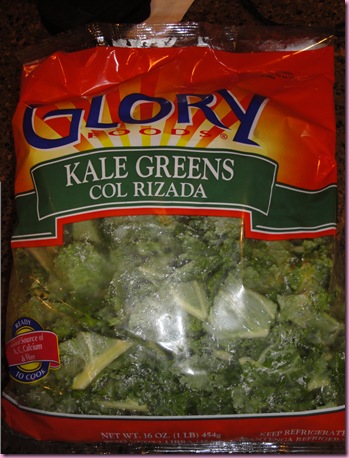 (They don't sell organic kale anywhere in Valdosta and I forgot to smuggle some from Florida. So I'm rolling with "Glory" for now)
I ended up losing a burger because it oozed and splattered everywhere, but the three I did have were fan-freaking-tastic. I'm convinced that Eat, Drink and Be Vegan can do no wrong.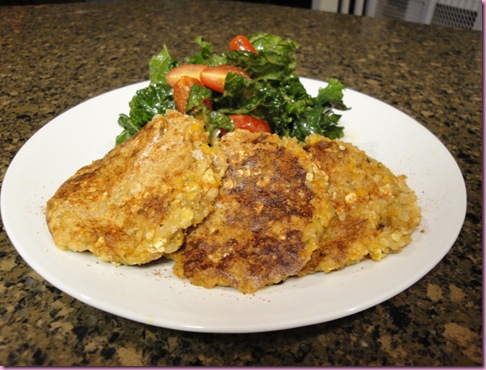 I'm gonna take these puppers on a short walk and then head to work, where I'll be spending the afternoon making orientation phone calls and booking appointments before I hop on the Revolving Apparatus of Death. 😉
Have a great day and I'll see ya tonight after the romantic dinner I owe the pilot 🙂
xoxo,
Gina
Something to think: Greg read this quote at the end of today's yoga podcast and it really struck a chord with me. Just thought I'd share:
"I am an excitable person who only understands life lyrically, musically, in whom feelings are much stronger as reason.

I am so thirsty for the marvelous that only the marvelous has power over me.

Anything I can not transform into something marvelous, I let go.

Reality doesn't impress me.

I only believe in intoxication, in ecstasy, and when ordinary life shackles me, I escape, one way or another.

No more walls."

— Anaïs Nin