of my "old" age! (as my little nana always says)
That's right peeps, I turn the big 2-5 tomorrow. Even though I joke about the quarter life crisis, I'm actually pretty excited. 25 has always sounded like a nice age to me… even though it's all down hill from there 😉
So I started the last day of my old age with some crazy oats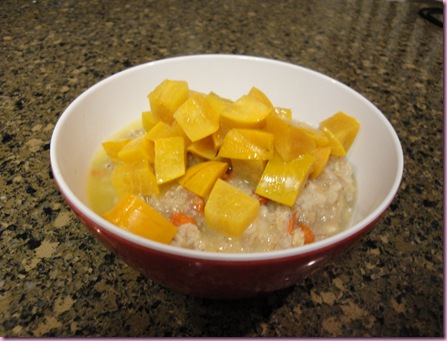 2/3 C multigrain oats and a palm full of goji berries with a smashed nanner added in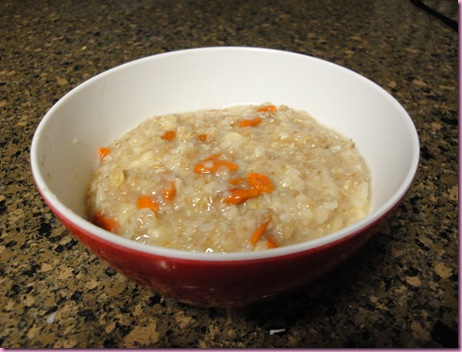 With Stevia, cinnamon, vanilla and a "baked" persimmon that I nuked in the microwave for 1 minute with Earth Balance and cinnamon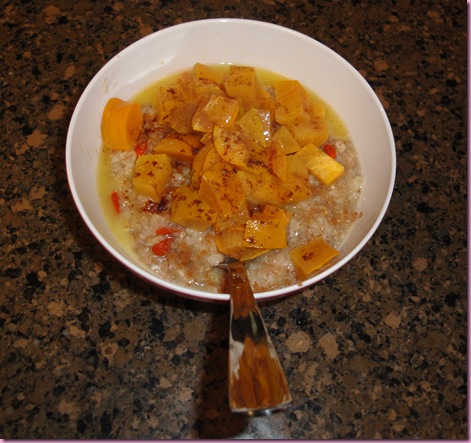 Not too shabby 😀
For dinner last night, I finally make the pilot the Chicken Cordon Bleu he had been hankering for: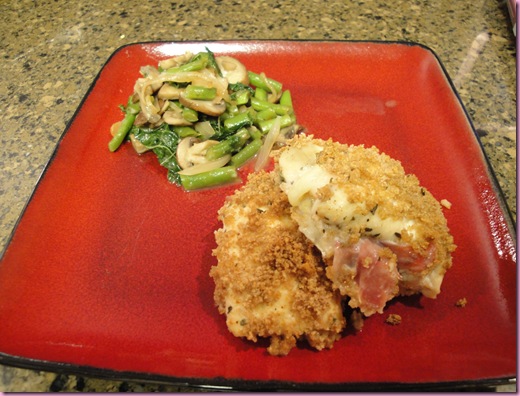 I followed the recipe exactly, the only difference was that I used whole wheat panko for the bread crumbs. (He also had a baked potato that hadn't finished cooking by the time I left for work)
Served with some of Giada's Spicy Parmesean Green Beans and Kale(with goat gouda in lieu of the parmesean, veggie broth instead of white wine, and baby bella mushrooms instead of cremini)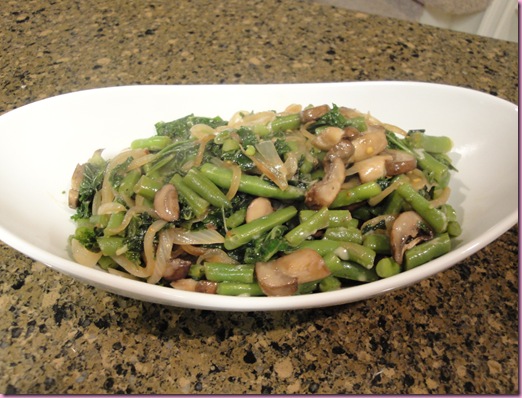 I wasn't too hungry since I was a snack machine during the day and had a large-ish lonchi, but I did serve myself a big bowl of veggies before heading back to the gym for training appointments and did an hour of hill walking with a magazine 😀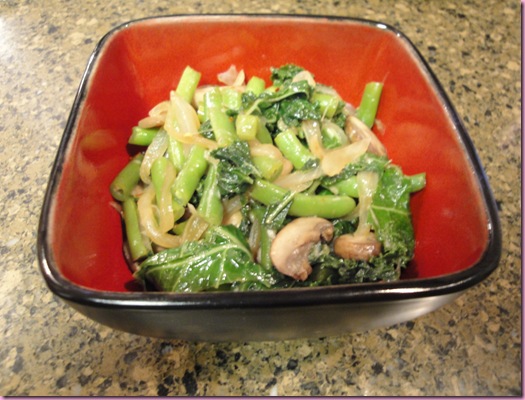 When I got back to the casa, I may or may not have taken an Irish car bomb shot with the pilot (he's a drink bully! Haha) and then had one of my favorite desserts of all time.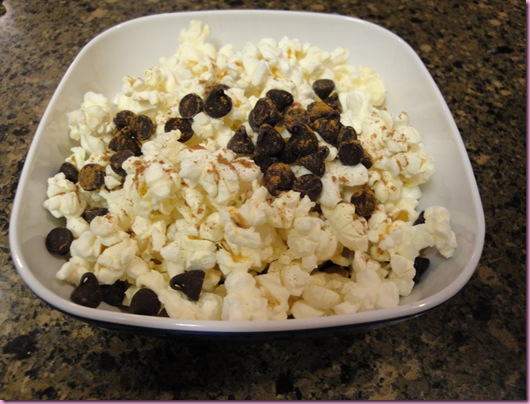 Plain organic popcorn popped in the microwave in a paper bag, topped with cinnamon and vegan chocolate chips.
A side of Biggest Loser and my (other) man singing to me on DWTS 😉
(Said beefcake comes in at 5:15)
Well I'm off to do some pre-celebrating, which in this town includes going to Wizzle (aka Wal-Mart), health food store, doing some laundry and heading to work. Party animal 😉 I think I need some Indian food tonight!
See ya later, lovely bloggies <3
xoxo,
Gina
Something to do: Meet me back here later for an amazing giveaway! 😀