Chocolate cupcakes with Irish cream frosting
Hey bloggies 😀 How's your night going?? Mine is bueno because I'm chilling here on the couch with the pilot 😀 Life is back to the way I like it 🙂
I do have to say that the Irish cream cupcakes were a success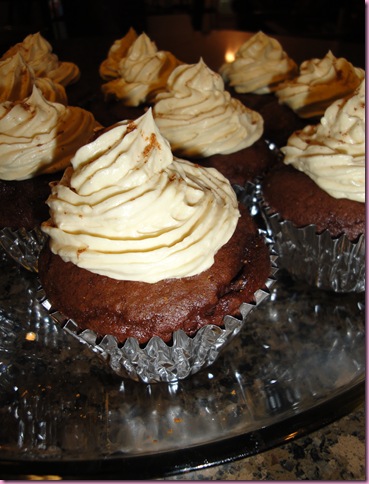 More on that in a second 😉
So this morning, I met up with Jeni at the gym to pump some crazy iron
Here's what we did:
| | | |
| --- | --- | --- |
| Warm up | Elliptical | 5 minutes |
| Dumbbell upward rows | 8 lbs each | 3 sets of 12 |
| Supine triceps extension | 5 lbs each | 3 sets of 12 |
| Stability ball push up | Body weight | 3 sets of 10 |
| Double arm dumbbell raise | 10 lbs | 3 sets of 12 |
| Cable OH tricep extension | 35 lbs | 3 sets of 12 |
| Vertical chest press machine | 35 lbs | 3 sets of 12 |
| Elliptical | 10 mins | |
| Total time: 1 hr | | |
After the gym, I hit up Publizzle for cupcake supplies and the liquor store for the rest of the goods. Not gonna lie, I felt like an alchy strolling around in there at noon. But you gotta do what you gotta do 😉
Cupcake supplies: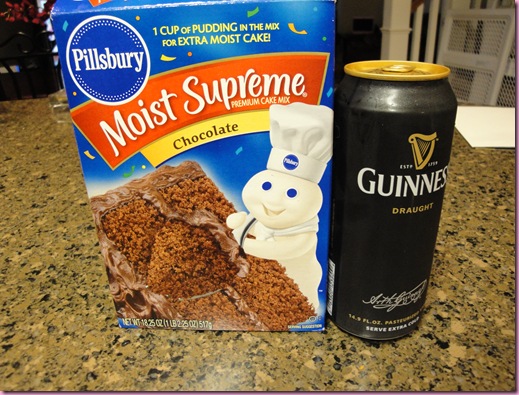 (Not including the industrial sized bottle of Baileys… muahaha)
Yes, I used box mix. Usually I'm a little Betty Crocker and make everything from scratch, but today was a little frantic and I truly think boxed cake mix tastes wonderful. So instead of being Betty Crocker, I was Mrs. Pillsbury today 😉
To the mix I added:
-Guinness instead of water
-Sour cream instead of oil
-3 organic eggs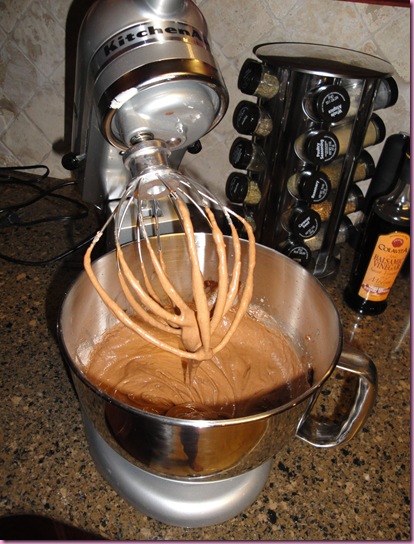 They came out pretty nicely: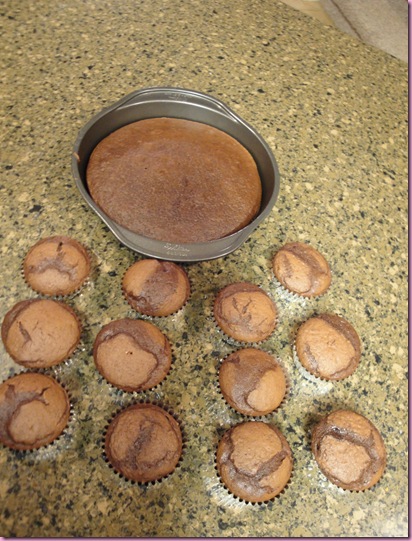 12 glorious Guinness cupcakes and a thin mini cake with the extra batter (I'll cut it into fourths later and make a big "cake piece" out of it for the pilot)
While those were cooling, I got to work on the Baileys frosting.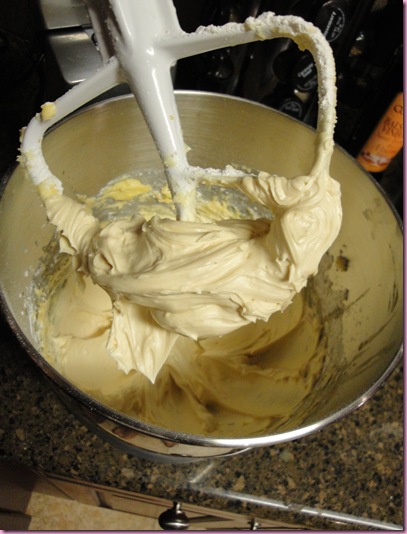 In the mixer, I whipped up 2 sticks of room temperature unsalted organic butter. Then I added organic powdered sugar a tablespoon at a time, then drizzled in 1/4 C of Baileys (creamy beige). (I love how I use chemical laden boxed mixed with all organic frosting ingredients. Balance, right?? Haha)
Then it was decorating time!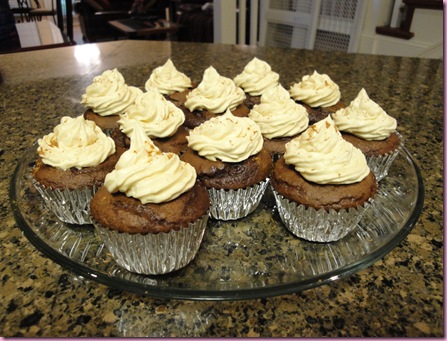 Mmmmmmmm
Don't you just want to dive in???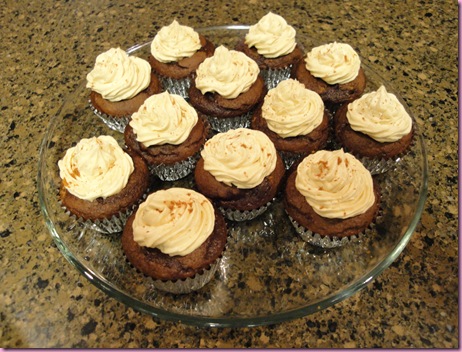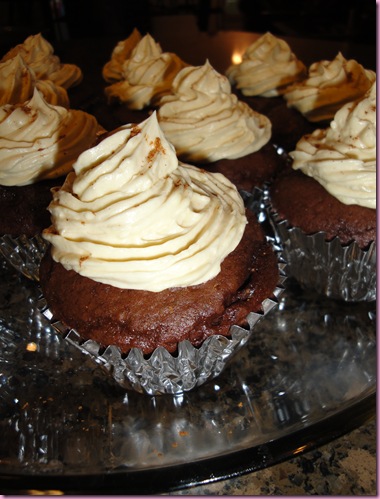 The pilot was a happy kid 😀 So was I—I definitely had a few bites 🙂 I LOVE me some Baileys.
Lunch was three parts:
1.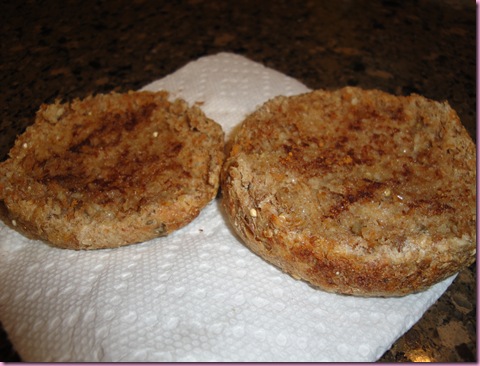 2.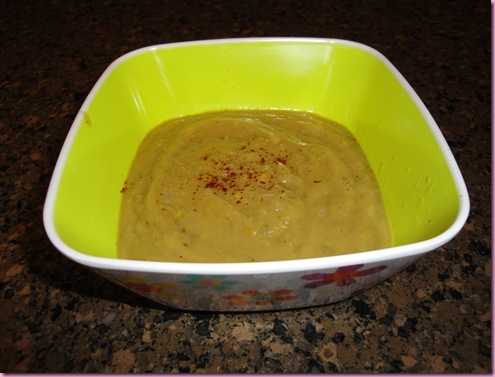 3.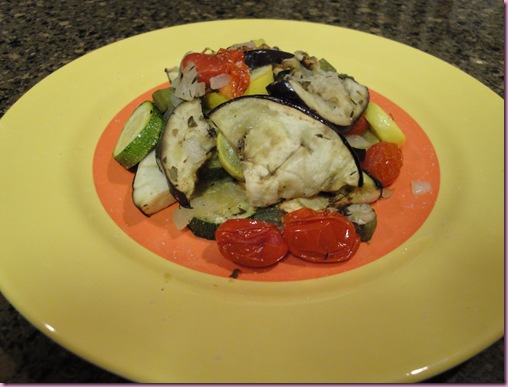 After I finished the cupcakes, it was time for Zumba, which was such a blasty tonight!
Here's the playlist I used: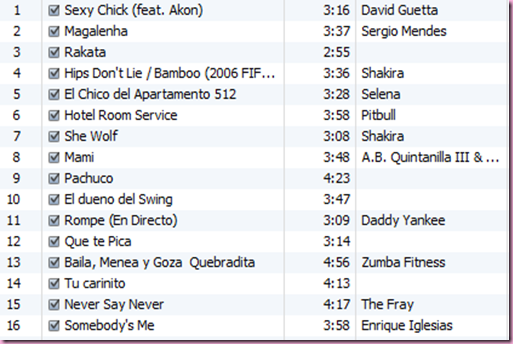 I'm really stoked for December's Zumba workshop—I need some new music in my life. And some cute Zumba pants 🙂
Something exciting: I got asked to teach a Zumba class in Nashville. (Not sure of the details yet, but when I find out, I'll definitely let the Nashville bloggies know!) Heaby, I might finally get to visit and take yoga with you!
By the time we got home from the gym, it was already late and we realized that dinner wouldn't be done until around 9:30. So the pilot is eating take-out because he was starving and my dinner is in the oven. Romantic dinner will have to wait until tomorrow :/
Well I'm off to make a salad beast 🙂
Have a wonderful night!
Much love,
Gina