Stability ball strength workout
Hellooooo. How's the day going?? So happy you liked the Mexican pizza recipe. I had no idea it was a *thing* until the Pilot told me about it. Looks like I've been missing out!
Today I have a new workout to share with you, utilizing one of my favorite inexpensive gym tools: the stability ball. (Check out my Focus Post on it here, and this post with a ton of exercises you can do with it!)
Since ACOG recommends skipping supine and prone exercises after the first trimester, I've been using the stability ball instead of an incline bench. It allows me to still gently work my core to stabilize during the exercises, and avoids pressure on the inferior vena cava (the large vein that carries blood back to the heart from the feet and legs). Something to keep in mind if you are expecting: the stability ball requires balance and stabilization to avoid toppling over. If you feel like your balance is off, you can use the incline bench instead of the stability ball.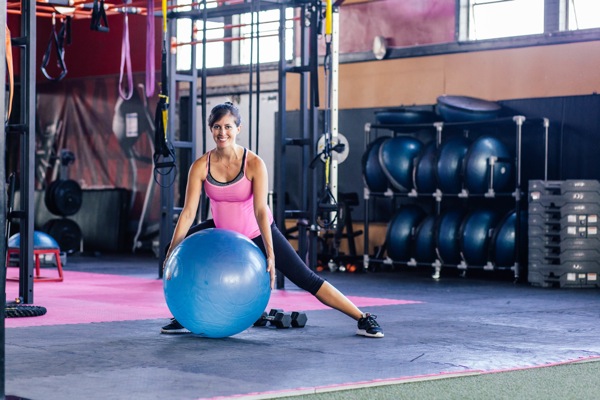 As always, talk with a doc before making any fitness or nutrition changes. Honor your body and modify as needed.
Here's the workout!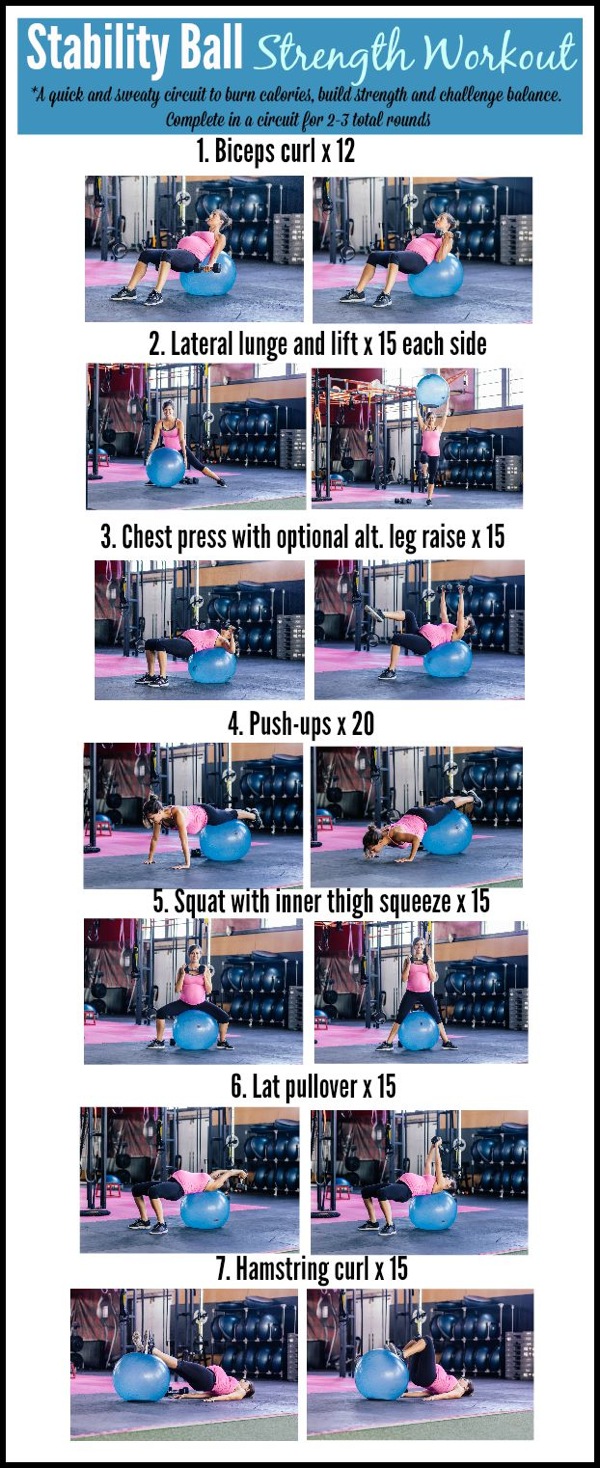 Form cues and tips:
1) Biceps curl: have a seat on the ball and start to walk your feet out to bring your upper back into a comfortable position. Lower the weights down completely and perform your biceps curl here, keeping your elbows close to your torso.
2) Lateral lunge and lift: holding the ball, take a big step out to one side, tapping the ball to the floor and bending the outside knee (make sure your toes are angled out). Think about sitting your hips back as you lunge. As you step back to center, press the ball up overhead.
3) Chest press with optional leg raise: lie back onto the ball and bring your elbows out to a 90 degree angle. As you press the weights in towards each other, engage your core to lift one leg off the floor. This is a tricky one! Try on a stable surface like an incline bench before you try it on the ball.
4) Push-ups: bring the ball in front of you and walk your hands out so your thighs or shins are on the ball, and hands are firmly planted on the floor. The closer the ball is to your ankles, the more challenging it will be. Bend your elbows 90 degrees out to lower your chest towards the floor. Exhale and squeeze your chest to rise.
5) Squat with inner thigh squeeze: step your feet outside the ball, and you have the option to add extra resistance by holding a dumbbell or medicine ball at your chest. Angle your toes out 45 degrees and keep your chest lifted with shoulders down and core engaged. Bend your knees out to gently sit on the ball. As you rise, squeeze the ball with your inner thighs.
6) Lat pullover: lie onto the ball, bringing your upper back onto the ball and your hips lifted so your spine is straight. With slightly bent arms, hold onto the dumbbell and lower it back in line with your head. Exhale to bring it back up (over your chest), keeping your arms almost straight the entire time.
7) Hamstring curl: lie onto your back and place your feet on the ball. Engage your glutes to lift your hips off the floor. Bend your knees to bring your heels towards your glutes before extending your legs back out. Keep your hips lifted the entire time. For a challenge: try one leg at a time.
I recommend completing this workout circuit-style, moving quickly from one exercise to the next to keep the heart rate elevated (and burn more calories). Complete the entire circuit up to 3 times total.
Let me know if you give it a try!!
What's your favorite stability ball exercise? What gym equipment do you use the most? I have been all about the TRX and kettlebells lately.
xoxo
Gina
Photos by Danny Chan
Stability ball workout videos here and here.