Hey hey hey 😀 How are ya? Thanks so much for the scallop tips!
I was soooo nervous to cook them up…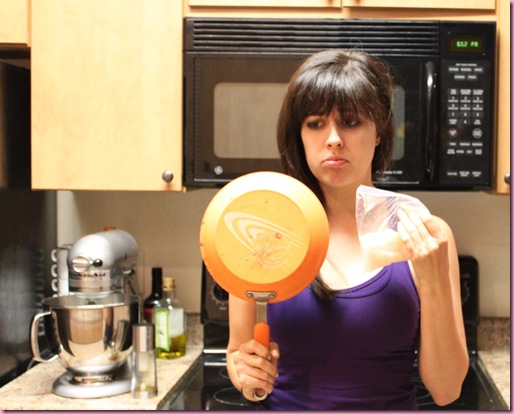 but used your advice and they came out beautifully!!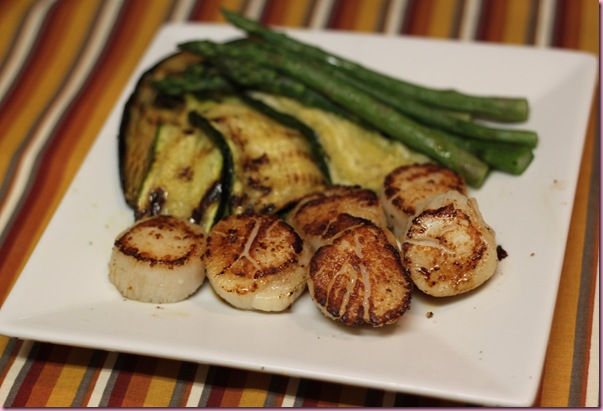 Here's a re-cap of what I did, which was a mixture of all of your lovely Facebook and Twitter suggestions:
1. Rinse the scallops and pat dry. Season with salt and pepper.

2. Heat the pan to medium-high and let it get SUPAH hot.

3. Add some organic butter to the pan and then sear the scallops without touching them while they cook. (This was one of my probs before- I would keep messing with them!)

4. As far as cooking times go, the suggestions varied. It ranged from 3-4 minutes per side to 30-45 seconds per side… I didn't want to over or under cook them, so I just rolled with 2 minutes on the first side and 1 minute on the other. They were opaque, had a lovely sear, and weren't the least bit chewy. Also, I didn't get sick so I'll go ahead and call it a win 😉
Monday has quickly become my favorite night because my cheffer brother is taking a gluten-free class. Last week he made the best brownies of my existence (and gave me the recipe to share with you!) and last night I was greeted with deeeeelish Lemon Raisin scones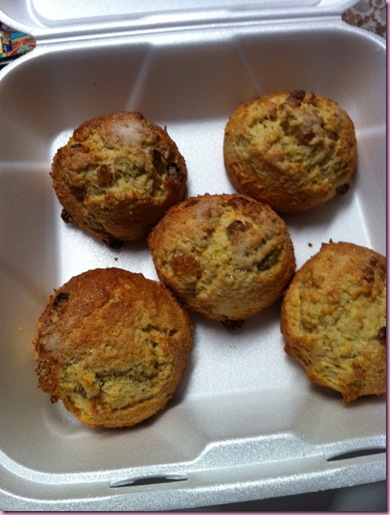 (he used cornmeal with the flour mix and they had an awesome little crunch to the texture)
and a yellow layer cake, which is for our little bro's birthday.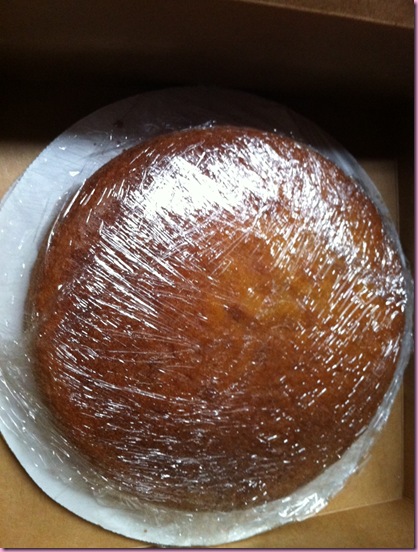 His class is on Mondays, so I will make a point to somehow be around his house on Monday afternoons 😉 Heh heh.
This morning, Bella and I went for our usual walk on the base trail, and I couldn't wait to try a new combo for b-fast.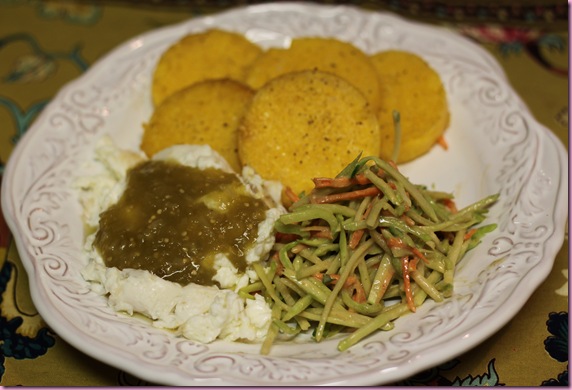 Polenta and Eggs! (with the famous TJs salsa that I can't.get.enough.of + broccoli slaw)
I just pan-seared a few pieces of pre-made polenta rounds and scrambled some eggs to enjoy on top. Easy peasy.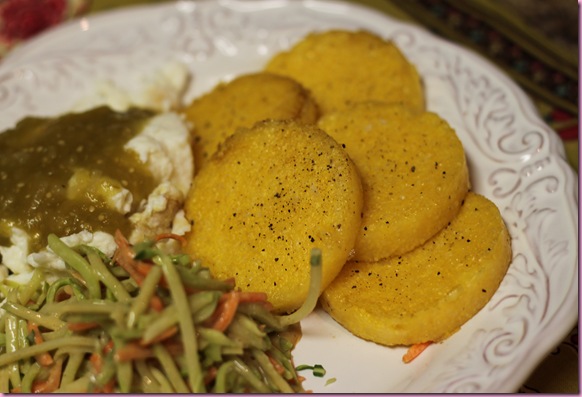 I'm off to spend the day working away – DT stuff, book stuff and blog stuff- and then hitting up a Zumba class 🙂
Enjoy your day and I'll see you laterrrrr <3
xoxo
Gina
Something to do: At-home HIIT! I've already preached on about the glories of High Intensity Interval Training many a time on the bloggy. My favorite HIIT combo is 30 minutes on (by on, I mean balls to the wall) and 1:30 off. HIIT is extremely easy to do on cardio equipment, but what about the at-home workout Fitnessistas?
Try one of these:
-Jump rope (such an inexpensive and underrated form of cardio) – try 20 seconds on, 10 seconds off for 20 minutes total. Sweat city, I promise 🙂
–Burpees (30 seconds on, 1 minute stepping in place to get your heart rate back down)
–TurboFire HIIT DVD (these are FANTASTIC. If you have the TurboFire DVDs, bust 'em out, or see if a friend would lend you the HIIT ones)
–Lacey's cardio blasts (many of which can be done at home with little to no equipment. Try going easy for 30 seconds, up the intensity for 30 seconds, and rest for a minute. Lather, rinse, repeat)
-Need more "oomph" to your usual HIIT routine? Try increasing the amount of "go" time, or decreasing the recovery time.
-Include a warm-up before your HIIT sessions and end with a cool down + stretching. As always, check with a doc before making any fitness changes
*Any at-home HIIT tips?