NASM Weight Loss Specialist Exam + Study tips
A couple of months ago, in my first attempt to beef up my personal training knowledge and certifications, I took the NASM personal training exam. I had been studying for it on and off for quite a while, and in the end, was so glad I took my time with the course. I learned a ton, and was glad to be challenged with one of my passions, so I was looking forward to taking the NASM Weight Loss Specialist Exam.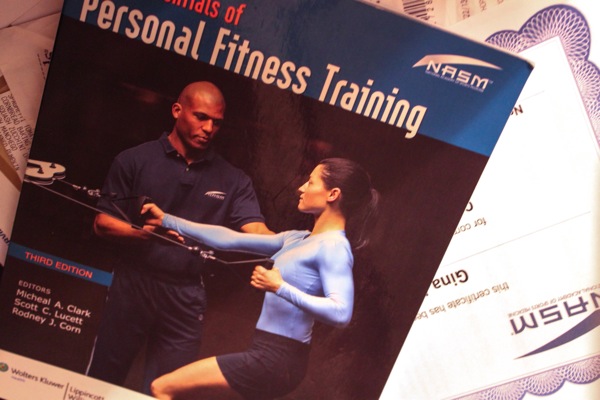 When NASM initially reached out to me, they offered the opportunity to take their Weight Loss Specialist course in exchange for writing about my experience. I was really excited, as weight loss is a common goal among training clients. It's also something I wanted to touch on in my book, especially when it comes to portion control and intuitive eating. Luckily, those were two huge components of the course.
NASM Weight Loss Specialist Course
The Weight Loss Specialist course is all online, including the final exam. You do not have to be personal training certified to take the course, but I waited until I had my new PT cert to take it since it counts for continuing education credits. The text is available in a PDF format, along with video presentations and a quiz for each chapter. The beauty of the course is that you can study in bits and pieces and take the final exam on your own time, at home in your own environment.
Pros:
The quality of the text.
-I especially loved the emphasis on the psychological aspect of weight loss. There was a section on red flags (when you should refer clients to a medical professional) and tips for communication strategies and building motivation.
-There's also a section on plateaus and various strategies to break them. This can be a frequent occurrence with training clients, and instead of seeing them become frustrated at the plateau, it's helpful to have a back pocket filled with methods to help them prevent stagnation.
-Easy tips and strategies for portion control, building social support and overcoming barriers to exercise.
-Easy to study. If you have internet access, you can read and study. I found the quizzes especially helpful.
-It's similar to the PT course. While they obviously cover differing topics, some inherently overlap. I found that taking the PT course first set me up for success, especially regarding the fitness assessment chapter.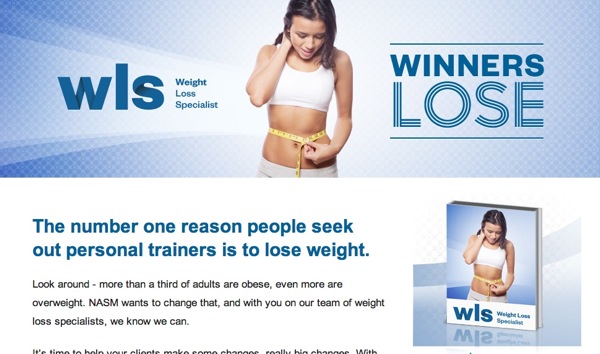 Cons:
-No apps. I really loved using the NASM apps to study for the PT exam. I would have found a WLS app to be helpful, especially since my broken bits of time are not always at home or with a laptop to view large documents.
-Lots of memorization. I found a larger portion of this course to be focused on memorizing facts (what percentage of overweight Americans are classified as obese?) rather than learning concepts. For the PT test, it was helpful for me to get up and practice certain portions of the text, and for the WLS exam, I had to keep repeating key facts to myself to cement them into memory.
All in all, I think it's going to be an extremely helpful tool, especially since I can refer back to the text at any time!
NASM Weight Loss Specialist Exam Study Tips
If you're studying for the WLS exam, here are some of the strategies that were helpful for me:
-Pay attention to the types of questions on the chapter quizzes. While they aren't exactly the same, the testing style is very similar.
-Don't worry too much about making note cards, but write down key statistics and pieces of important info.
-Some topics to emphasize:
BMI ranges that are classified as normal, overweight and obese
Percentage of overweight Americans that are obese
How to calculate BMI
Diabetes types
Common medications and their possible effects on exercise
Fitness assessments (again! wahoo!)
Difference between myocardial infarction and coronary artery disease
Cardio recommendations
Law of thermodynamics
BMR calculations


Do you have a certification or continuing education that you're currently working towards? What's one of your big goals for the new year?
The book is due in March, and I'm already trying to figure out my next teaching steps and what I want to do in SD. I'm really interested in barre certifications but have also been found lurking yoga teacher training… We shall sees what happens. 😉
Hope you enjoy the rest of your day! I made a little homemade beauty project that will be up on the Fashion page tomorrow.
xoxo
Gina
If you're interested in becoming NASM certified, here is my contact's info: Mike Golembewski (michael.bolembewski@nasm.org or call 602-383-1263). Let him know that you found him through my blog, and he will help you get set up! He'll also provide you with a special reader discount. 🙂 He's great work with, and I have nothing but wonderful things to say about NASM and their programs.
*In full transparency, my WLS course was complimentary and I received a small discount for my PT certification. I was really excited for the opportunity to work with NASM and improve my certifications! <3