New Year's Resolution for the pups
This post is sponsored by our friends at Pet Plate. If you want to treat your pup to this delicious, fresh-cooked healthy food, use this link to get 50% off your doggo's first box.
I've definitely been in resolutions mode since the start of the year, maybe even more so than previous years. It's not like I want to make these huge sweeping changes, but, I feel more goal and action-oriented than I have in a while. It felt really good to sit down with my planner and write everything down that I want to accomplish this year. While I was scheming and scribbling away, Bella started pawing at my legs – wishing for a bite of my chicken salad.
It was that moment I realized I make huge goals for myself and our family, but sometimes neglect the poor pups. I feel like now that the girls are older and things are a bit easier, we can shift our focus to the dogs some more. I want to be a better mom for our human kiddos and our fur babies.
While the dogs have everything they really need: lots of cuddles, food, clean water, and a warm cozy couch or fresh laundry to sleep on, there are three areas I wanted to make some changes for them this year:
1) Give them walks more regularly. (We go through streaks of time where we do amazing with walks, and then other weeks…not so much.)
2) Book their dental appointments. It's been two years since their last visit and while it can be ridiculously expensive, it's so invaluable for their health.
3) Switch up their food for a fresher, healthier option for the golden years. This is where Pet Plate comes in!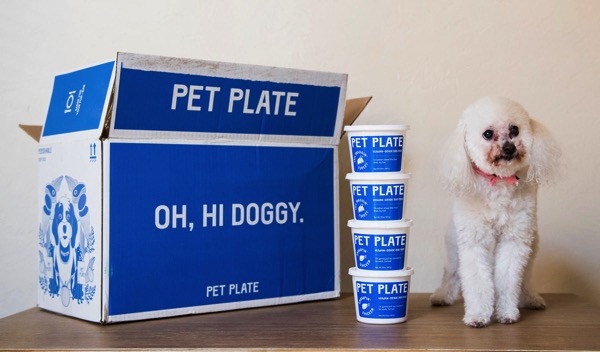 When Pet Plate offered to send Bella and Caroline some of their fresh dog food, I was excited to check out the website.
Here's a little bit about Pet Plate:
– The meals are designed by a veterinary nutritionist and contain all the nutrients your pups need
– The meals are pre-cooked and pre-portioned in a recyclable, resealable container
– It is supposed to be incredibly tasty, as they use USDA-certified meat, fresh fruits and veggies, and a proprietary supplement blend
I requested the Chompin' Chicken and the Tail Waggin' Turkey flavors, and couldn't wait to see what Bella and Caro thought when the package arrived.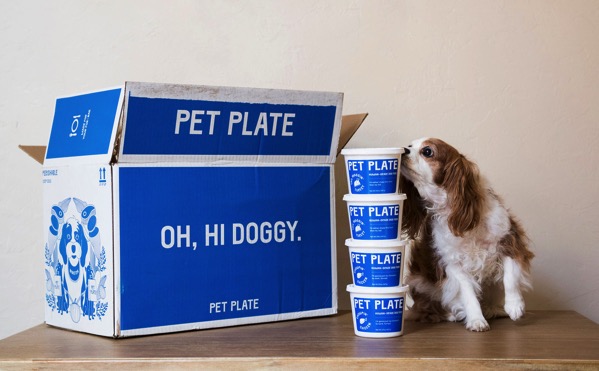 How cute is the packaging?!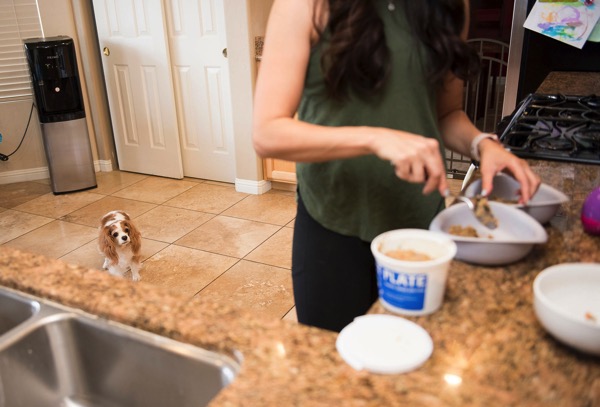 I let a couple of containers defrost in the fridge, and when they were ready to serve, I scooped out some portions into their bowls.They ate like they've never had food before.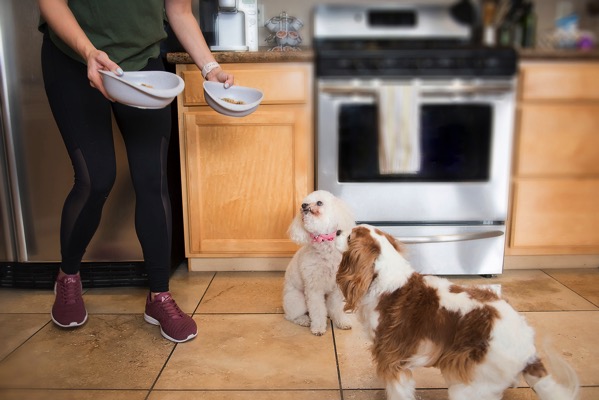 They LOVED it.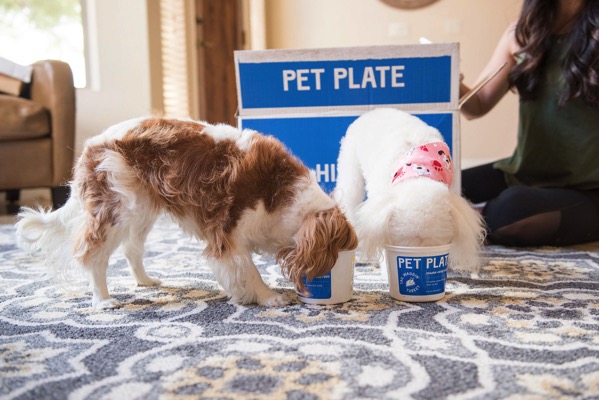 I was kind of nervous because when I introduce new dog food to the pups, I'll usually mix it into their regular food so they don't have tummy trouble. Pet Plate does recommend transitioning your pups over to their formula slowly, but we were out of our old dog food, so I decided to go for it and crossed my fingers. Their stomachs did not get upset AT ALL, which I can't say about other brands we've tried.
While I was super happy that the dogs loved their new food, I have to say that one of the biggest selling points for me is that it's healthy, balanced food that's ready to serve. Our previous dog food had to be mixed with warm water and then sit for 3 minutes to rehydrate. The ingredients were good, but it always felt like a pain to make. I'd make it in large batches and always dread when we would run out.
Also, the dogs didn't eat their old food nearly as well as they've been enjoying Pet Plate. When Bella gets hungry, she'll adorably scoot her bowl over to me and whine. As I scoop the Pet Plate into their bowls, they literally jump at my feet, waiting for their food. Their old food would often sit in the bowl until they felt like eating it.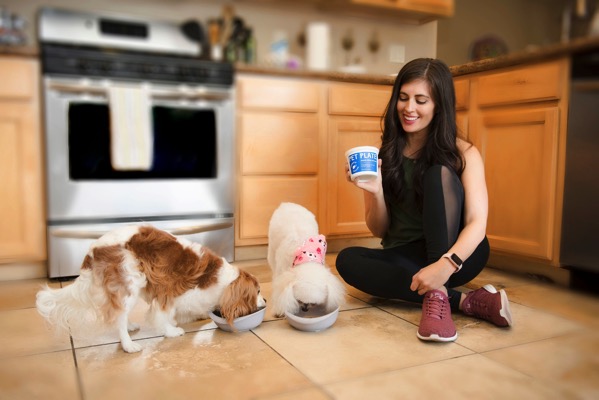 I'm so excited to share a special discount link with you if you're looking to up your pup's food game in the New Year. Click here to get 50% off your first shipment! We received our first box for free, but are paying customers now that the dogs love it so much.
Please let me know if you give it a try!
Any special New Year's resolutions that you're setting for your pets this year?
xo
Gina
Sponsored by Pet Plate
Photography by Jacquelynn