Not-fried chicken (gluten-free, dairy-free)
Pregnancy cravings during my pregnancy with P basically made me tip over into the fried wagon. When she was in my belly, all I wanted was steak, soft pretzels, and all the fried things. In San Diego, there's a restaurant called Crack Shack, and they have the BEST fried chicken. It's not too greasy, it's a little spicy, and it's crispy and soft and delicious and all the things that give fried chicken the hype it deserves. I never understood fried chicken hype until I tried Crack Shack. I understand now. Thank goodness it was a bit of a trek from our house or I'd have greasy handprint stains all over my at-the-time terrifyingly enormous pregnant belly.
Anyways, fried chicken. Right now, we are in the LAND of fried chicken. There's seriously a local restaurant called Hip Hop Chicken. What does this mean? Do they play Missy Elliott while you eat your crispy wings? I haven't been there to find out, but maybe this is a place I need to be. Anyways, since I'm not with fetus, I've found myself craving some crispy non-greasy (aka not-fried) chicken. I bake it. It's good for my arteries and also good for not setting the house on fire.
Healthy Baked Chicken Tenders
It all starts with a little crispy topping, made from almond meal, chopped crispy rice cereal, and herbs.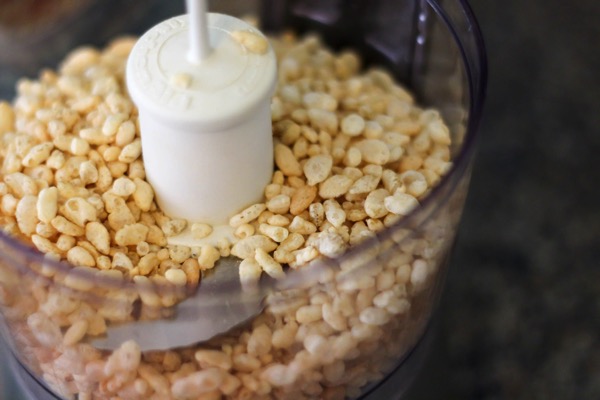 Dip the chicken in some egg, coat with topping, repeat, and bake it up.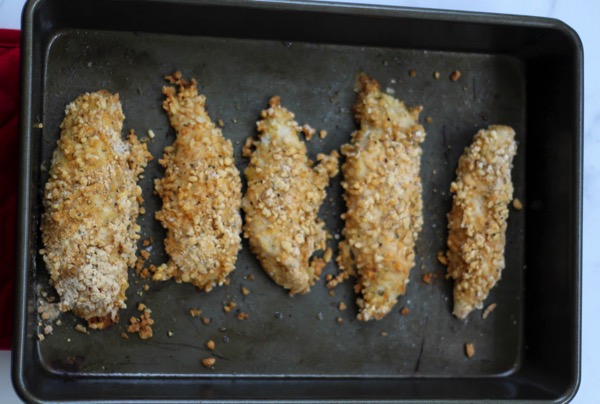 You get THIS.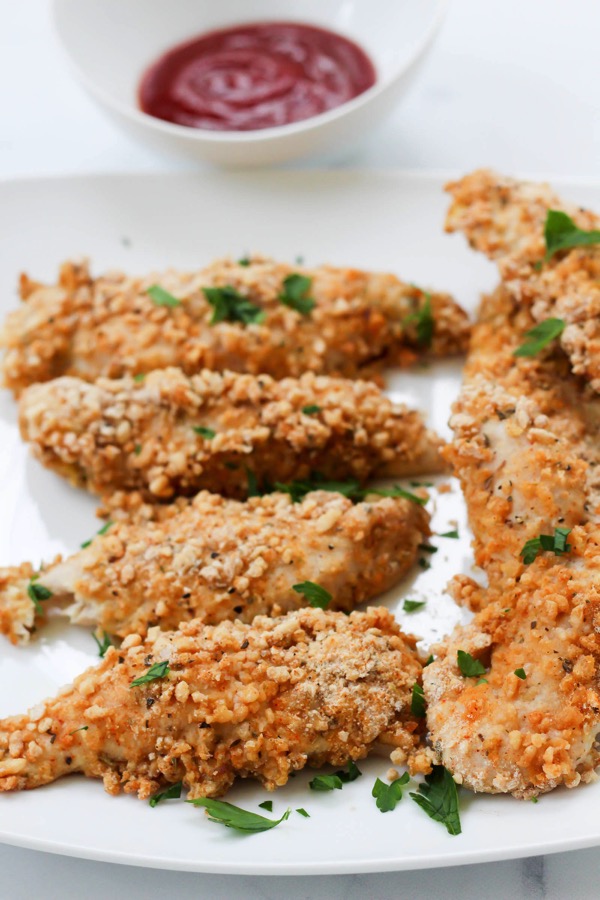 It's so crispy and savory, you won't even miss the fried part. I promise.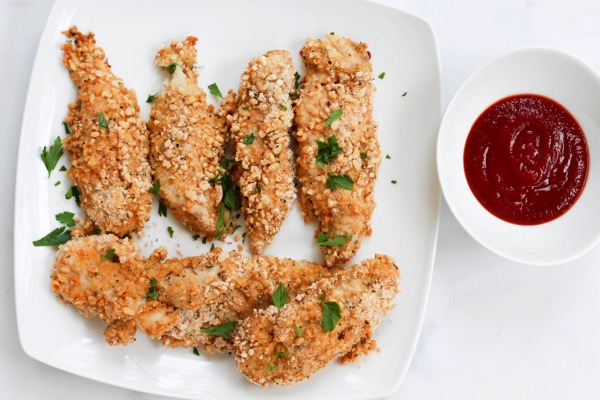 Here's the recipe if you'd like to give it a whirl!!

Grain-Free Dairy-Free Baked Chicken Tenders
2 cups

crispy rice cereal, pulsed in the food processor (so it's chopped but not a flour)

1 cup

brown rice flour

1 teaspoon

oregano

1/2 teaspoon

garlic

1/2 teaspoon

smoked paprika

2

eggs

1

lb boneless, skinless chicken tenders
Instructions
Preheat the oven to 350 and spray a large cookie sheet with olive oil or cooking spray.
Make an egg bath for the tenders: 2 eggs with 1 tablespoon of water. Whisk. Combine all of the coating ingredients in a separate bowl (the chopped cereal, brown rice flour, oregano, garlic and paprika. Season well with salt and pepper.)
Season the chicken tenders well with salt and pepper. One at a time, dip the tender into the egg bath and then press into the coating mixture. Do it again so it's extra crispy (egg bath, then coating).
Place the chicken tenders onto the cookie sheet and bake for about 25 minutes until golden brown and cooked through.
Favorite fried thing? What's your go-to chicken recipe? Mine is this one!
Hope you have a wonderful day and I'll see ya soon with your Workout #5.
Gina