Hey hey! Happy Wednesday! How's the week going? I'm loving' all of your Summer Shape Up check-ins and comments! Let's keep the enthusiasm going.
Upper Body Workout
Today, I have a new upper body burner for you. This one includes some of my very favorite exercises for building lean, beautiful, and strong upper body muscles. You can add this in your Summer Shape Up calendar (it's workout #5) or just try it out on the days you want to sculpt those guns.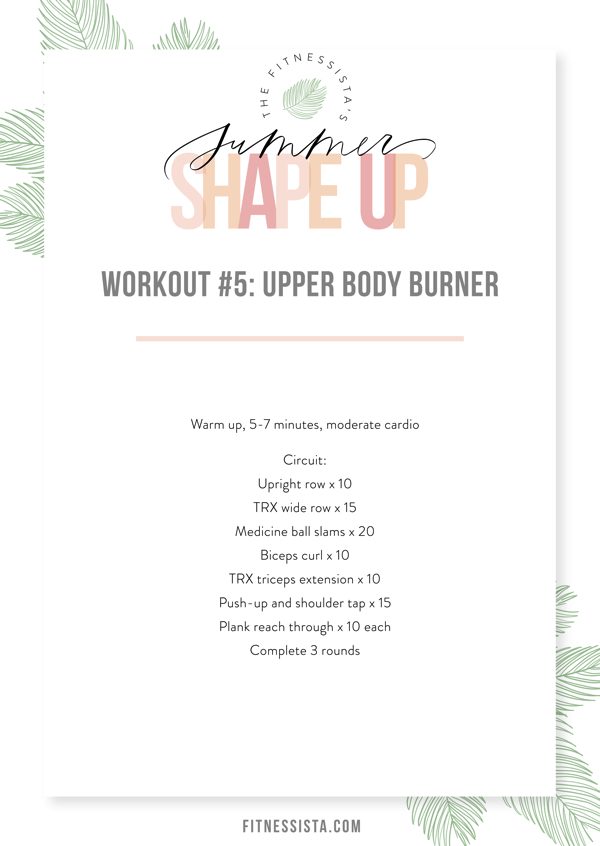 Some form cues and tips:
Warm up, 5-7 minutes, moderate cardio
Complete the following moves in a circuit, moving quickly from one exercise to the next.
Upright row x 10: Holding a dumbbell in each hand, perform an upright row, making sure your shoulders are the FIRST things to come up and the weights stop at mid-chest.
TRX wide row x 15: Step away from the base point and lean back so your body makes a straight line. Keeping your shoulders down and core tight, bend your arms to create a 90 degree angle. Don't let your elbows go behind your shoulders. Inhale to straighten your arms, and repeat.
Medicine ball slams x 20: Make sure that you land LOW with this exercise. The goal is to create as much height dynamic as you can, and exhale on the slam, tightening your core. For even more excitement, rise up on your toes as you bring the ball overhead.
Biceps curl x 10: Holding dumbbells, squeeze your biceps and exhale as you curl.
TRX triceps extension x 10: Facing the base point, step in a bit (the more you step in, the more challenging this will be) and straighten your arms. Think about bringing your entire body into a plank position, so you're in one straight line. Flex your feet so your toes point up and heels are grounded. Now, bend your elbows to bring them in towards your torso. Extend your arms (squeezing your triceps) as you push your body into a full upright position. Carefully lower back down to repeat.
Push-up and shoulder tap x 15: Start on your knees or toes, with hands wide and knuckles pressing into the floor. Keep your hips down as you perform your pushup, exhaling on the way up. Tap each shoulder with your opposite hand, and try to keep the rest of your body (especially your hips) as still as possible. Repeat.
Plank reach through x 10 each: Start in a side plank with your hips stacked, then twist towards the ground and reach your upper arm under your body and behind your lower arm. Return to start and repeat.
Complete 2-3 rounds
Be sure to fill out your mat, stretch, and get in a lot of h2o. <3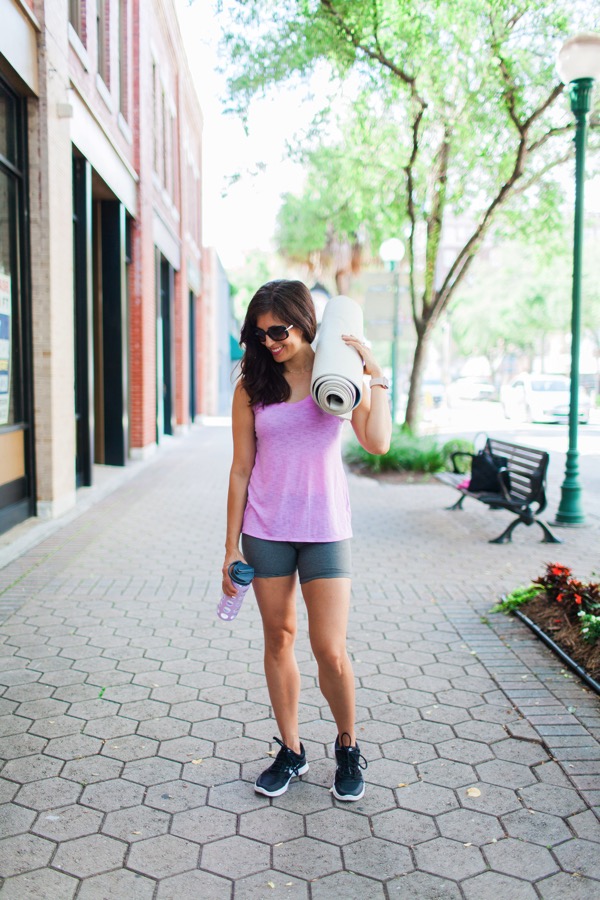 And now, it's giveaway time!! I wanted to surprise a lucky reader with some Naturally More nut butters since they're our incredible SSU sponsors. In addition to a box full of treats and goodies, I'll also send along a new Fitbit Alta, which is one of my very favorite fitness trackers. It's sleek, stylish, and is a great way to keep track of your progress as you tackle those fitness goals.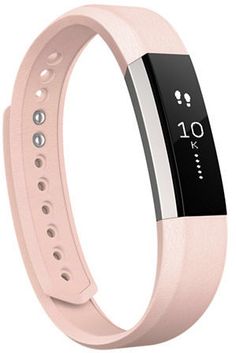 Enter via the handy widget below:
I'll announce the winner in Friday Faves!
Ready, set, go!
xoxo
Gina