Hey everyone! Happy Sunday! Hope you've had a wonderful and relaxing weekend 😀
I was like a little kid at Christmas when I found out there were two Zumba classes in a row yesterday. So my aunt and I went and had a little Zumbathon 🙂
We split a Larabar in between classes: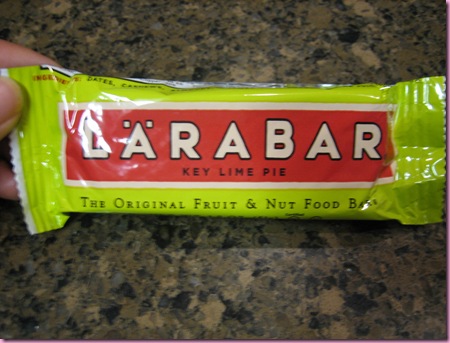 The two hours of Zumba rocked my face off…and my booty 😀
After Zumba, we found my cousin who was running in the gym and all went to Whole Foods for some bfast action.
I had my favorite green juice: green apple, lemon, spinach and parsley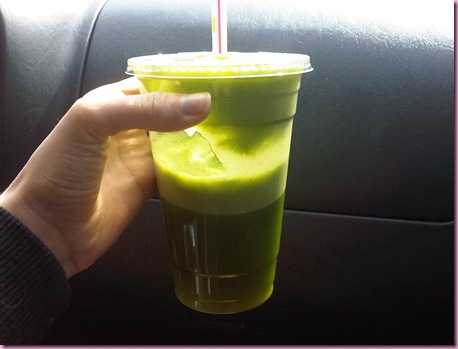 and a container of berries: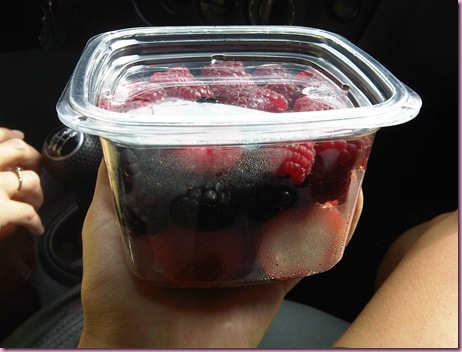 The pilot and I got ready and we started our hunt for ugly Christmas sweaters.
I kept begging him to look for a thrift store in Winter Park.
The reason: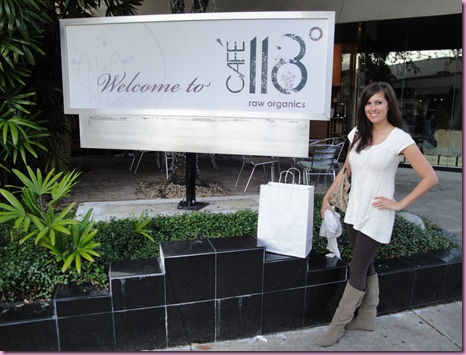 I REALLY wanted something from Cafe 118* 😀
So we got to-go: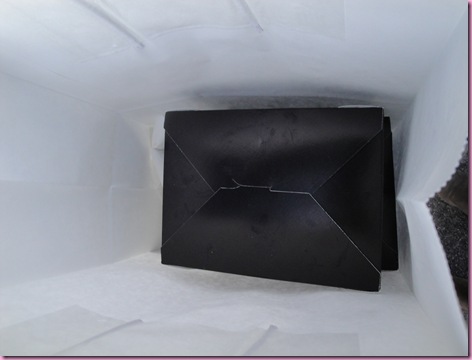 I had the Pad Thai: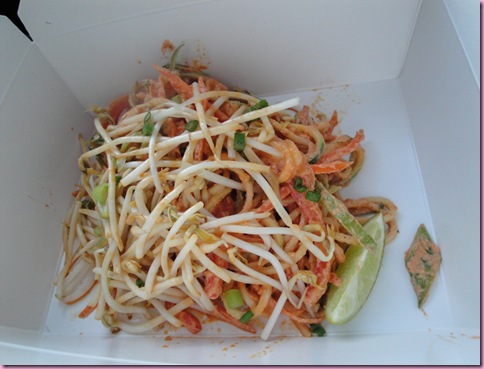 He got the Mexican Salad (which was kind of gross- they shafted us on the queso sauce and there were hardly any veggies…mostly spinach) and we shared the raw s'more, which was glorious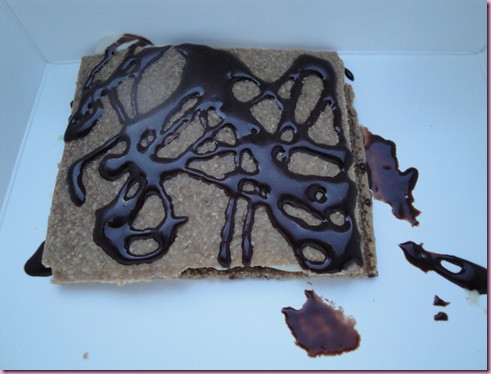 I think I'll be making some of those this week 😉
The first time I had Cafe 118*, I was sick as a dog all night because as a semi-raw newbie, I didn't know and ordered a bunch of nut-based food. Nuts are no picnic to digest in large quantities, so I've learned to order mostly veggie-based food at raw restaurants and one nut-based treat. Haven't gotten sick since 🙂
We went to quite a few places, on the prowl for an ugly Christmas sweater for the pilot and no luck so far :/ We did find him an awesome pair of hideous brown pants and a leather derby hat, but no sweater.. yet. We have a week and a half to find something for both of us, since I also lost the bid on the dress I was going to wear. eBay won't let me copy the picture, but it was a beautiful Christmas abomination mini dress 😀
For dinner, the pilot and I decided to make a Sunday night grill feast (on Saturday).
I did the usual veggie packs: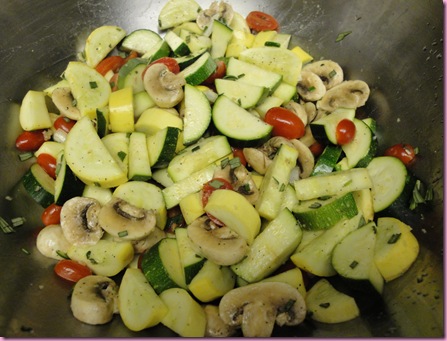 (Squash, zucchini, mushroom, grape tomatoes, onion, rosemary, garlic, sea salt, pepper and extra virgin olive oil)
And marinated some of fresh and beautiful salmon in a little bit of maple syrup, and rubbed them with sea salt and pepper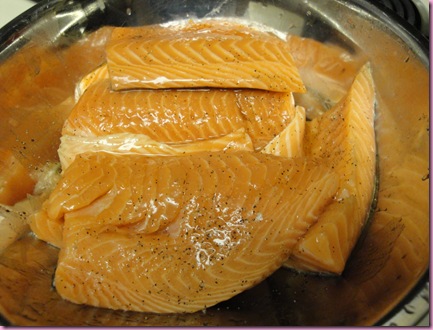 In honor of my fellow vino-loving bloggy, my aunt and I shared this wine: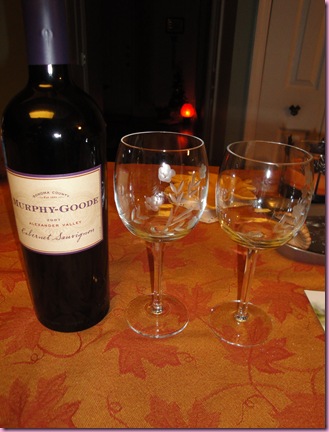 It was very Goode. 😀
Everyone else had Baileys, which I stole a few sips of 😉
The pilot put everything on the grill and did the salmon on cedar planks: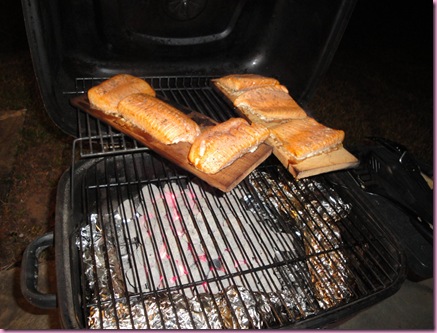 And they came out beautifully: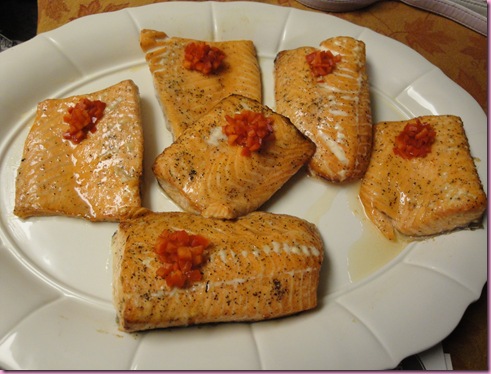 Perfectly cooked, seasoned and topped with some chopped red bell pepper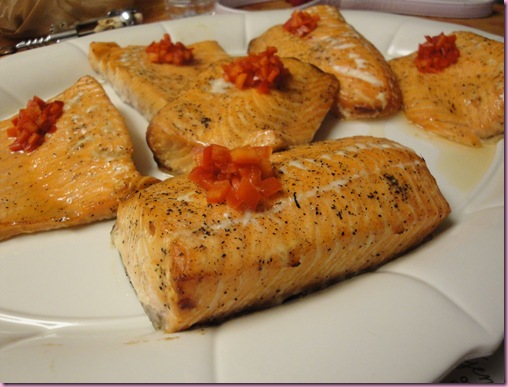 My plate, with vino and some sweet potato fries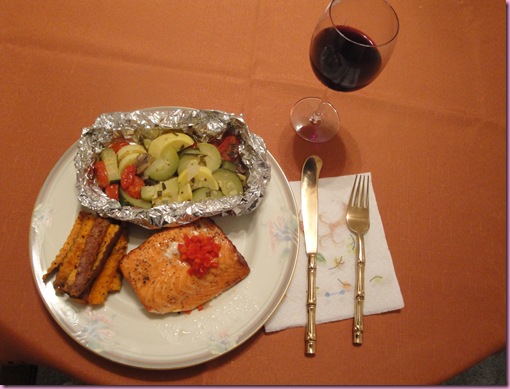 Quite the feast, ehhh? 😀
We watched the end of Elf,  and most of Sisterhood of the Traveling pants before I fell asleep on the couch 😀
I did something yesterday that I haven't done since the weather has gotten colder– I ate raw until dinner, which I used to do all the time. It felt SO. GOOD. So I've decided that I'm going to try to get back into that and see how it goes, and if anything, I can warm lunch up in the dehydrator so that it's not totally cold when I eat it. Of course, I'm going to roll with whatever I feel like (and that might be oats in the morning or roasted veggies for lunch), but I'm going to make more of an effort to eat raw like I used to, because I love it (and how it makes me feel) so mucho.
Well it's time for me to wake the snoozing pilot and see if he still wants to hit up a museum he was talking about, pick up Viesa then get on the road to Valdizzy 😀
Have a wonderful day!
xoxo,
Gina
Today's tip: Get SPICY!!! Try to add some extra spices and herbs to your food whenever possible—not only do they taste delicious, it's an easy way to get a ton of cancer-fighting antioxidants and nutrients. Read about it here.
Something to do: We have today and tomorrow to help get Katie's ad revenues up—she is donating ALL of her Foodbuzz moola to charity this month. What a sweetheart, right?? 😀 It's an easy way for us to help raise some money for an excellent cause- all you have to do is visit her blog and click around a few times :D