One-song workout: "Dancing's Not a Crime" (Back and Biceps)
This is a one-song back and biceps workout to Panic! At the Disco's "Dancing's Not a Crime." Get a great workout at home in 3 minutes. All you need is a pair of dumbbells, anywhere from 8-15 lbs. (I used 10-lbs weights in the video.) For even more fun, combine this workout with the legs one-song workout I posted last week.
Hey hey! Hope you're having a wonderful week! We had an awesome family dinner last night, and I've been getting things ready for a yoga interview I have next week. I've been out of my yoga teaching game for quite a bit, but it's always good to step outside of my comfort zone and really focus on crafting an awesome class and playlist.
For today, I have another one-song workout for you! I got some great feedback on last week's, so if you guys enjoy these, I'll keep posting them. Of course, I'll switch it up with some other video workouts, too, but I've had a lot of fun putting these together. I created a YouTube playlist for these workouts so you can grab a couple of dumbbells and eventually customize your workout while listening to some great music.
Please let me know what you think of this one!
One-song workout: "Dancing's Not a Crime" (Back and Biceps)
Here's what the workout looks like: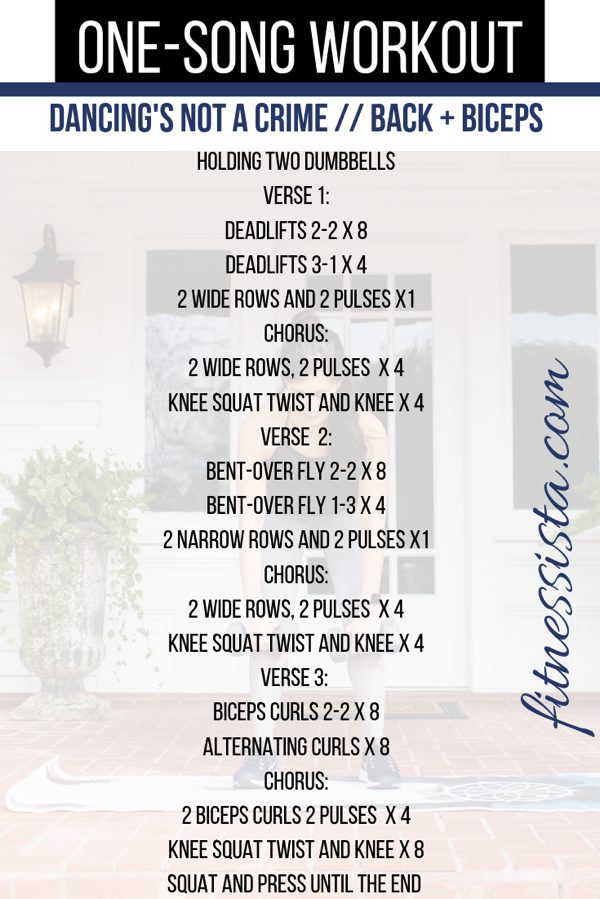 And here's the follow-along video:
(As always, talk with a doctor before making any fitness changes. Honor your body and modify as needed.)
Please let me know if you give this a try and if you have any song requests!
Subscribe to my YouTube channel here. <— a good spot for all of my video workouts in one spot!
xoxo
Gina
Wearing this black tank, these leggings, APL sneaks, and lululemon hat