One-song workout: Seven Rings (Legs)
This is a one-song leg workout to Ariana Grande's song, "Seven Rings." Get a nice leg burn at home in 3 minutes. All you need is a dumbbell or kettlebell (or use your own bodyweight).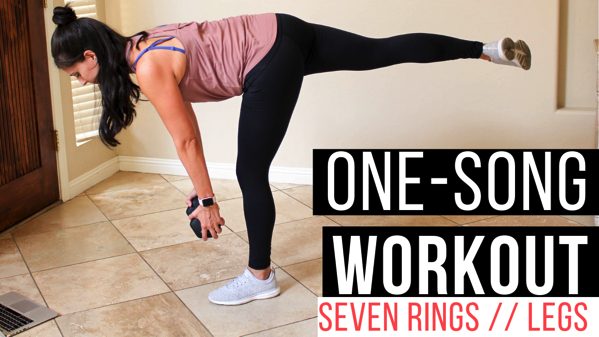 Hi friends! I'm so excited for today's post! This is something I've been scheming for a while, but wanted to wait until the kiddos were back in school so I could film consistently.
One-song workouts!
I've mentioned quite a few times before that I constantly use music to drive my workouts. I think it's from teaching dance for so long, but when I hear songs, I choreograph dances or movements in my head. <— weirdo. After starting to teach BODYPUMP, I learned the incredible power of choreographing strength training to music. It's one of my favorite ways to make a workout fly by, and also utilize different rep counts, pulses, holds, etc.
This is the very first one I put together: "Seven Rings" by Ariana Grande. This one has literally been in my head for months (and I've done it quite a few times at the gym), so I'm excited to post it.
Here's what the workout looks like: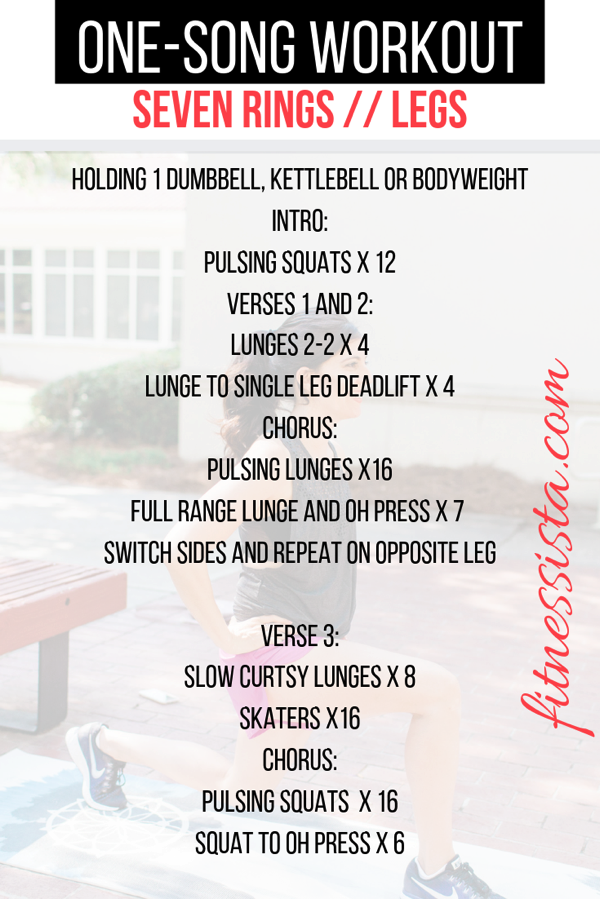 And here's the super short 3-minute video! I'll also have it up on IGTV and my YouTube channel.
Work out with meeeeeee.
(Wearing this lululemon tank top, Four Athletics x Fitnessista leggings, APL sneakers)
What did you think?
Are you into these one-song workouts? Please let me know if you have any song requests! I'll be posting these weekly if you guys enjoy them.
xo
Gina
More music-driven workouts:
Another musical cardio workout