Pregnancy exercises (+ a prenatal workout video)
This is a prenatal workout video you can do anywhere! Filled with pregnancy exercises and safe ideas for your prenatal workouts. As always, talk with a doctor before making any fitness changes.
Hey hey! I've got a new workout video for you today! This is for all of my friends with a bun in the oven that still want to get in a good workout. (I have to admit that while I was pregnant, I pressed "stop" on so many prenatal workouts because they just felt like a huge yawn.) This is a friendly reminder that even though I designed this with pregnant mamas in mind, you need to check with your doctor to make sure these exercises are safe for you. Pregnancy isn't the time to add; it's a great time to focusing on maintaining.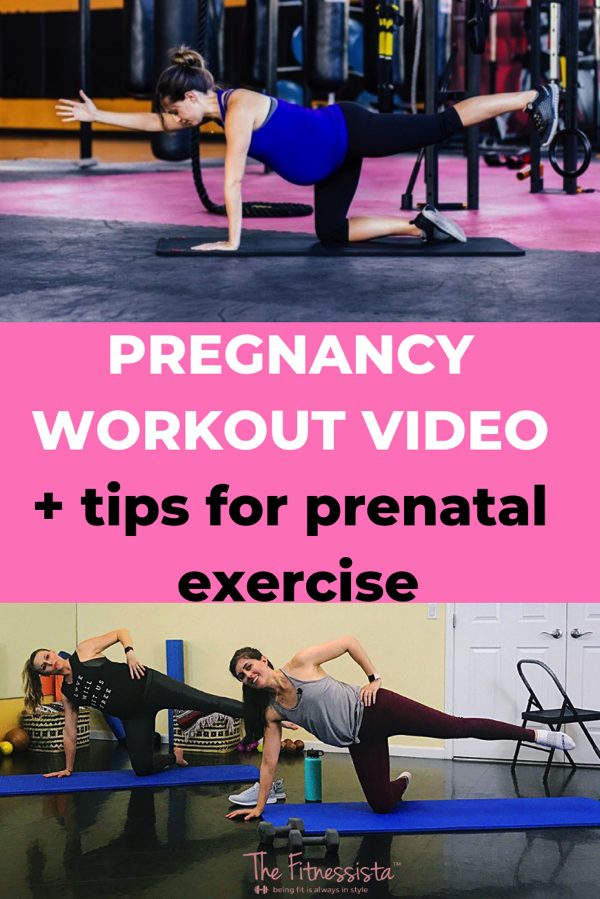 For some of my tips of working out while pregnant, check out these posts:
How to modify Orangetheory when you're pregnant
Core training during pregnancy
Can you work out on your back during pregnancy?
Keep the intensity, lose the impact
(typing "pregnancy" and "pregnant" so many times reminds me of this gem lol)
For the workout below, you can absolutely do this workout if you're not expecting. These are some of my very favorite moves when I want to get back to basics and draw attention to my core. These are also some effective and safe postpartum exercises (if your doc gives the ok, of course).
Now, let's get into the video! I'm so excited that my friend Katie (33 weeks when we filmed this!) could join me for this one.
Press play and work out with us. 🙂

(Leggings are here // tank is here)
Form cues and tips:
This workout is split into 3 7-minute blocks:
7 minutes of strength
7 minutes of barre
7 minutes of smart core work
This may vary a little from the actual video – for the barre and core segments I just taught like I was teaching a class without a focus on reps – but here's what it looks like if you'd like to try it out on your own or pin/save for a rainy day:

Please let me know if you give it a try!!
xo
Gina
Wearing:
Video: Grant Hunker
Workout partner-in-crime: Katie Surridge
Studio: Animas