Restaurant rut + meals/fitness
Sunday, you're looking pretty niiiiiiiiice this morning.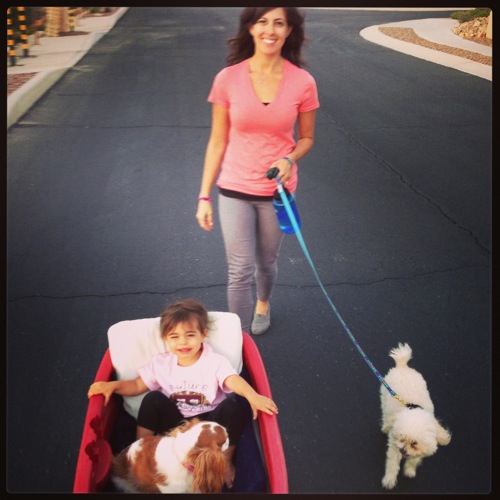 (I slept for 10 hours last night and am in a great mood, haha)
I'm starting this post while the Pilot is on his 16-miler run -just thinking about that distance turns my stomach- and Liv is still snoozing. I'm pretty excited because I wasn't running roadkill yesterday with my group. I did eight miles with them and didn't start to feel my knee until the end. My original plan was to run eight with the group and then do four on my own, since my plan called for 12 miles. When we finished the eight, one of my running friends offered to do the extra four with me so I wouldn't be alone. (Awesome friend, huh?) Buuuuuut I didn't want to risk anything since I was starting to feel it and still had classes to teach. This morning, my knee feels pretty good so (knock on wood) I'm still on the mends from my fall.
I talked to one the exercise physiologists, and he had a great idea for me: use the water treadmill for one of my runs this week. We have a few of them at work, and this way I'd be able to run (and get my body through the running motion) without the joint impact. Is it sad that I'm trying to figure out a way to watch a movie or listen to music while I'm in there? Being on a treadmill for so long without distraction seems like torture.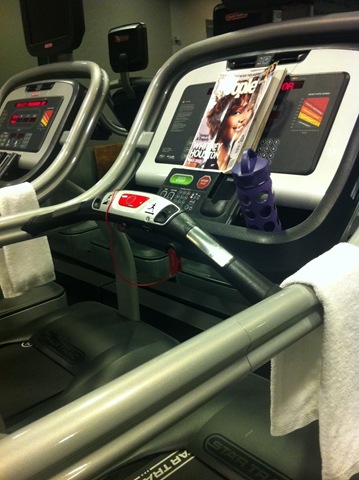 (I need a magazine, killer playlist, movie, something)
So this week, the water treadmill will probably be checked out -even if I only last a little while- along with the usual suspects.
Sunday: OFF
Monday: Water run + yoga/core
Tuesday: Strength
Wednesday: Teach Zumba, maybe track practice if I feel up to it
Thursday: Teach DJ, teach Zumba
Friday: OFF
Saturday: Taper run + teach Aqua Zumba (off the afternoon classes for a wedding. It's Livi's first time as a flower girl)
This past week, we've fallen back into our restaurant rut ways. While I was in Boston, I dined out, the Pilot and Livi went out with the fam each night to eat, and then I came back without a plan, little groceries or a will to cook.
I had amazing pho for lunch yesterday: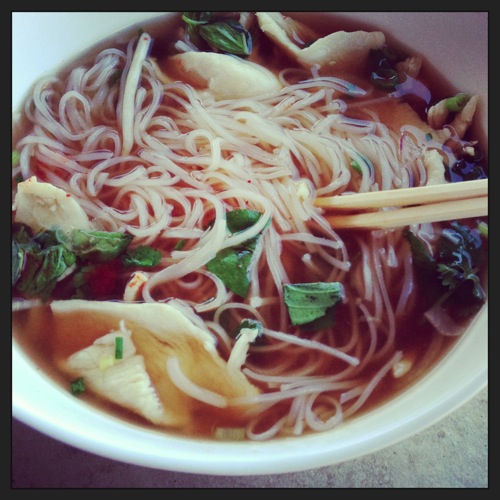 and the best pizza for dinner: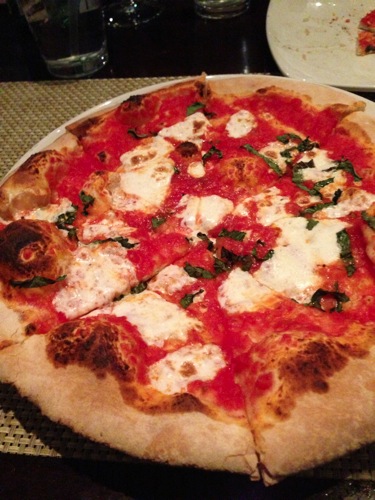 (The Pilot wouldn't let me share with him and made me get my own)
We came across Vero Amore restaurant while looking for legit Italian pizza online. It's the real deal. The owners studied pizza-making in Napoli and the restaurant is certified by the Napoli Pizza Association. They import all of their ingredients and cook the pizzas in a wood fire grill. It's mind-blowing. We went last weekend, and last night, took the fam with us. My uncle discovered they will crack an egg in the middle of your pizza, so that's happening next time 😉
Even though I've been enjoying restaurant dining -we love going out to eat so much- it's time to get back on the cooking bandwagon. We can make delicious things here at home, and it's an easy way to save some $$, especially before the upcoming holidays and a potential move.
Here are some of the things on the menu this week:
-BBQ shredded chicken, sweet potato salad, kale chips
-Slow cooker Thai chicken with basmati rice
-Buffalo chicken chili and cornbread
-Quiche and roasted veggies
Plan and prep:
Make Paleo granola bars (we went through another batch last week, and everyone loves them)
How often do you go out to eat? Any awesome new recipes you've tried lately? What's on the fitness plan?
Take a few minutes to set yourself up for success this week 🙂 See ya later with some pics from the weekend!
xoxo
Gina
The winners of the Instagram contest will be up tonight!