Hi friends! How are you? Happy Monday! Hope you enjoyed the weekend. We ended up staying in V-town, and it was a great weekend. We took Livi out for dinner and a movie, we enjoyed some good workouts, played outside a ton, caught up on house stuff, and went on a date. Wins all around. I'd love to hear what you have going on!
P and I put on our baking pants and made some chocolate chip cookies for the Pilot's work. Of course, she wore her fairy wings and had a lot of opinions about the ingredients. "No sugar. Just butter, ok?"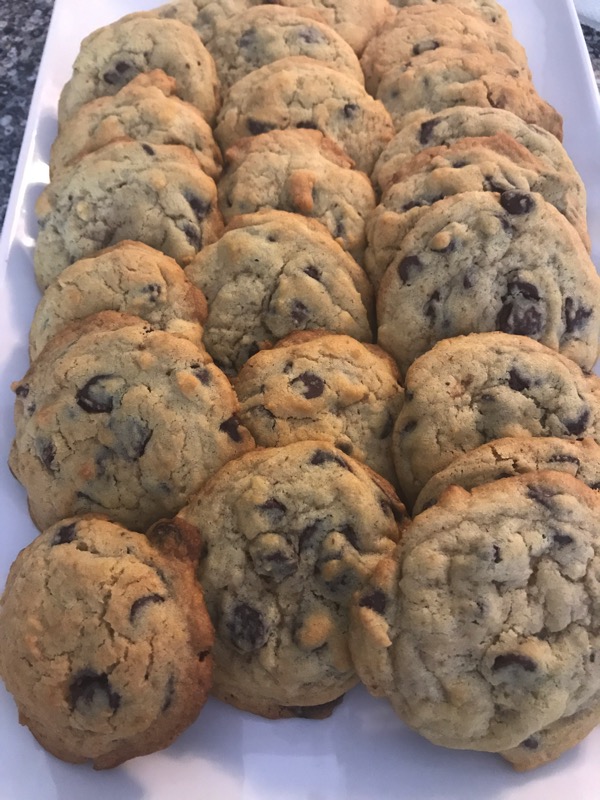 (She changed her mind when she tasted the dough! She was super proud of the cookies and it was so cute. We used Phoebe's Grandma's recipe.)
On the days I don't teach, I'll usually get my workouts in the garage. We've built up a pretty decent little gym – I would love to add a Water Rower or a treadmill! – and you can totally get in a full workout with the supplies we have. I'm still loving my spin bike, the Peloton app, our Bowflex HVT machine, and the usual barbells and dumbbells. (I'm still trying to figure out how we can hook up the TRX!) I caught a legs and cardio workout AND showered (a miracle) before P woke up from her nap.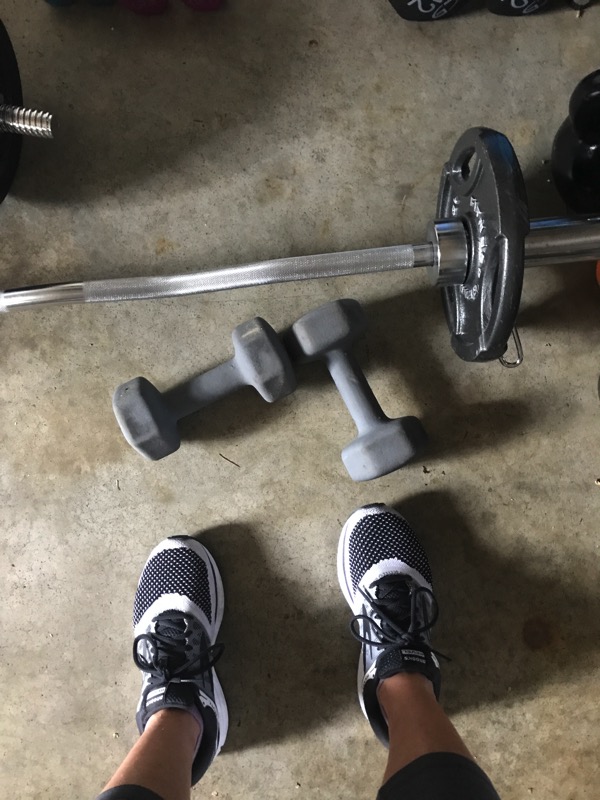 I'm putting together a bunch of all-new workouts for you (in addition to the usual blog workouts and plans) and am still trying to figure out how the heck to put it all together. I'd love to do something more exciting than an ebook, like a community website or app, but we all know how I am with technology.
For the first time in quite a while, the Pilot and I took Livi out for dinner and a movie.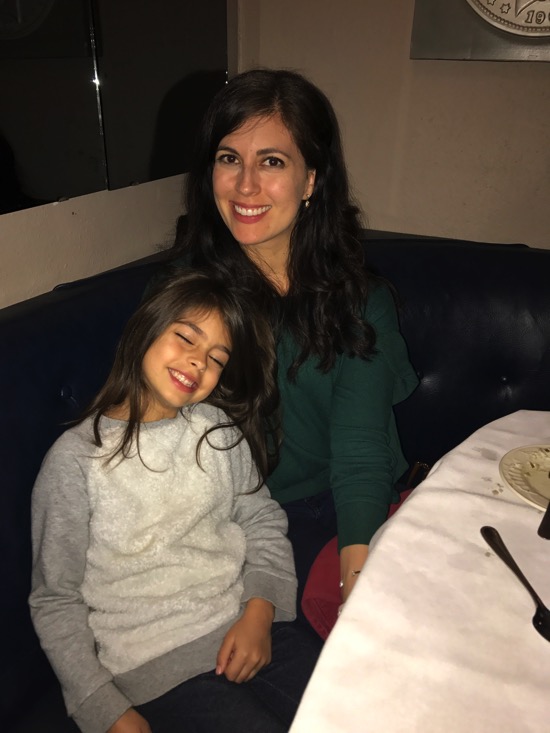 I get a lot of solo time with Miss P (and love hanging out with her), but time with just Liv is more rare. We've been wanting to take her to Giulio's, so that's where we had an awesome dinner together. We shared dolmades (so good!) and I had a Greek salad with the sea bass. For dessert, we tried the tiramisu which was out.of.this.world. It was more like a custard than traditional tiramisu. It was amaaaazing.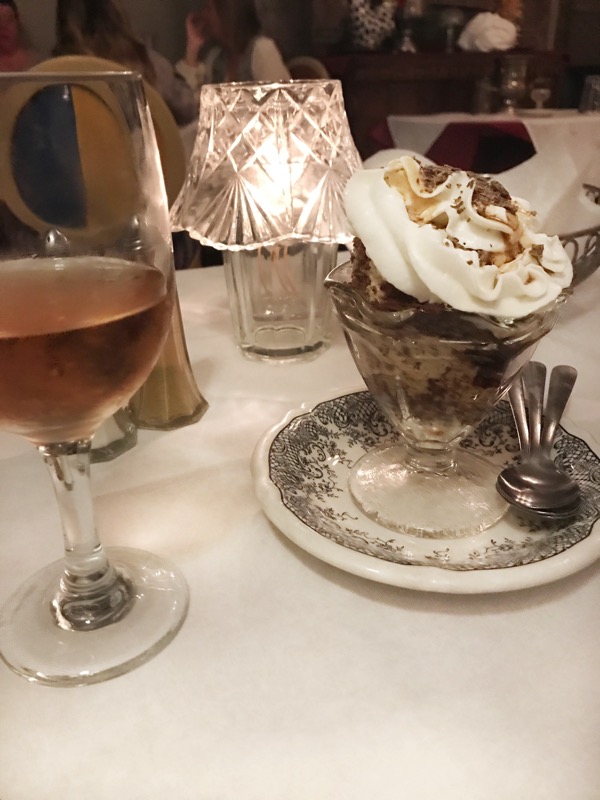 After dinner, we headed to the movies to see The Greatest Showman. Liv has been listening to the soundtrack with me in the car for the past few weeks, so she knew all of the songs and had been asking to see it. It probably wasn't the Pilot's first choice, but he was a good sport about it and even ended up liking it. I already want to see it again!
Saturday, the weather was sunny and beautiful. We enjoyed brunch at Birdie's,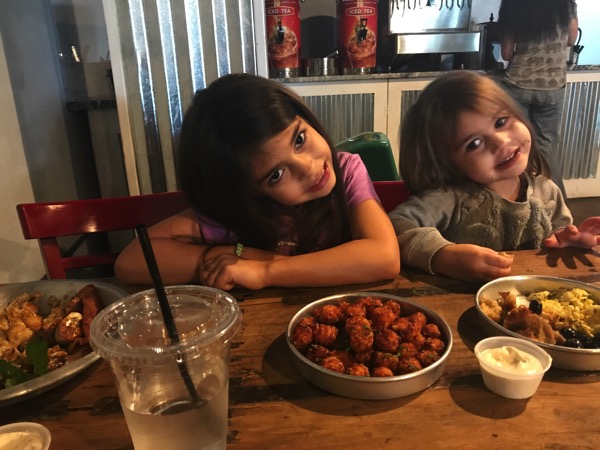 (I've been getting two eggs over medium with a side salad and sweet potato tots, and it's pretty much my fave restaurant meal right now)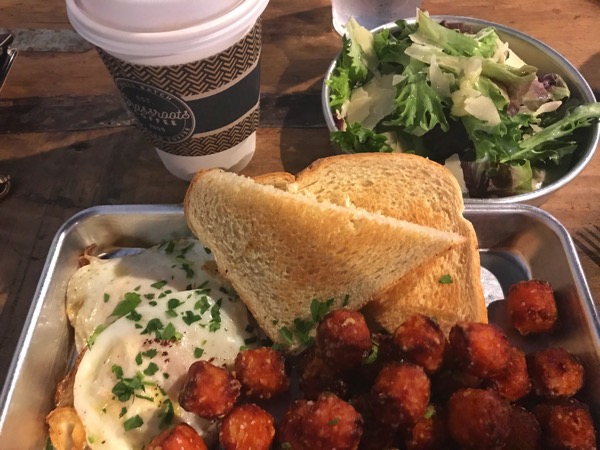 and spent the rest of the afternoon playing outside. We got mini trampolines for the girls and they've ended up being a huge hit. We'll take them out on the carport, and they'll alternate between jumping (with "fancy feet" and turns) and driving each other around the in their power wheels. The Pilot and I enjoyed a pretty hilarious football kick-off and then we all had a handstand contest.
Dinner was at Salty Snapper. Our grocery stash was pretty low by the end of the week, so we went out a little more than usual. 😉
I decided to walk on the wild side and order the mussels instead of the usual salmon. The broth was nice and spicy, and not overly salted. The girls kept asking for toast soaked in the broth, which is totally the best part.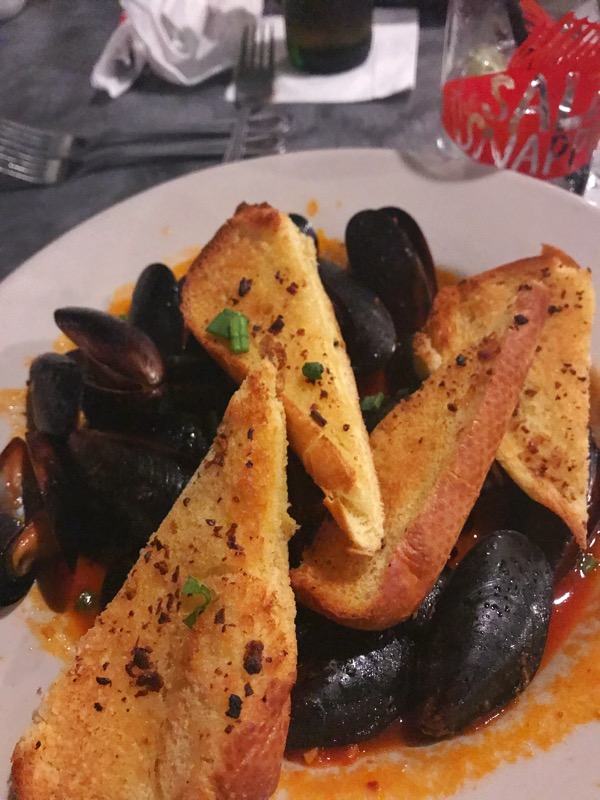 I'm glad we enjoyed so much sun on Saturday, because it rained all day on Sunday. It was nice to hang out inside, cook breakfast at home and watch movies in between chores. We did our usual Target and grocery blitz, and the Pilot and I had dinner together at night.
It was a relaxing weekend, and after last week's insanity, I feel energized to conquer the week. 😉 I'm looking forward to teaching later today and catching The Bachelor later tonight. (SO much drama. So good. Also, I posted this on Instagram but I realized that I've taken Krystal's class a few times when I was a member at Orangetheory in Point Loma. Bananas.)
Hope you have a happy Monday! Thanks so much for stopping by the blog this morning!
xo
Gina
Looking for a workout? Try the arm burner from WSU! There's a video, too.
Don't forget to enter this week's Lorissa's Kitchen giveaway!
Congrats to our giveaway winner from Sunbasket:
Wendy H.
And the bonus giveaway winners:
Lauren L.
and Lissy!
(Send me an email gina@fitnessista.com and I'll get your prizes on the way!) Stay tuned for more fun giveaways, too. You never know when I'll throw a sneaky giveaway in there. 😉 (Recently I did an Apple Watch giveaway on Instragram Stories and in my newsletter.) xoxo