Hi friends 😀 How's your Sunday been? Hope you've had a beautiful and relaxing day.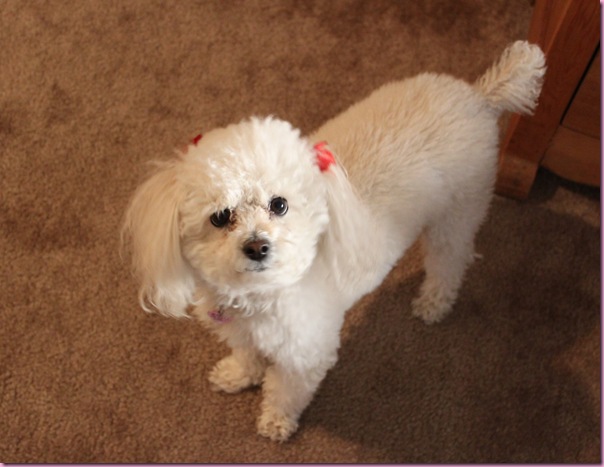 (The Pilot got that expression from her by saying "Are you a chicken girl? You want chicken??" and then of course had to give her some chicken)
We've been laying low today, it only seemed right after 11 hours of sleep last night (!!) haha.
In between doing blog work and cleaning up the casa, we made a trip to the mall (holler to Aldo for exchanging my sandals!) and to Beyond Bread for lunch.
I had some vinegar slaw: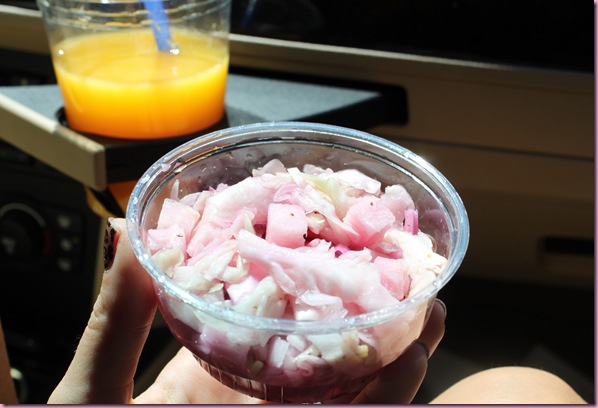 along with a half order of Kalid's Curry with no bread, since I brought my own slices of brown rice bread from home 🙂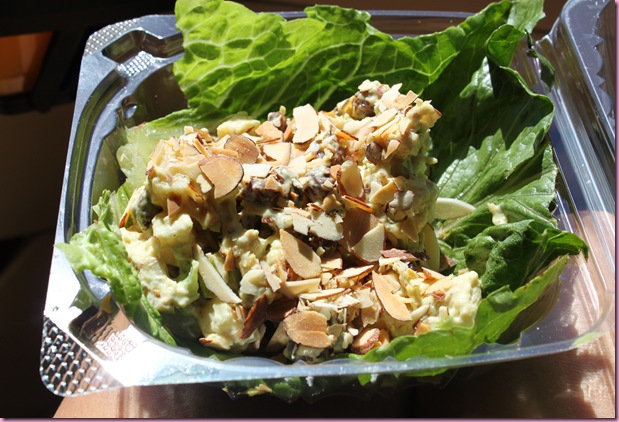 It was the ONLY thing that sounded good on the menu (chicken, mayo, curry and seasonings, jicama, raisins and almonds) and it was ahhhhmazing.
New snacky find: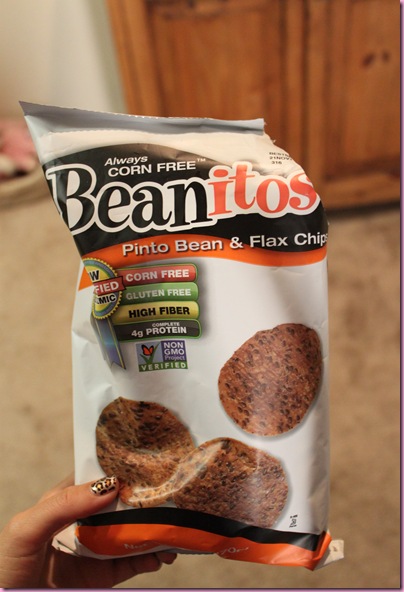 As we ate our lunch, we drove to see my great grandmother and had the best visit with her. <3 I love Sundays.
We're off to see Viesa (!) and then to Bridesmaids. The Pilot hasn't seen it yet and I want to welcome him to the world of hilarity that is that movie 😉
See ya in the morning!
xoxo
Gina
Upcoming: Summer Shape Up Week 2 + a giveaway 🙂
This week's grocery list if you'd like to participate with the meal ideas:
Staples (replenish as needed)

Low-fat milk of choice
Low-fat plain yogurt or Greek yogurt of choice

Protein powder

Eggs
Natural peanut or almond butters
Mustard
Salsa
Extra-virgin olive oil
Honey
Spices and seasonings (cumin, sage, oregano, thyme, rosemary, basil, sea salt and pepper)
Lo-sodium chicken or vegetable stock
Brown rice
Whole wheat or brown rice pasta
Canned beans
Hummus
Vinaigrette salad dressings

Week 2:

– 2 16 oz plain Oikos yogurt or yogut

– 3 apples

– Blueberries

– High Fiber cereal of choice

– Flat Out Wraps (wheat) or brown rice tortillas

– Peanut butter or almond butter

– Organic Marinara Sauce

– Part skim shredded cheese or Daiya

– Small can of olives

– 2 Luna Bars or Larabars

– 1 rotisserie chicken

– 1 tomato

– Romaine

– Spinach (big bag)

– Frozen turkey meatballs or vegan meatballs

– Whole wheat pitas or brown rice pitas

– Garlic

– 3 onions

– 8 oz crushed tomatoes

– 1 frozen pack of mixed vegetables

– String cheese or cheese of choice

– Almonds

– 28 oz crushed tomatoes

– Oven-ready whole wheat or brown rice lasagna noodles (if you can't find oven ready, just get regular whole wheat and cook them halfway through before using them)

– Frozen raspberries

– Snap peas

– Broccoli

– One bag carrots

– Kashi crackers

– 2 salmon fillets (freeze until ready to use)

– Sabra hummus

– Ginger

– Sucanat

– Soy sauce (low sodium)

– Sm. Can crushed pineapple in its own juice

– Bananas

– Deli turkey

– Strawberries

– South beach cottage cheese

– 1 loaf of Ezekiel bread or brown rice bread

– 1 bell pepper

– Cherry tomatoes

– Turkey breast

– 1 can black beans

– 1 lemon

– 2 limes

– 1 can Amy's soup

– Organic chicken breast

– Cucumber

– Avocado

– Cilantro

– 1 jalapeno
Something to talk about: We're going to friends' tomorrow night for a BBQ and I said I'd bring dessert- any fun ideas for a delicious gluten-free recipe?