Hey everyone! Happy Friday! WHEW. I am feeling like a new person today.. last night's chillax sesh was much-needed. Thank you for understanding and for all of the well wishes <3
This morning, you can bet your booty that I broke into the raw cinnamon crispy cereal (from One Lucky Duck) that Katie sent me.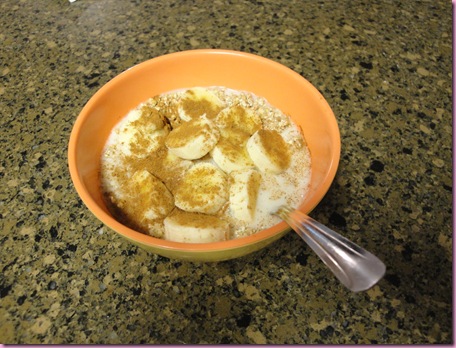 I had a bowl with almond milk, cinnamon and sliced bananas.
While I was moaning with foodgasms, Viesa attacked the bear that Celestial Seasonings sent me: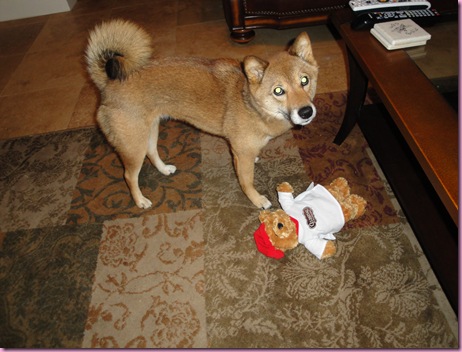 Then she shared the bear with Bella, who cuddled with it on the couch: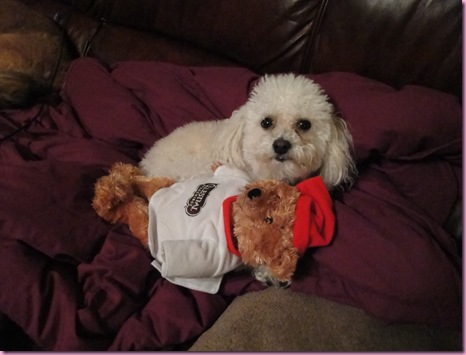 I think the bear is actually a little bigger than Bella 🙂
(More info on what Celestial Seasonings sent me coming up on Monday, as well as a GIVEAWAY)
I met up with Ashley at the gym, where we dominated our biceps and triceps. Finishing everything out with 25 straight-leg tricep dips left my arms feeling like vegan Jell-O.
Snack: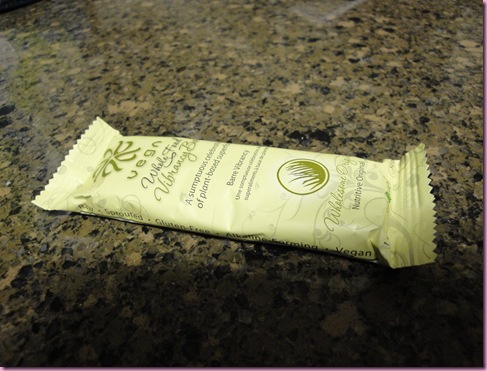 I almost cried tears of happiness when I saw this bar in the bar stash. I thought they were gone! Definitely the last of my Vega Vibrance bars.. Whole Foods needs to get these in, stat.
I went to Wizzle, the post office (Lauren, your raw cacao cookies are on the way!) and then came home to make raw malted chocolate tarts since we're having dinner guests tomorrow night.
The coconut almond macaroon crust: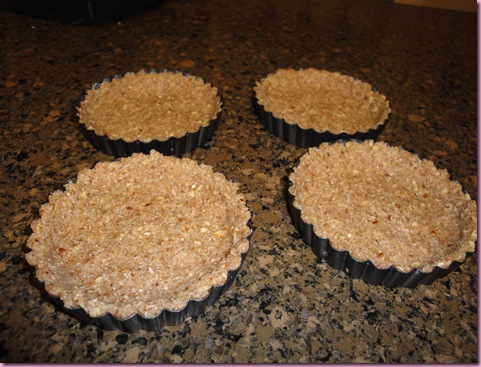 Mmmmmmm…..
The shells are uncooking away in the dehydrator, and I'll make the filling when I get home from work.
Since I have 4 appointments in a row today, I figured I'd make a good lunch to take with me.
Of course, it was high time to test out the mung bean pasta I picked up the other day.
I had to do a double-take when I saw the nutritional stats…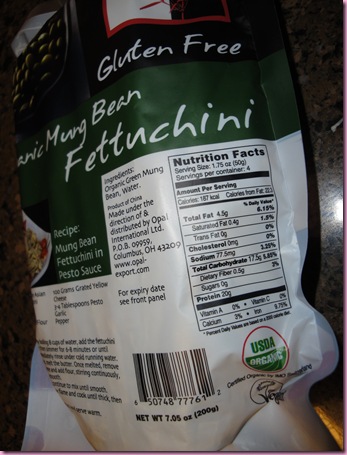 20 GRAMS OF PROTEIN?!?!?! Only 180-something cals per serving?! Winner, winner, mung bean dinner.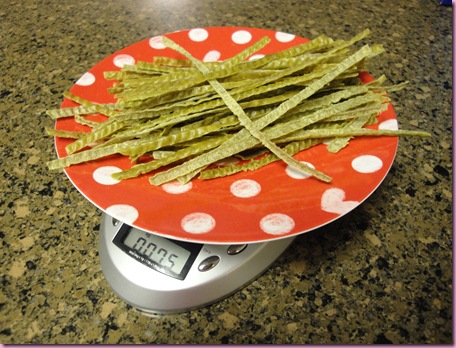 I measured out 1.5 servings since the cals are a little low for a meal –I'll have a salad too- making it 30 GRAMS of PLANT PROTEIN POWER!
As you guys might have noticed, I don't usually eat a ton of pasta (except for the occasional butternut squash lasagna on brown rice noodles). It just feels like a waste to me because 1) It doesn't taste very good.. you have to spend a lot of effort flavoring it with other things. Why not just have the "other things"? 2) I like zucchini pasta better and 3) even the nutritional stats for the whole grain kind are ho-hum.
Well not this….
I may have a new pasta lover.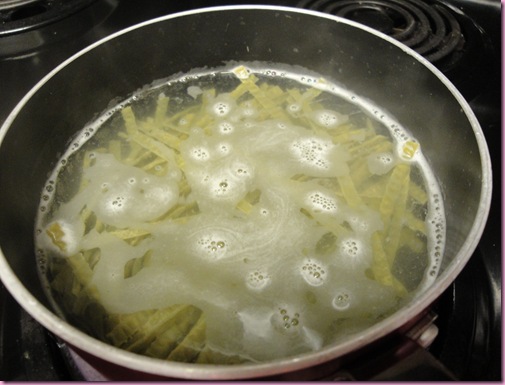 It's boiling away right now as I type — I'll be sure to let ya'll know what I think about it 🙂
Off to finish packing my lunch, take the dogs out in the pouring rain, then head to work.
Have a wonderful Friday!
xoxo,
Gina
Today's tip: Have your next pasta dish focused on the veggies, instead of the pasta. When I first started my weight loss journey, I switched to whole grain, but also put the veggies and sauce in my bowl first, then topped it with a little bit of the pasta. It's a great way to save calories, but also tastes so much better.