Anyone else love "The Soup"? 😀
Hey everyone! It's almost FRIIIIIIIDAY- yayuhhhh! 😀 Rumor has is that I might finally be getting my Indian food fix TODAY. I can hardly contain my excitement 😀
Pilates and Zumba was AMAZING last night. Ashley is a killer pilates teacher- I thought I was going to throw up while we were doing these crazy leg circle things. My abbies were on fire! Zumba was also a blasty and when I got back to the casa, it was time for a feast.
I was feeling a little carnivorous last night… this girl wanted MEAT (twss? buahah)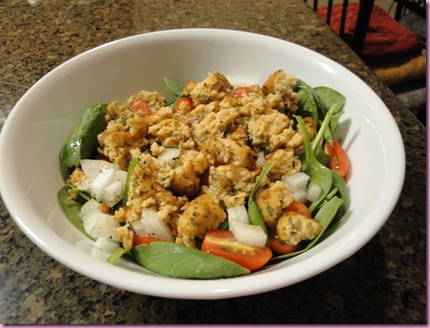 (see the chair with TWO pillows on it?? That's my makeshift desk chair. Apparently I'm too short to type at the dining room table without a booster. Haha)
The salad beast pictured above had two servings of salmon bites, tomato, onion, spinach, lemon juice, sea salt, pepper and a little extra virgin olive oil.
And an egg puff with one egg + one egg white covered in a Herdez salsa blanket.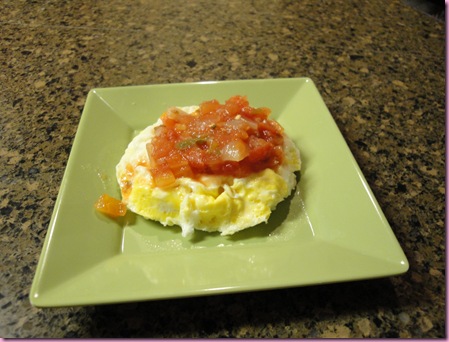 Glorious.
So after reading your wonderful comments about my nighttime bloated belly issue. I decided to do what many of you had said: I increased my water intake. It's an obvious thing I should have done, and it didn't even come to mind. This fall, my water intake has gone WAY down since I've been drinking tea for most of the day and I figured I was getting enough with all of the fruits and veggies I eat. Wrong! So with your lovely suggestions, I drank more water last night and poof! bloated belly gone. Fo rizzle. So I'm going to continue to eat gluten (since ya'll said I need to stick with my current diet so I don't skew next week's blood test results) and just drink more water in the meantime.
So for bfast, I had a gluten-full meal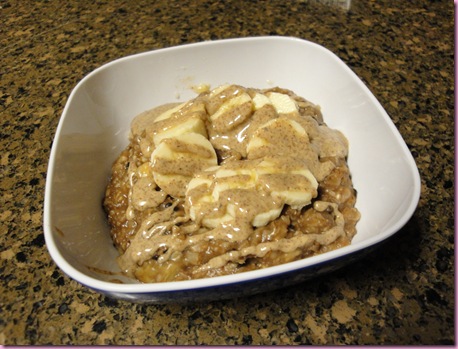 1/2 cup oats, 1 banana (half smashed, half sliced), 2 T carob, 1 T maca, vanilla, pinch sea salt, Stevia and almond butter drizzle. Delish.
I went to the gym for a quick training appointment and am back at the casa getting ready to meet some friends to decorate the squadron Christmas tree.
There's a little sumthin' sumthin' I wanted to address before I peace out:
Last night, there was some blog scruntiny regarding my workout schedule and a few stated that I work out "too much". For the average Jane, yes it is "too much" and I recommend 30-60 minutes 6 days each week to my clients. However, as a fitness professional, my main job involves working out. The thing is, I love to be active and really just see it as a bonus that I make some dollas for it. I'm responsible for teaching Zumba –I cut out my step and spin classes because they were "too much" on top of the other things I want to do, like running and yoga"- training clients, and if there's an extra class I want to take at the gym, I'm gonna do it 😀 The main thing is, I don't work out for the calorie burn. I work out for my health, my sanity and for my own personal enjoyment. I just make sure to fuel myself accordingly.
I post *most* of my meals, but not all of them. If I posted all of them you would be seeing a lot of almond butter-covered spoons, handfuls of Mary's crack, random palms full of nuts, dried fruit, whatever I grab in between training sessions on my way out the door. The meals I do post are complete meals and snacks that I would recommend to others. I just don't think me showing you a pic of an almond butter covered spoon would be beneficial and it'd be a little OCD for me to photograph every nibble I put into my face.
Also, I'm definitely NOT saying you need to work out 2-3 hours each day!!! This blog is about finding a fitness and nutrition "happy place" for YOU! Find meals you enjoy, workouts you enjoy and I just hope that I can give you some new and fun ideas. That is all.
Well I'm out like sauerkraut 😀
See ya later with a fun reader's request post!
xoxo,
Gina