Hiiiiii 😀 Guess ya'll really want some chia seeds – Keep those comment and tweet entries coming!
My eats, much like my life, have been a little haphazard today 😉
I broke out my favorite elf plate, courtesy of my nana, who always pimps the blog with cute dishes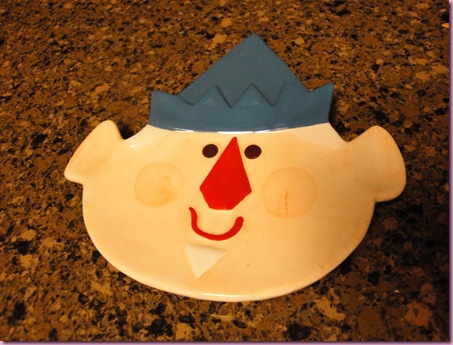 and covered his cute face with sliced banana, apple and cinnamon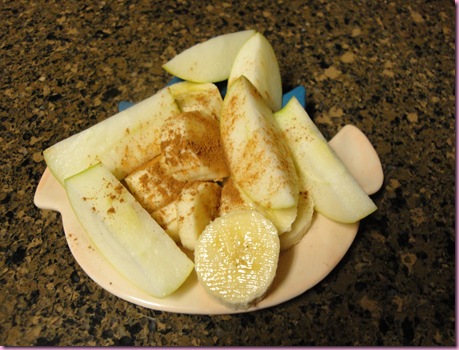 I put some kombucha in a penguin mug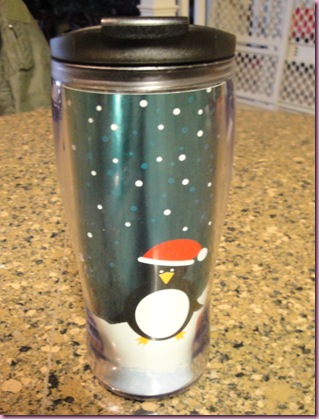 then went to the gym for a meeting, which was bueno.
After the meeting, I met my friend Ashley at the health food store for some goodies 😀 On the way, I snacked on this bar: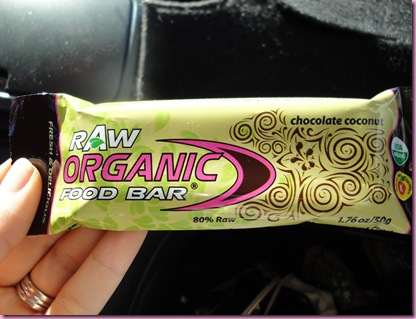 I picked up some fabulous things, including pizza crust, Mary's crack, kombucha, bars, almond butter (!!!!), salmon bites and some cookies for Jeni and I 😀 I also bought some, err, *women's health* tea so to speak, because of this whole situation. I'm hoping the tea will help my body stabilize the hormones a little more quickly… we shall see.
I'm also experimenting with more gluten-free items because lately at night, my stomach has been getting insanely bloated. I wear hoodies to hide it, but I'm wondering if it could be due to a gluten intolerance (or the fact that I eat a ridiculous amount of fruits and veggies?). So I'm going to eliminate gluten for the rest of the week and see if it helps. It should be fairly easy, since I unintentionally don't eat very much gluten as it is. I'm also getting my bloodwork done next week… Jeni's going with me to hold my hand 🙂
Anywho, after the health food store, we went to the juice bar –Ashley got a smoothie and I got a wheatgrass shot- then I came back to the casa.
Lonchi was a queen of all salad beasts: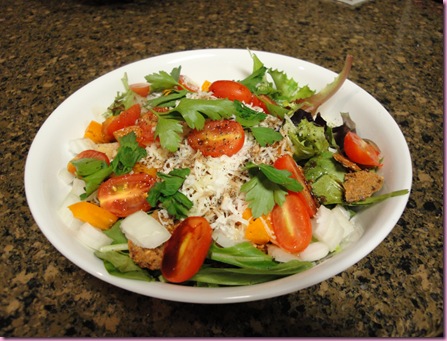 Mixed greens, spinach, onion, grape tomatoes, bell pepper, raw goat cheese, Mary's crack, balsamic, olive oil, sea salt and parsley. Ahhhhmazin.
Dessert was one of these face-rocking vegan cookies: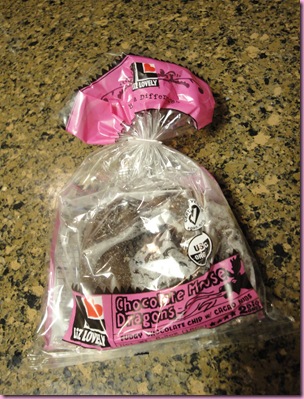 Some days, you just need a cookie 😀
Jeni and I hit up the gym for some legs:
| | | |
| --- | --- | --- |
| Elliptical | Warm up | 5 minutes |
| Bench leg lifts | Body weight | 3 sets of 12 |
| Side lunge and lift | Body weight | 3 sets of 10 on each side |
| Leg extension | 35 lbs | 3 sets of 12 |
| Adductor | 35 lbs | 3 sets of 10 |
| Prone hamstring curl | 35 lbs | 3 sets of 10 |
| Barbell deadlifts | 20 lbs | 3 sets of 12 |
| Single leg calf raise on a step | Body weight | 3 sets of 10 on each side |
| Elliptical | Hills program | 10 minutes |
| Total time: 1 hr |   |   |
I trained a client, and here I am 😀
Time to get ready for pilates (it's Ashley's first night teaching and I CAN'T WAIT) then Zumba.
Whew!
Enjoy the rest of your day <3
Gina
Today's tip: If you have a favorite exercise move that you find yourself doing over and over, find a way to switch it up! Use a barbell instead of dumbbells, stand on a Bosu ball, use a kettleball for additional weight, throw some cardio moves (jumping jacks, squat jumps, mountain climbers) in between sets.. remember my motto "change creates change". Do whatever you can to bring change into your current routine and your body will respond beautifully 😀