Hi guys! HAPPY FRIDAY! Sorry to disappear on ya last night… it was just one of those nights where I had to unplug from technology and enjoy a lovely 2 hour episode of Private Practice with the puppers 😉
Yesterday afternoon, some of the wives and I decorated this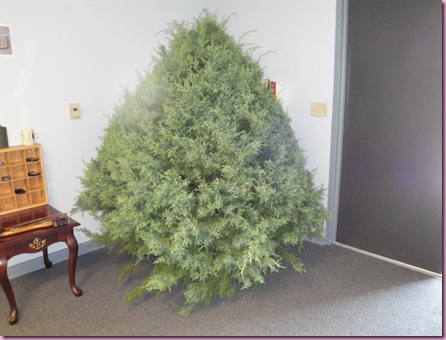 What is it?!?!
Yes, that's a Christmas Tree. We were all laughing because it looks like a giant shrub. The commander's wife (who makes cookies that will melt your soul) made some cookies and took them to a Christmas tree farm, so they gave us that tree to use at the pilots' squadron for free.
I have to say given the ummm, canvas we had to use, the tree came out quite lovely.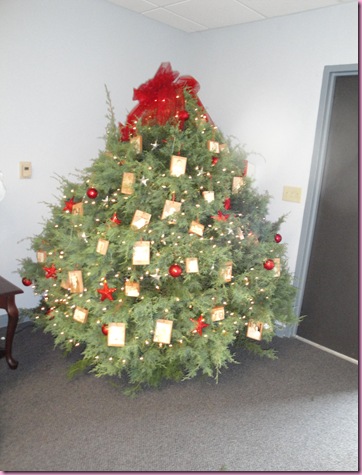 Not too bad, right???
It's pretty cool because each of the square ornaments are wood blocks with sepia-toned pictures of guys in the squadron and their families. There's a great variety of pics: goofy, cute  and sentimental.
These are the ones I sent in for the pilot and I: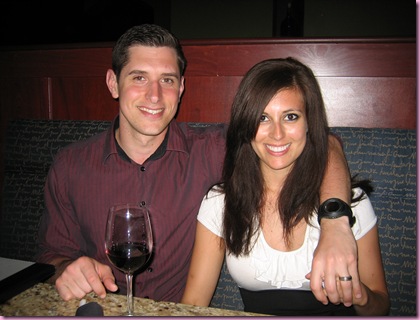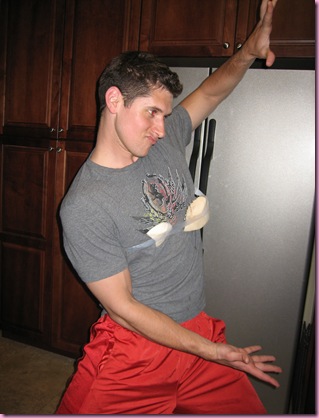 Heh heh.
While we were at the squadron, we also wrapped door prize gifts for the Christmas party –ugly Christmas sweater themed- that we're having next weekend.
My pilot was a gentleman and made us some HOGCORN to snack on.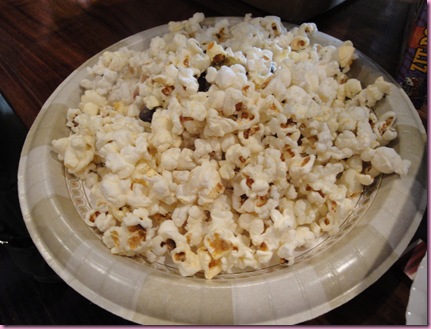 I've told ya'll about hogcorn before, but for the new readers (hiiiiii!) it's popcorn that's popped with jalapenos. The popcorn is extra spicy and the jalapenos are crunchy. In other words = foodgasm.
Jeni and I didn't end up having our Indian feast since we were at the squadron for a while, so I came home and had a quick lunch: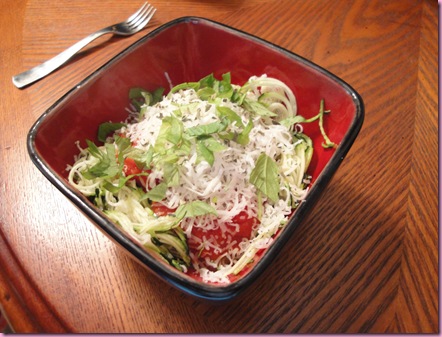 (spiralized zucchini with marinara sauce, raw goat cheddar and basil)
then I was off to the gym for 4 more training appointments (I had 5 yesterday on top of the usual shenanigans) – I snuck in a half hour elliptical workout in between training 😀 ***snack was an un-photographed yet delicious raw foods bar
When I got home, I was a little on the exhausted side, so after a dip into the almond butter jar and some Mary's Crack, I made some dinner 😉
Veg: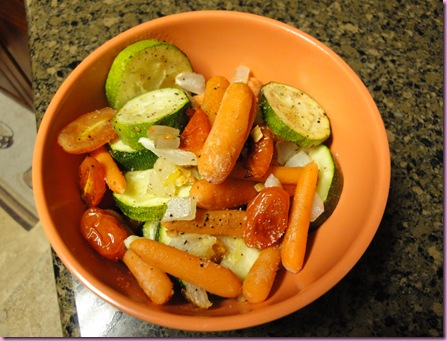 Sweet potato with Herdez and cilantro: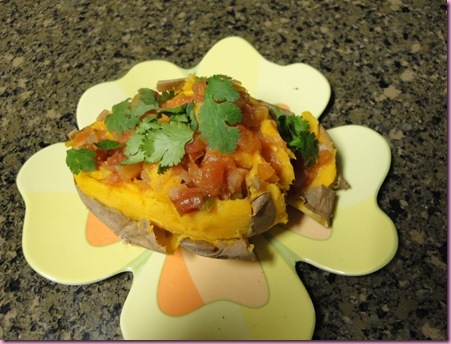 Ahhhhmazin'
Well I'm off to meet Jeni for weights, but wanted to say hello and thank you for your amazing comments yesterday. Whenever I need to vent, ya'll hit me with a flood of sweet and uplifting words and I hope you know how much I truly appreciate all of you <3
See ya this afternoon!
Much love,
G$
Something to do: Last day to ENTER THE CHIA SEED GIVEAWAY! I'm extending the deadline until 5 PM EST (because that's when I get off work, haha) so if you haven't entered already, dooooo it 😀 3 lbs of chia seed goodness could be yours 🙂