Hey everyone! How are ya??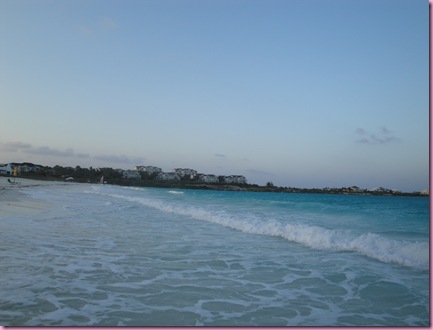 Hope your day is off to a great start 🙂
Last night, we had a blasty exploring the resort and surrounding area.
Our first stop was the beach.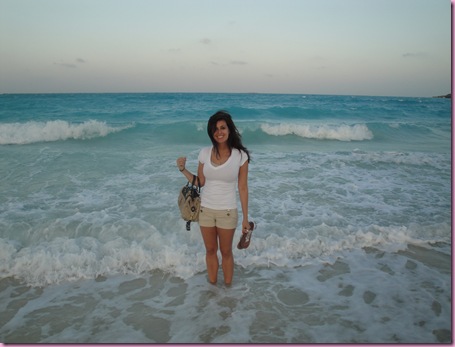 The water here is SO WARM! I'm usually a giant chicken and haaaate cold water, but I can actually see myself swimming  doggy-paddling around in there 😉
It's pretty exciting because there's actually a reason why we're here in the Bahamas- it's our HONEYMOON 🙂 That's right, almost 3 years after being married, we're finally going on our honeymoon. Better late than never, eh?? When we got married, the original plan was to take a low-key trip to Vegas (since our wedding was ginormous), but the pilot ended up having to be at work for training that Monday. Ever since then we've either been moving, or the pilot has had military schtuff, so the fact that he got to take some time off and vacay with me is pretty baller 🙂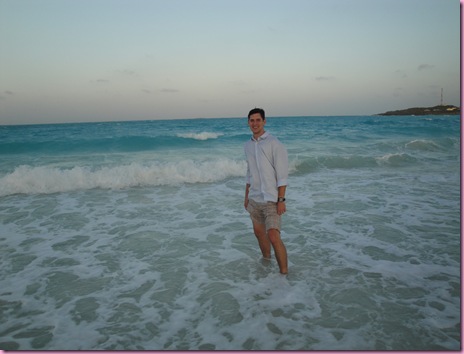 For dinner, we went to one of the casual restaurants that faces the ocean and is on the sand, so you can dine barefoot.
We had some delicious wheaty bread: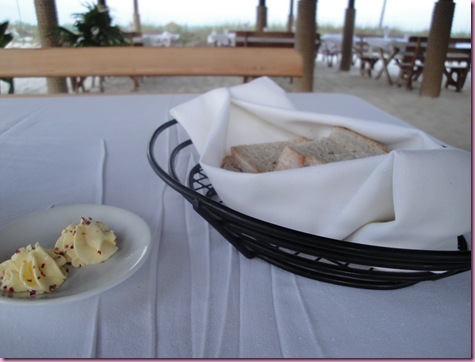 Share a tuna cobb salad with no cheese: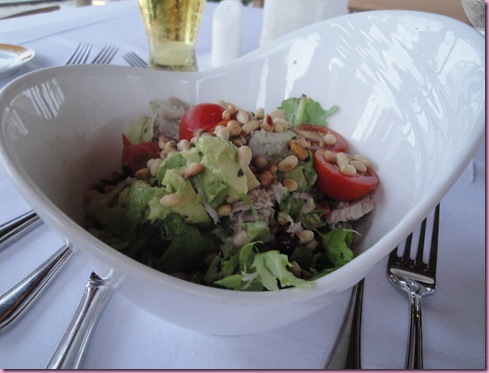 I munched the Ahi tuna, which came with a papaya and pineapple salsa and bok choy: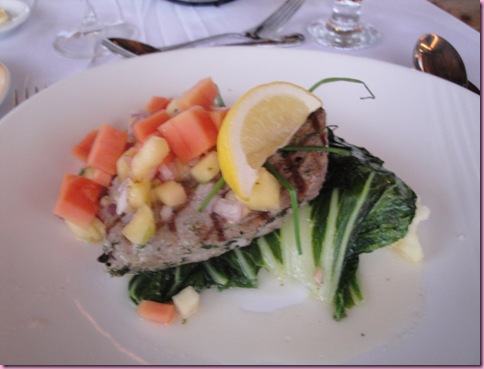 The pilot chose the tempura sea bass and asparagus: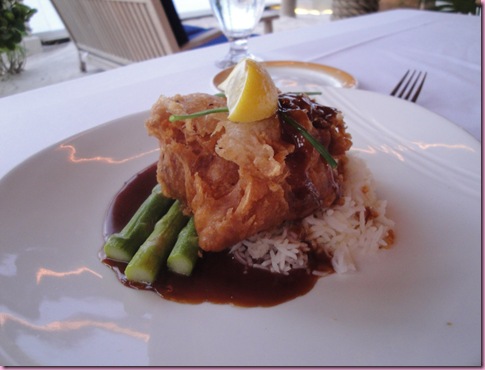 It was pretty glorious, and a sweet deal is that the resort is all-inclusive so we don't see a bill for our eats and drinks while we're here. (I'll tell ya'll where we're staying on Tuesday)
We laid in a hammock: (where I could very easily spend the rest of the week)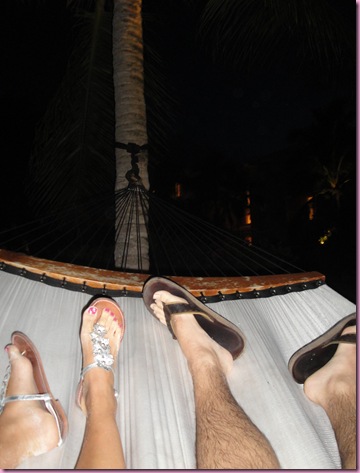 (My feet are the ones on the right, heh heh)
Did the late-night swim thang: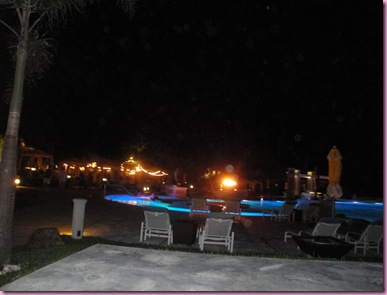 And the resort had a lovely 10pm CHOCOLATE BUFFET and wine tasting. This was definitely a moment where I was like, "Where am I??? These people want to give me chocolate and wine at 10pm?? Whoever decided to do this is a genius… that's all I have to say."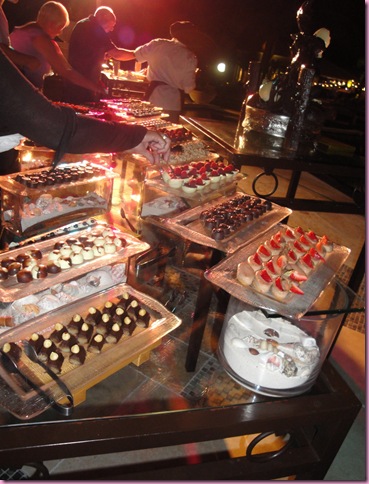 The pilot and I shared these little plates of joy: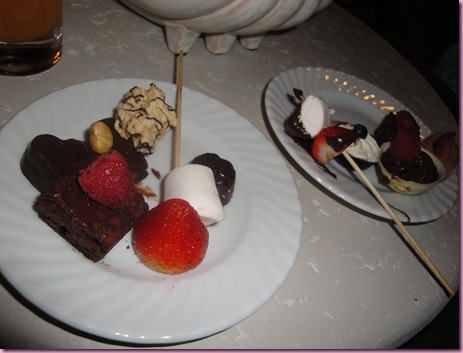 and it was foodgasmic. Our favorites were the fudgy brownies with raspberry on top and the chocolate and marzipan with macadamia nuts on top. YUM.
We came back and called it a pretty early night since we were tired from traveling.
The plan for the day is:
– Insanity (Core Cardio and Balance)
– Breakfast
– Beach/Pool
– The Art of Shell Painting (for real! haha)
– Bahamian Line Dancing (yeahhhhh)
– Weights
– Fancy Schmancy Dinner
See ya later today with some pics <3
Gina
Upcoming: SUMMER SHAPE UP 2010 launches on Monday, May 24th- mark your calendars! 🙂 What types of workouts would you like to see for this Summer Shape Up?? Last year consisted of gym workouts and the Winter Shape Up was all at-home workouts. What would you guys prefer for this one? Please hit me up in the comments so I can start planning 🙂
Something to talk about: Where did you go on your honeymoon? If you haven't been on a honeymoon yet, where would be your first choice? Any funny/weird/romantic honeymoon stories to share? 😀
Something to do: Check out my guest post on my twin friends' blog! Workout Advice 🙂