Hey everyone! Hope you're having a great night 😀 This have been bueno over here… the usual insanity followed by a lovely dose of Grey's Anatomy.
Lunch was a burger and fries: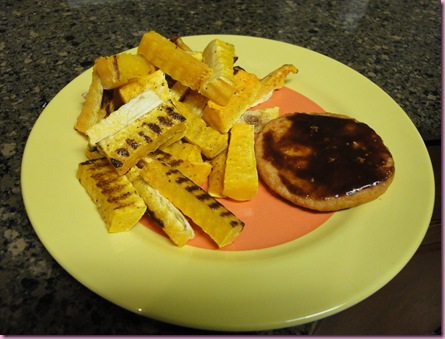 Not your typical Mickey D's though 😉
That mix was a Wild Alaskan salmon burger smothered with Organicville BBQ sauce with 1/2 butternut squash in fry form.
I had quite a few training appointments, then came home for an energy boost before going back to the gym for a cardio sesh.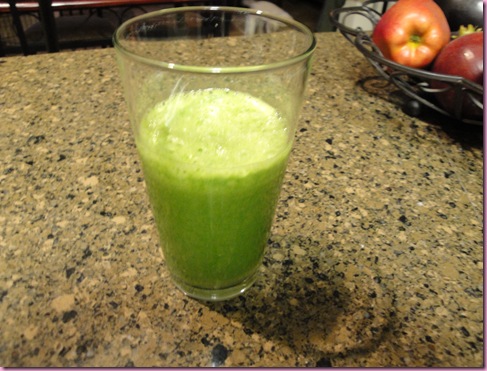 1 green apple + 1/2 cucumber + lots of spinach + parsley + 1/2 lemon = instant energy 😀
I hopped on the RAD (Revolving Apparatus of Death) and did 50 minutes of walking with a trashy mag at 4.2 with 3.0% incline.
While I was on the treadmill, the pilot was being trained by my buddy Ron.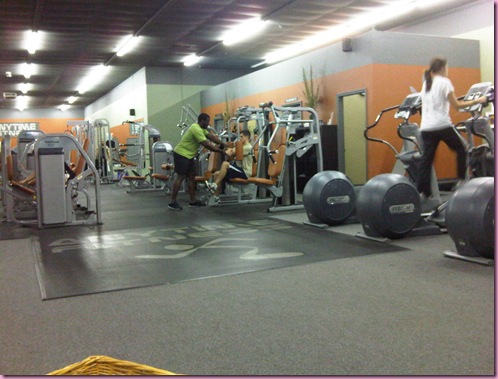 Remember when Ron trained me?? Ehh, let's just say it hurt to move for a few days. The pilot is in for a treat 😉 Buahaha.
Dinner was veggie beast bowl: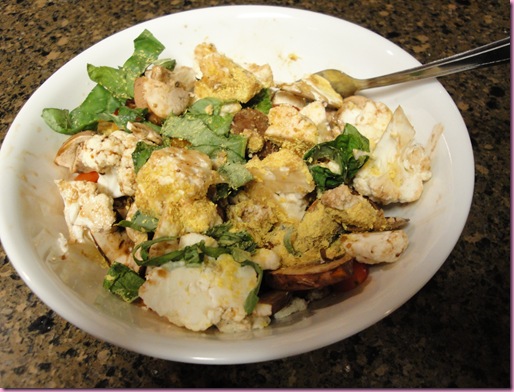 1 head of organic cauliflower with balsamic, portobello mushrooms, grape tomatoes, basil, bell pepper, leftover cashew cheese from client lunches, sea salt, garlic, a shallot and pepper.
I also munched an unpictured egg puff, but ya'll have been seeing a bunch of those lately 😉
It's kind of interesting because when I first started to experiment with raw foods (about a year and a half ago), I thought you had to be all-raw to see the benefits. As an all-or-nothing girl, if my entire meal wasn't raw, I felt like it didn't count. Good thing my friend Gena has shown me that you still get wonderful benefits from consuming cooked foods in combination with high raw meals. As a weight-lifting aerobics-teaching training girl, I definitely need more protein and it's been really nice to get all of my macronutrients from a mix of cooked and raw sources. Baller. So I guess the lesson is any rawness you can add to your life is a good thing! Even if it's something small having a salad with each meal, snacking on raw fruits and veggies, a palmful of raw nuts, you are still getting more nutrients and live enzymes, which is definitely a bonus.
I'm off to take these puppers out and crawl into bed.
Have a lovely night <3
Gina
Shout out to the ladies at Arkansas Children's Hospital who read the bloggy! HIIIIIII 😀