Thinking outside the "box"
You may have seen CrossFit on my tentative workout schedule every week for the past, ummm, couple of months?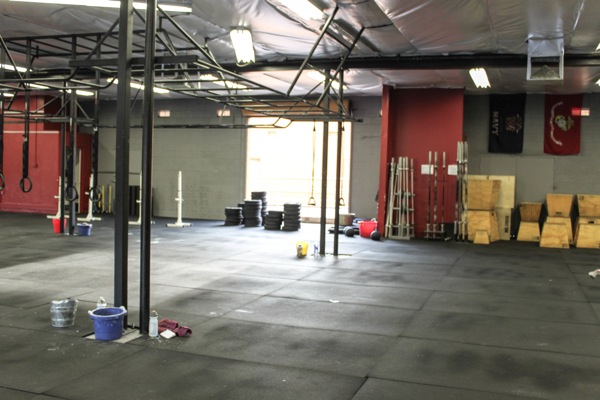 Well, even with the best intentions, I still haven't made it back.
There are so many different class options, but no early morning beginner classes. I really want to learn all of the lifts/techniques and the beginner's class hasn't worked out with the Pilot's schedule (I don't like to ask the fam to come over and watch Liv while I workout- they help so much while I'm at work, and it's feasible for me to go at night or in the am). If it were *really* important to me, I'd find a way to make it work, but to be honest: it's not. I would like to learn more about CrossFit and incorporate as a casual part of my fitness routine (not saying anything about the workout is casual- quite the opposite- but that it wouldn't matter to me if I added or skipped it that week).
Since Tuesdays are usually my HIIT/strength day, I figured it would be fun to do today's WOD (Workout of the Day) at the gym, since I was familiar with all of the moves and knew it would be an intense, quick workout.
Here's what my version of this workout would look like:
-Warm-up: run 5 minutes
-EMOM: 5 bear complex (this move right here, doing one round every minute on the minute. This means if you finish 1 round in 30 seconds, you have 30 seconds to rest before starting the next round)
3 rounds for time:
400m run
15 kettlebell swings (probably my current favorite workout move- big-time booty burner and great way to get the heart rate up)
12 box jumps (I'd use a low box… I've broken my nose enough times thankyouverymucho)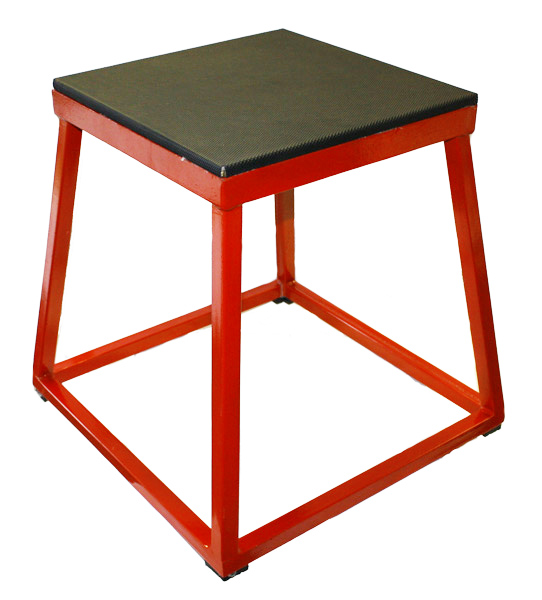 Source
Note the "would" above because it was a teething night for Liv, so we spent most of the night cuddling in the nursery together. There was no way I could do it when the early alarm went off. I'm hoping to make it to the gym later tonight, but if it doesn't happen, I'm going to give it a whirl on my lunch break tomorrow.
Beautiful memories of last night's Thanksgiving dinner: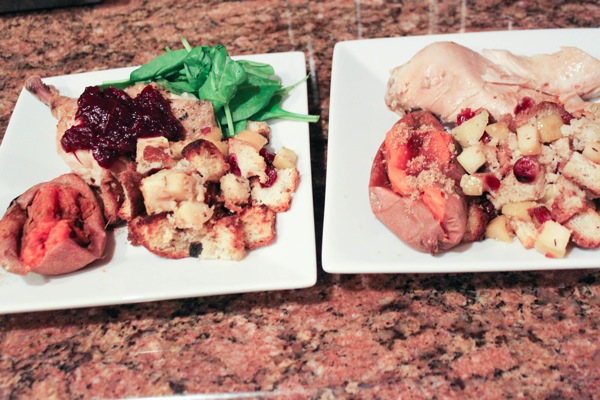 The Pilot and I were still dying for day-after-Thanksgiving sandwiches (stuffing, turkey, cranberry, lettuce and goat cheese on bread… omgggg) so I made a mini version of the meal. Even though it didn't do the legit Thanksgiving extravaganza justice, it will work nicely for the intended purposes.
Chicken in the slow cooker- organic and already brined (thank you, Joe the Trader!), with lemon, garlic and rosemary inside, herbed butter, sea salt, pepper and paprika on top. Cooked on low for 8 hours and it was the easiest, tastiest chicken I've made.
With stuffing (basically my quinoa stuffing with a loaf of chopped Udi's bread instead of quinoa and the broth from the chicken to cook), spinach, cranberry sauce and baked sweet potatoes.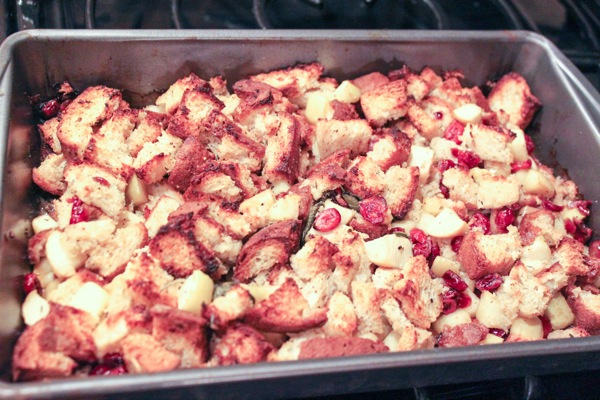 Just as you all are probably done with your Thanksgiving leftovers, we're just getting started….
Tonight is a sushi party at our house, so it should be a blast. On the menu: sushi rolls (from Sushi Garden), with homemade miso soup and salad with ginger dressing. I was trying to think of a good dessert option, but pizookie is always the answer 😉
I hope you're all enjoying the week so far <3
See ya later on the Family page with Liv's turkey lentil loaf recipe.
xoxo
Gina
Latest on the Fashion page: my first StitchFix
*Only a few days left of Namaste November! Let's end it with a bang 🙂 Don't forget: the winner (chosen by random, the more you check in, the higher your chance of winning) gets a $200 lululemon gift card. I have another challenge lined up for December- I think it's gonna be a good one.
Something to think: 
Something to talk about: Does anyone else do CrossFit WODs at their gym or somewhere else? I think if you're comfortable with the moves, it's a great option, but I always thrive from group energy so I could see how it would be more fun and motivating to take a class.