Hey everyone! Thanks so much for your good vibes and wonderful tips on the blood work <3 Too bad THIS got in the way: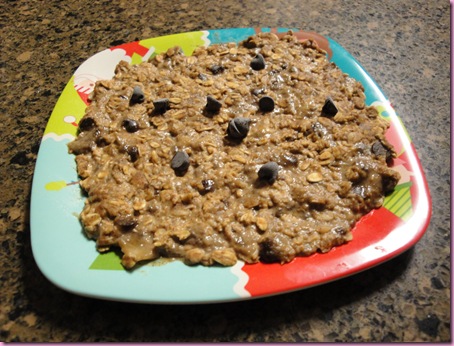 A breakfast cookie? Yup. I made one with vegan chocolate chips to bribe myself to be brave when I got to flight medicine, only to find out that you can't have blood taken if you've just eaten. Whoops :/ So I have to go back—probably tomorrow. Please save those good vibes for me!
When I got back to the casa, I still had cookies on my mind.
So I put on the coolest apron I've ever seen (thank you POM friends)!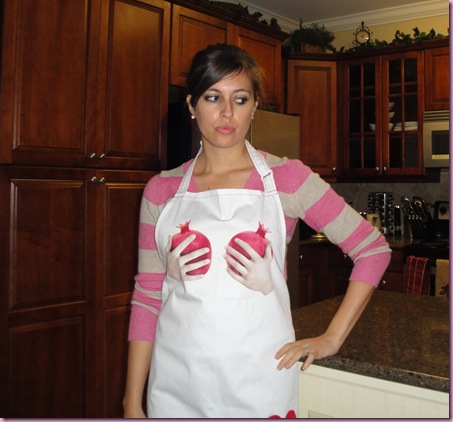 Kinda reminds me of my shenanigans in the POM orchard….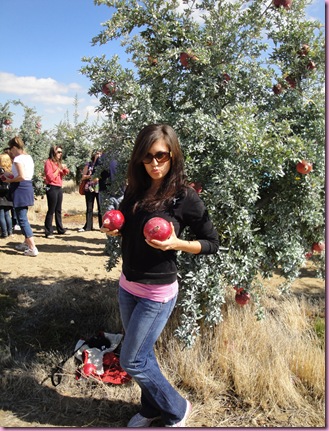 Heh heh.
Then I got cooking! Don't you just love when recipes appear in your brain?!?
Vegan Power Cookies

With maca, nature's superfood for energy, goji berries, raw brown rice protein and almond butter, these cookies are perfect for a pick-me-up, any time of the day 😀

Dry ingredients:

-150g spelt flour

-1 scoop Sun Warrior vanilla protein

-1/2 cup old fashioned oats

-1 T maca

-heaping t of cinnamon

-pinch sea salt

-1 t baking powder

-1/2 t baking soda

-1/4 cup goji berries

-1/4 cup vegan chocolate chips

Combine all ingredients, except for goji berries and chocolate chips, in a large bowl. Add the goji berries and chocolate chips, stir to combine and set aside.

Wet ingredients:

-1/4 cup canola oil

-1/4 cup Sucanat (or unrefined sugar of your choice)

-1/4 cup grade A pure maple syrup

-2 T raw agave

-3 T raw almond butter

-1 t molasses

In a separate bowl, combine the wet ingredients and thoroughly mix. Add the wet ingredients to the dry, stir to combine but do not overmix. Bake cookies on a parchment lined cookie sheet for 8 minutes (9-10 for larger cookies). Leave on baking sheet for 1 minute, transfer to a wire rack and allow to fully cool.

If you're not too full from eating dough, try one out:

And be filled with increased energy and foodgasms from the sweet and earthy taste.

😀

© 2009 The Fitnessista
Now, get away from the computer- go make some! I might add in an additional T of oil because they were a tiny bit dry (but I also overbaked them by a minute, so you should be bueno).
I'm off to pump some crazy iron then train some clients 🙂
See ya tonight,
G
Something to do: Take 5 minutes today to sit cross-legged or lay down, play some music, and clear your mind. You'll be amazed at how serene you feel when the 5 minutes are up 😀