Heyyyyyy 😀 How are ya? Hope everyone is having a fabulous night! I'm glad you enjoyed the baby puppy pictures. They're funny little things 🙂
Today has been pretty bueno- I took the week off from teaching aerobics to have a break and get the casa put back together, especially since I start teaching yoga next week (!) and I'm taking over as the lead fitness instructor at the gym. So I'll be in charge of the monthly class schedule and payroll and am really excited about it– anything to spiff up the resume is a good thing!
In between training appointments today, I snacked on some fruit: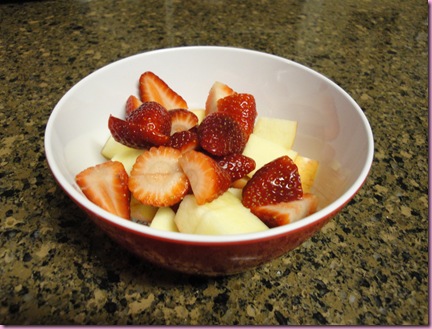 When I got home from work, I took a swim in the almond butter jar and then decided to make some lonchi.
Roasted brussel, tomato and zucchini with a 1 egg + 1 egg white puff (sprinkled with chili powder) and goat jack cheese: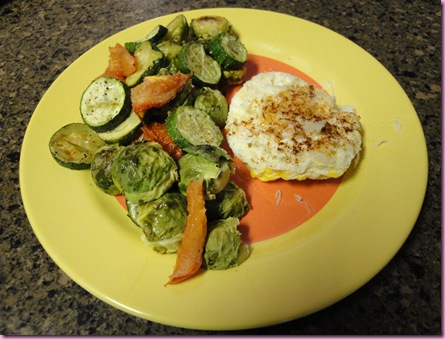 Glorious!
I went to the bookstore and read for a while, then to Bizzle and the health food store.
Snack: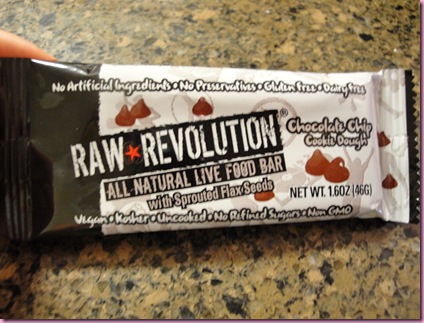 When I came back to the casa, I wasn't quite ready to hit the gym yet, so I laid on the couch with the puppers and snacked on sauerkraut while I read.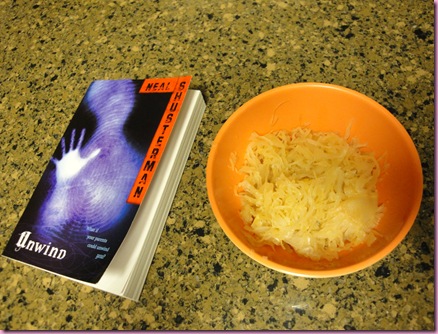 Heaping bowl of sauerkraut = surefire way to go over sodium levels for the day
It's just so good, though 😉
Has anyone else read "Unwind"?? I finished it today and it was AMAZING. Very intense. I'm all about the teen novels lately, haha.
After a little veg sesh, I hit up the gym for some shoulders, chest and triceps
| | | |
| --- | --- | --- |
| Warm up | Elliptical | 5 minutes |
| Dumbbell upward row | 8 lbs each/ 10 lbs each | 1 set of 12/ 2 sets of 10 |
| V-rope tricep pressdown | 40 lbs/30 lbs | 2 sets of 10/ 1 set of 12 |
| Stability ball pushup | body weight | 3 sets of 12 |
| Overhead press | 10 lbs each | 3 sets of 10 |
| Fly machine | 35 lbs | 3 sets of 10 |
| Supine tricep extension | 8 lbs each/5 lbs each | 2 sets of 10/ 1 set of 10 |
| Stability ball side laying lat raise | 5 lbs each | 3 sets of 10 on each side; no rest in between |
| RAD (revolving apparatus of death aka treadmill) | 50 minutes | Walking 4.2 mph at 2.5% incline for 30 minutes with the new Shape mag; speed intervals for 15 min; cool down 5 minutes |
| Total time: 1 hr 30 minutes |   |   |
It was a good workout! Chugged an unpictured Sun Warrior smoothie upon walking in the door 🙂
I'm off to make some dinner –the pilot had Alton Brown's meatloaf that I made earlier today- and hit the hay. Two interesting things are happening tomorrow:
1. I'm finally getting blood work done. I canceled my appointment twice because I'm a giant chicken -the only man who can take my blood is Edward Cullen- but tomorrow's the day. I really want to make sure my vitamin levels are good and also have no clue what blood type I am (bad, I know). The pilot is going with me to hold my hand and help me after I faint. Any words of bravery for me?? I'm seriously the biggest needle-phobe you will ever meet.
2. My good friend Ron (*cough* Mr. Georgia *cough*) is training ME tomorrow. I like to get trained periodically because it's easy for us to get stuck in ruts, too, so we're going to swap some info tomorrow while he trains me. I'm pretty stoked about it, especially because it will give me some new ideas for the Winter Shape Up (January 18 2010- Mark your calendars!).
I'm off! Have a great night <3
xoxo,
Gina
Update on the BC she-bang: (Guy readers might want to bid adieu to the rest of this post) Quite a few of you have asked me for an update on how things are going since I quit taking birth control. To be totally honest, I feel TIRED. Like really, really stinkin' exhausted. It's not to the point where it's really gotten in the way of anything, but there are quite a few days where I could crawl into bed and sleep the day away if I could. From what I've read, this is totally normal and will get better with time, so I'm willing to deal with it unless it gets significantly worse or doesn't improve in a few months. In that case, I'll make an appointment with the doctor.
I'm still tracking my cycle by doing the fertility awareness method (from "Taking Charge of Your Fertility") and to my surprise, it was completely normal after I stopped taking the pill. Keep in mind though, that this isn't the case for everyone and it can take a few months to get things back in order.
So in a nutshell, yes, I feel really tired (which is probably more difficult on me since I don't usually drink caffeine) but it's not anything too bad. My skin is still looking good, I'm only moody for about one week out of the month (sorry, Pilot! haha) but it still feels really good to not have to take a pill every night. And remember, I'm not knocking the pill in any way- I took it for twelve years! It's just time for me to figure out my body and make sure the oven is ready for future little Fitnessistas and Pilots 😉
Updated to say: A reader, Jessica, has actually started a forum to discuss going off the pill, what to expect, hormones and symptoms. It's an awesome, brand-new site, and she really hope to have an amazing group of girls on there to discuss their experiences. Check it out here 😀