Warm up to the main event
When a baby started growing in my belly, my brain disappeared to make room.
I locked us all out of the house this morning.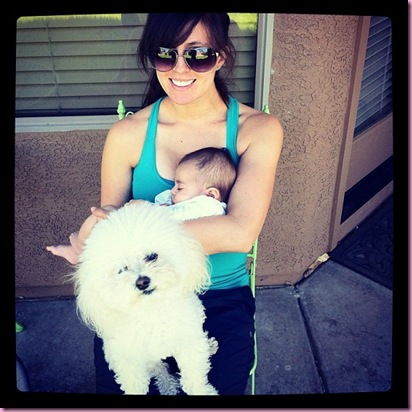 That's a half-smile. I felt horrible 🙁
I always check the bottom handle of the door to make sure it isn't locked, and today was the one time I didn't.
Thank goodness Tom was still home
it was cool outside (or we would have gone to the neighbors' to wait for the locksmith)
The locksmith showed up quickly and busted our doorknob to get us back in. Liv slept peacefully on the patio with me while we waited.
A lot of the things I experienced during pregnancy ended up just being a warm up to the main event… like my brain "kinda" being gone, to lost forever 😉
Some other things on the list:
-Putting someone else first. While I was pregnant, Liv was the driving factor behind everything I did. How I ate, worked out, and slept were all to grow a healthy baby. As a bonus, I got the benefits from it, too. It's taken to a different level when the little one is actually here because you're more concerned on making sure the baby is fed, comfortable, rested, and happy. When that's all good, you can do the things you need to do for you. I'm still eating (no more cruciferous veggies or boatloads of chocolate for this girl), working out, and sleeping according to the little one 😉 It takes patience and flexibility, but I feel like pregnancy helped prepare me for that. It also gave me 40 weeks for reality to set in, and to become even more excited for the hard work ahead.
-Physical discomfort. During pregnancy, my hips hurt like a biotch and I felt pretty heavy and uncomfortable towards the end. I thought that after the birth, I'd be like, "I'm FREEEEEEE!" and be able bend down without the pregnancy style plie squat, sleep on my stomach no prob, and feel light and energized. In reality, I felt like a truck had hit me and my limbs were noodles. Even though my pregnancy was thankfully mild as far as symptoms go, I was used to taking it easy, and continued to do so while I recovered. Now, I'm pretty much back to normal, minus the boob discomfort.
-Dressing for pregnancy —-> dressing for breastfeeding. During pregnancy, you rock maternity tops, when you're breastfeeding, you rock nursing bras and tanks. I wear a nursing bra and nursing tank every day and layer them under my regular clothes. This way, if I need to feed Livi while we're out, I can lift up my shirt and my belly is still covered by the tank underneath.
-You make plans or have an idea of how you hope things go, and then everything changes. This one was a little bit in reverse for me, because I had a plan on how I wanted my pregnancy to be and how I'd ideally love the birth to go, and they both surprisingly worked out. I was ready to roll with option B, C or Z to get her here safely, but was very blessed to have a healthy pregnancy and the type of birth I'd been hoping for. When Liv was actually here, I had an idea of how I would have loved things to go, but really had no idea how they would turn out, especially since she was our first. Breastfeeding was a major one.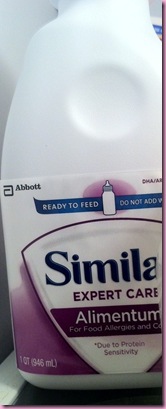 I had reservations about using formula and we first had to supplement when my milk took longer to come in. After that initial hurdle, we thought we were bueno, and as she needed more food, it was our only option to make sure she was getting enough.
Even though my surgeon said I should be fine breastfeeding, my right side was compromised from the tumor biopsy. Many times, I'd pump and nothing would come out. If it was a lucky night, I'd get an ounce and it would take about 40 minutes. The only thing I accomplished by pumping the right side so frequently was damaging the tissue. I stopped, am letting it heal, and have been feeding and pumping from the left, then top Livi off with pumped breastmilk or formula.
When I pump, it saddens me to get 4 oz from the left, because if my right side could match it, breastfeeding would be much easier. It was something that I really had my heart set on and even with the steps we've taken, we've still had to supplement. We tried a couple of types of formula in the process and when we switched to a hypoallergenic version, Liv's stomach was much happier. I've even heard of making your own formula, which is a really cool idea.
Being pregnant really forced me to relax and let go of many of my Type A tendencies. Instead of being stubborn and trying to make something work that wasn't going to, I've had to go with the flow (pun?). I'm been pumping, drinking tons of water, eating extra calories, fat and protein, taking herbal supplements, drinking tea, etc. I asked the midwives if working out would affect my supply, and they assured me that I would be fine, especially since my body is used to it and I'm eating enough to sustain the activity plus breastfeeding.
I'm just happy that Liv is full and happy. She's getting a majority of her nutrition from breastmilk, which is important to us, and formula is there to fill the gaps if we need it.
Being pregnant taught me that even if something was challenging, I'd make it through and have a sweet baby growing inside of me.
The challenges now are very different and on a larger scale, but I make it through, and have a sweet baby, in my arms, smiling up at me.