Hi friends! Happy Monday to ya! How's your morning going?
_____________________________________________________________________________________________
I loved reading about your best accomplishments from 2010. A 2010 re-cap will be going up later this week, but a little head's up that I'll be posting my 2010 inspiration board next Monday. If you have a blog and would like to join me, please do!! If you don't have a blog, I'd love to see an email pic of your inspiration board. If you need help setting yours up, *here's mine for 2010* and a *re-visit to the ol' board*.
_____________________________________________________________________________________________
I started my day off with a lovely egg scramble.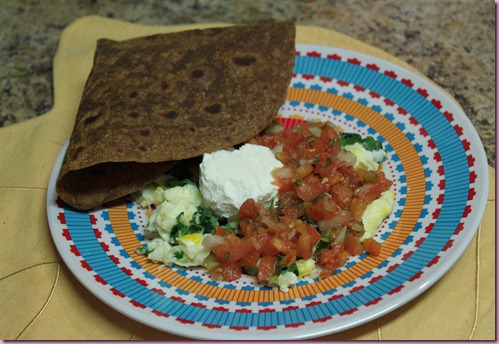 That plate of joy had 1 organic egg and 2 egg whites, arugula, fresh pico de gallo, a mesquite tortilla from the farmer's market
and the best part of all…..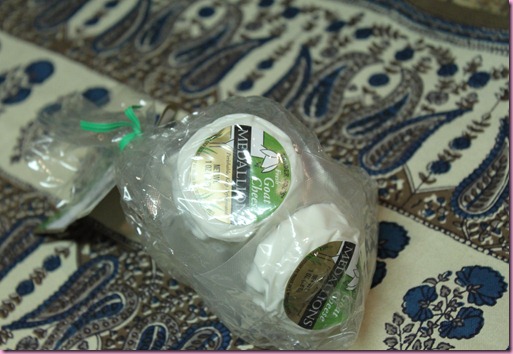 Goat cheese medallions!
I actually tweeted Laughing Cow cheese the other day to see if they would please come out out with a Laughing Goat cheese. Even though they were kind enough to tweet me back and say not at this time, it doesn't even matter- Trader Joe's beat 'em to it 😉 I'm going to be rolling in goat cheese medallions from now on.
Breakfast was GLORIOUS and I gave it a little time before getting ready to leave for a workout- working out with a food baby is no bueno.
This smoooooothie will be waiting in the car for me when I'm done with the AM sweat sesh: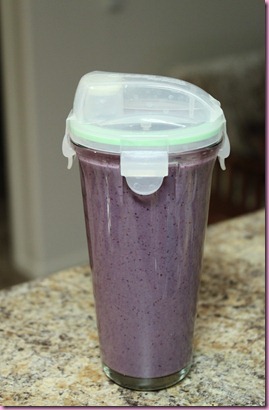 Sun Warrior, mixed organic berries and almond milk.
While I'm doing the workout thang, I thought it would be fun to post this week's Workout Move of the Week: a yoga-inspired workout.
Some things to remember:

-I say "yoga inspired" because I'm not a yoga teacher, just a yoga student– I am a certified group fitness instructor and personal trainer. That being said, please do not attempt this workout without talking to a doc and until you've taken a few live yoga classes. It's a good idea to be familiar with the poses beforehand.

-As always, honor your body and your injuries. If it hurts, DON'T DO IT!

-This video was filmed in one take, and I managed to chop my head off for some parts with the tripod. Instead of seeing my face, you get to see Bella angelically sleeping, so it's a good trade off 😉

-Please let me know if you give it a whirl and what you think! I hope you enjoy it 🙂
Namaste,
G$
Something to do: In addition to my awesome weekly offers at OpenSky, this week I'll be giving away a free Live Well 360 Bag– my favorite bag ever.
To enter, follow me on OpenSky. You'll receive amazing email discounts on all of my favorite products (like Sun Warrior, Garlic Gold, chia seeds, etc) that you can hit up if you so desire 🙂 Winners will be announced on the first day of my next OpenSky deal, 12/28/10.