043: Skincare at all ages, building a business, and healthy living with Dr. Lamees Hamdan
Today, I'm excited to have a special guest on the show: Dr. Lamees Hamdan, who is a medical doctor and the founder of Shiffa beauty and DL.MD.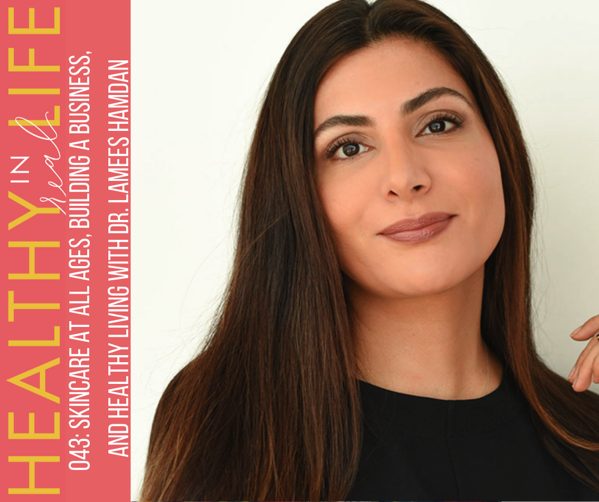 Download the full transcript here.
Here's what we chat about:
– Her background and journey as a medical doctor and skincare brand founder
– Tips for creating a viable business plan
– Skincare tips for healthy skin at all ages
– Her thoughts on fasting
– Her favorite healthy living tips
and so.much.more!
Here's a bit about Dr. Lamees Hamdan:
By training, Dr. Lamees is a medical doctor, but she has also extensively studied alternative therapies of southeast Asia, Europe and the Middle East. After a two year residency in Dermatology in Dubai, Dr. Lamees left her medical career early to seek alternative scientific paths to healing than was offered or allowed by the medical community in the UAE. In 2017, feeling a definite shift within the medical community in accepting integrative ways in the path for health, Dr. Lamees reentered the medical profession and she is currently working as a doctor with the Ministry of Health in the UAE.
Dr. Lamees is a serial entrepreneur, having founded and directed several beauty start-ups. In 2004, she launched her premier natural beauty company, Shiffa, that integrates her holistic teachings into a line of natural skin and bodycare products that is carried by Nordstrom, Bloomingdales, Violet Grey and Sephora overseas. Dr. Lamees has also been featured on Oprah and Huda Kattan's online blog with over 30 million followers and has appeared on morning talk shows with over 10 million viewers.
Resources from this episode:
Muslin cloths for nightly cleansing
You can shop Shiffa beauty here. Connect with Shiffa on IG here, and DL.MD here.
Check out my favorite CBD company and get 15% off with the code FITNESSISTA. I'll be writing a full post about this, but the liquid is my go-to when I have an extra stressful day or a lot going on, the soft gels are for more of a consistent basis (before bed!) and I've been using the balm for sore muscles and when my thumb is aching. It's been a gamechanger for me!
Thank you so much for listening and for all of your support with the podcast! Please leave a rating or review if you enjoyed this episode. If you leave a rating, head to this page and you'll get a little "thank you" gift from me to you.
You can listen and subscribe to the podcast on iTunes, Stitcher, and Google Play.