Hi friends! It's been a while since we've had a coffee date, so let's share one of those amazing looking pastries from the counter and gab for a bit. 🙂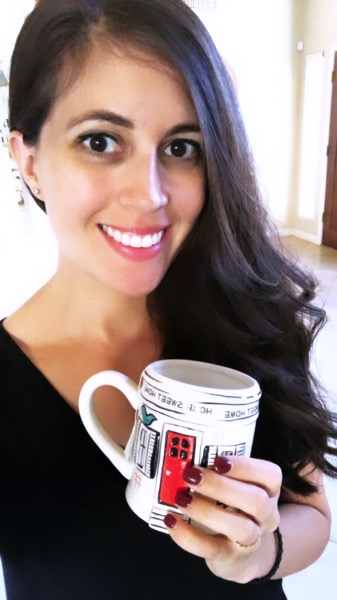 If we were having coffee right now….
I'd probably tell you that I'm still trying to figure out my life.
I haven't been teaching very consistently since we moved back to Tucson, mostly because the Pilot has been gone so much. When you're solo parenting and the only mom taxi for dance, gymnastics, and swim, it can be tough to add things into the schedule. I've been trying to find my *home* and figure out whether I want to stick with mostly barre, BODYPUMP, yoga, spin, TRX, or dance cardio. The good news is that I've been subbing often and with just enough variety to keep things exciting, but I absolutely miss having my core classes with the same students I see week after week. I've been exploring options, and also looked into opening my own studio, but the timing wasn't right. I'm confident that everything will fall into place, but since I still have no idea what the Pilot's schedule will be like, it's been a bit tricky. [I was offered a teaching job at a new yoga studio, but unfortunately had to decline it. I pay our babysitter more than they pay their instructors, and while it's not all about money, it has to make sense, ya know?]
I'd tell you that I stopped tracking macros. It was something I did for a long time and I noticed great benefits from it, but with the gallbladder situation, I decided to go back to more of an intuitive style of eating. When I was tracking macros, I felt like I was constantly trying to get in extra carbs and protein, and sometimes felt very full/uncomfortable from doing so. I don't want to overload my gallbladder, and have been focused on eating way more plants in my life. I've all but eliminated my intake of eggs, dairy or gluten – I have them very occasionally since I'm trying to do everything I can to get these dang polyps to go away – it would be really hard for me to hit the 120g protein goal. So, I'm not focused on hitting numbers anymore. I try to get protein and produce in every meal and eat what sounds good, but other than that, I'm just rolling with it. I think macro counting is awesome, but I don't think it's for everyone and don't think it should be *forever.* It was a good time for me to take a break. 🙂
I'd tell you that I'm pumped for HIIT Bootcamp! We had so much putting this one together and filming the videos. I can't wait to hear your feedback! Everything will be up here on the blog on Monday.
I'd talk about how mom friends are awesome. Since we're finally putting down some roots, it's been refreshing to make friends here in Tucson and know we're not leaving anytime soon! Every local friendship I've had until this point has had an equal feeling of "make the most of it!" while also feeling a bit sad knowing we wouldn't be sticking around. I've been planning girls' nights at least once a week, which has been good for the soul. <3 We went out salsa dancing and to dinner last week and a group of moms from dance got together this week for wine and cheese board.
If we were having coffee right now, I'd tell you I feel kind of blah about social media. The funny thing is that it's a HUGE part of my job, and there are some great parts about it, but man, it feels nice to unplug every now and again. I was thinking of doing some type of mindfulness challenge in December, so let me know if you'd be down for it!
If we were having coffee right now, I'd ask you if you had any awesome recs for NYC. I'm taking Liv on a little mom-daughter trip and would love to hear any of your favorite fall activities. She's been begging to see a Broadway show for years now, so I think it's time to introduce her. 😉
If we were having coffee right now, what would you tell me? What's going on in your life? Any fun fall activities or trips planned?
xoxo
Gina