How to keep your guinea pig cage clean
Sharing all of the tools you need to keep your guinea pig cage clean and keep it smelling fresh, tips on fleece bedding, and setting up a guinea pig cage.
Ok, I know, this is probably the most random post ever. BUT I know many of you have kiddos who want guinea pigs, or even have guinea pigs of your own since they seem to be a pretty popular pet right now.
I mentioned before that we got two guinea pigs as an incentive for Liv to stay in her room at night. It totally worked and before we knew it, it was finally "guinea pig day." The girls were PUMPED. i planned to get everything ready while they were at school, so when we picked them up, we could head straight to PetSmart.
The day we got the guinea pigs, I went and bought the biggest cage they had. (It was this one!) After researching a bit more, I learned that guinea pigs need a much bigger cage and that 7 square feet is the minimum requirement. They don't sell cages this big in pet stores, so they I needed to clean it frequently, which was kind of a pain, but our children were sleeping through the night… the things you do for sleep, I tell ya.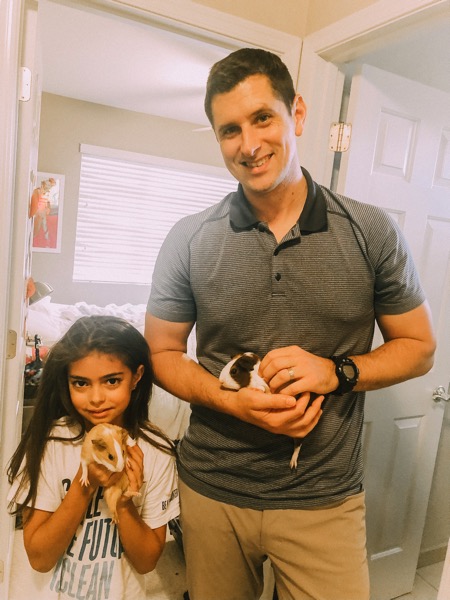 I didn't mind purchasing said guinea pigs, or the fact that I'd be responsible for feeding and keeping two more creatures alive in our house, but the thing that did worry me was the potential smell. I DID NOT want our house to smell like a barn, especially since we have carpet upstairs. That was a hard no for me, so I researched as much as possible and found some awesome solutions I thought I'd share.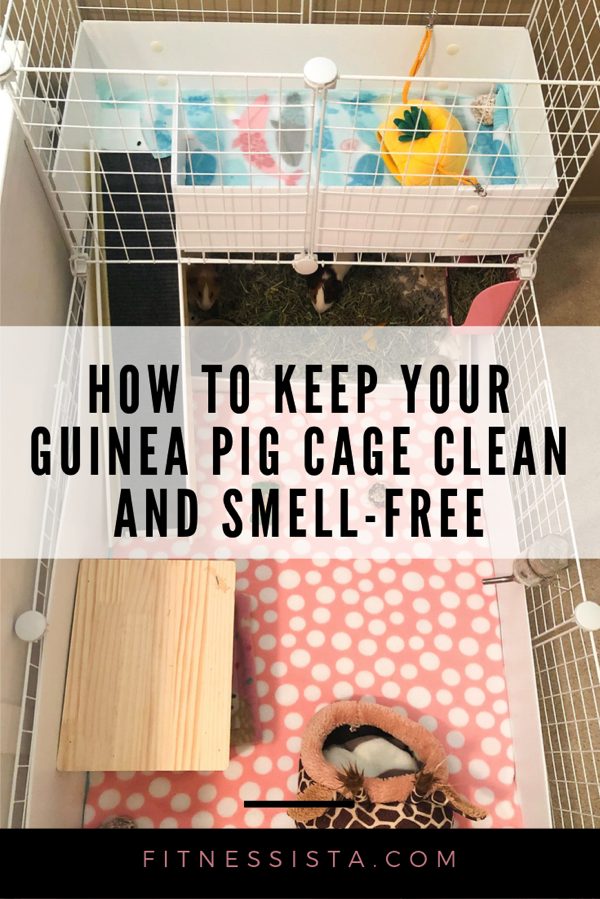 How to keep your guinea pig cage clean and smelling fresh:
1) Get a large cage. This makes a HUGE difference, and they have more room to roam around, which is better for their health anyways. We noticed a huge difference in their behavior and happiness when we transferred them to their new house. I highly recommend the C&C cage from this website. You can customize them by color and size, depending on how many guineas you have. We got the two-story one, and the base is 2×4 grids. This goes along with the next crucial step:
2) Litter train them. Our guinea pigs are probably 98% potty trained and do most of their business in the litter area. This is kind of gross, but they "go" where they eat. If you have a large litter tray/kitchen area you can remove, this makes it so much easier to keep clean. I ordered the kitchen from this site, and it goes under the second level so they feel protected while they're eating. (Note: guinea pigs like to hide since they're prey animals, so definitely have a few hidey huts for them. We have a wooden house, this giraffe from Amazon, this pineapple, and this little sleeping bag thing. I rotate them to change things up.)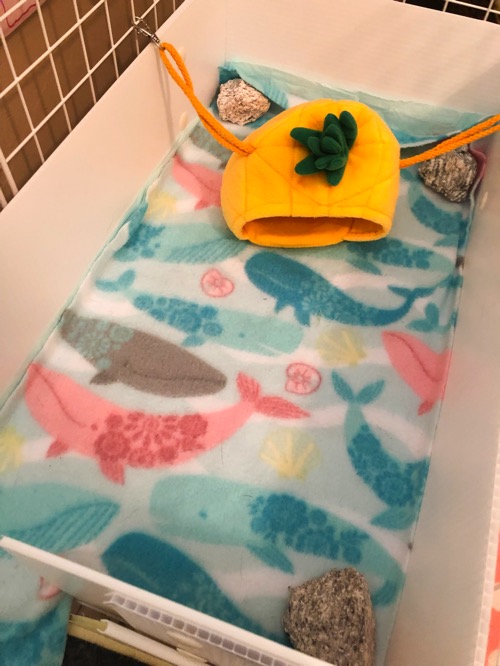 3) Use fleece. The thought of using the fluffy cotton things all over the cage grossed me out, especially since it would feel wasteful to change it out as much as I would like. Fleece bedding is kind of the new thing. It feels good on their little paws, and they're more likely to go in their litter area to do their business. I don't have a sewing machine, so I used this tutorial to make their fleece bedding. We have four sets (you really only need two) and I switch out the fleece and anything cloth once a week. I put a disposable pad underneath the fleece, but nothing makes it through with the cloth pad "sewn" in between and they use their litter box most of the time anyway. The fleece stays remarkably clean!! You can brush it off outside and wash in the washing machine.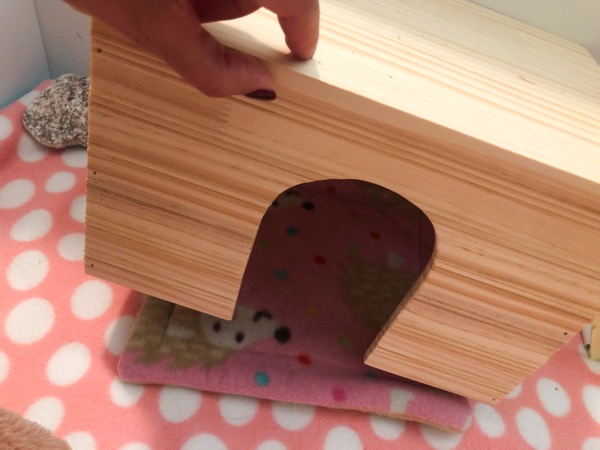 I also add an extra fleece pad under their wooden house, which I swap out every couple of days or so.
4) Line everything with adult incontinence pads. These are less expensive than the doggie pee pads and do the same thing.
5) Here's how I set everything up:
The disposable pad on the bottom with the fleece liners or bedding on top. This is the perfect size to cover the bottom of the cage EXACTLY, and the remaining spot is covered by their litter box/kicthen. Rocks from the backyard go in the corners, just to make sure they can't lift up the edges and hide underneath.
I line the litter box with a disposable pad and then put Care Fresh on top, and hay on top of that. This is also where I put their bowl of pellets and their fresh greens/veggies. Pretty much everything stays in the litter box! Every 2-3 days, I completely empty the litter box, spray it down with white vinegar and water, wipe with paper towels, and add a new disposable pad, fresh Care Fresh, and hay. (I also give them fresh hay and veggies/greens twice a day. They constantly have food and water, and eat a lot!)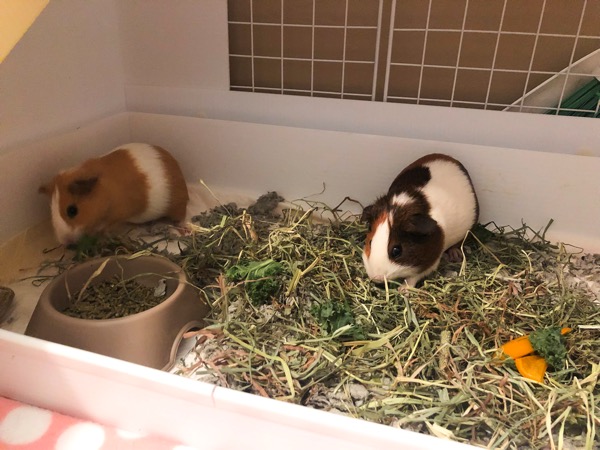 (The kitchen is under the upper level of their cage which gives them a little bit of shelter. You can also get a hay rack for the hay but I find that flat in the kitchen makes less of a mess!)
That's it! This has made it super easy to keep clean and smell-free. I just clean the cage every 2-3 days and the entire thing once a week with fresh bedding (which takes maybe 10 minutes). Daily spot cleanings make a huge difference, too.
The guineas have been a fun new addition to our family. We all love watching them eat and "popcorn" around – they do this cute little jump when they're happy – and thankfully, they don't smell like a barn.
Some great video resources:
How much cage space do guinea pigs really need
5 mistakes guinea pig owners make
How much food to feed guinea pigs
How to use fleece in your guinea pig cage
What's the most random pet you've had in your family? When I was in elementary school, I had a white mouse named Bubba.
xo
Gina