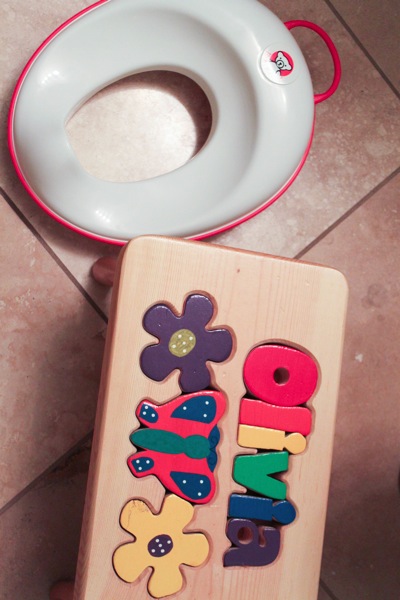 -I picked up a potty seat
for Oliv. It's not because I want to push the whole the potty training thing (let's be real, it doesn't sound like a party), but sometimes she'll tell me WHILE she's going, and she speaks so well. I figured at the rate we're heading, she'll be saying, "Mama, I need to use to restroom, please" and I won't be prepared 😉 So I bought this potty seat at Buy Buy Baby and put it in the downstairs guest bathroom with her stepping stool in case she wants to use it. Yesterday, I introduced her to it, making sure to compliment how shiny and cool it is, and emphasizing the fact that it's just for her. I'm leaving it at that… we'll see what happens. The best part was when Tom came home from work and asked me if there was a way to remove it. He thought it was a permanent bathroom fixture and that we'd all have to figure out how to take care of business with significantly awkward efforts.
-Many days feel like we do so much, but at the same time, we don't do anything. We run a couple of errands, have at least one class or play date planned, and the rest of the day, we hang out. We play outside, blow bubbles, draw with chalk, go up and down the slide in our yard, talk Bell for walks, read books, eat and watch some Elmo or Super Why together. All in all, it just feels like we're hanging out and having fun together. Yesterday, we were walking through Trader Joe's sharing an enormous apple, her in the Ergo while I pushed the cart, and I kept thinking to myself, "This is the good stuff." She would put the apple in my mouth and start cracking up each time I took a bite.
-Even though so many other things have changed, the bedroom routine is exactly the same. We put on her bedtime CD (we switched from Jewel to Disney lullabies
to change things up), read a bedtime story, turn on the Twilight Turtle thing and say goodnight. My mom got Liv a Twilight Turtle for Christmas -which is awesome because the stars turn off after 45 minutes- but Liv's is a ladybug. I didn't notice this until a few weeks ago, since we'd been calling it turtle this entire time. I didn't think it was a big deal until we were watching something on TV and a ladybug scurried across the screen. "Turtle!!!" Um… so according to Livi, turtles are turtles and ladybugs are… turtles. Trying to fix it.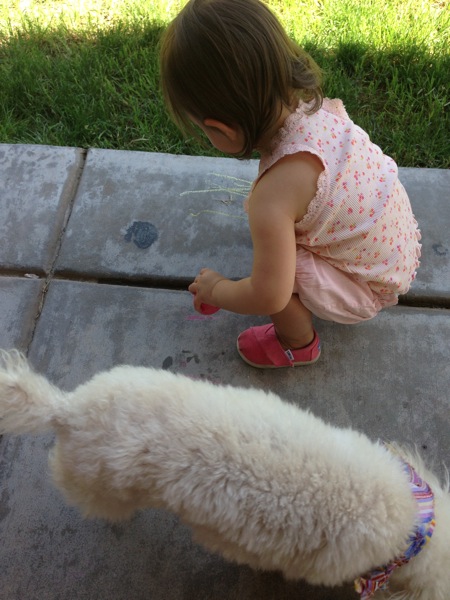 -We should probably get her hair cut, but I've been fighting it. It's not that I think "Omggggg little girls have to have long hair!" (I would actually love to see it all one length at her chin- so cute), but it's been with her since she's been born. Some pieces are longer than others, wispier, thinner, but the ends have been there since she came into the world. It makes me sad to cut them off.
-This morning, she was asking for "spicy and chips" aka chips and salsa when she saw the salsa on my egg. "Please." I gave her a bite, and she loved it.
I'm pretty sure we all wish breakfast served chips and salsa like Poco & Mom's (an awesome New Mexico-style restaurant here in Tucson) 🙂