I had to re-schedule my acupuncture appointment for today.
With everything going on, I didn't think I'd be able to lay there, focus and relax for an entire hour.
I kind of had a feeling it was going to be a weird day because I started off the morning by punishing myself and watching a sad YouTube video. In Jenna's post, she mentioned her friend Ashley [side note: if you ever link to a friend, I will click the link and check out their blog -I love finding new ones] and was scrolling through to read her previous posts. She had a powerful September 11th tribute, which included a video. I watched it, and wept as the man over the phone was telling the 9-1-1 operator that he had young kids and didn't want to die. It broke my heart, in an entirely new way, because now my husband will have his own little one(s).
I was going to go to base this morning to workout, but instead decided to wait and see if we could take Bell for a long walk tonight instead. So I dilly-dallied around the house, and then went to a friend's house for playgroup.
There were tons of adorable babies, an amazing group of new moms and moms-to-be (I learned SO MUCH from them- more on that in an upcoming post) and yorkies, one of whom called dibs on the Boppy.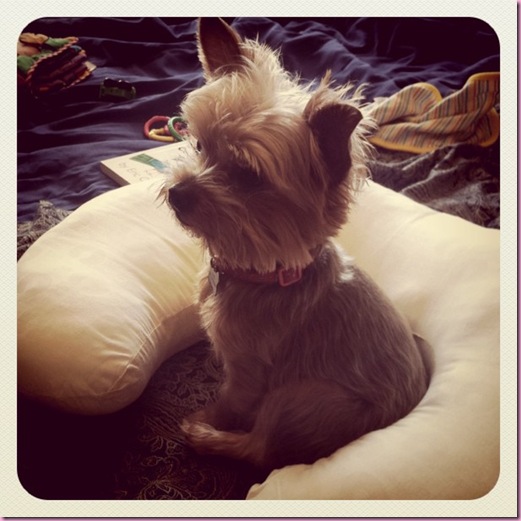 His name is T-bone and I wanted to dognap him.
I was chatting with two girls I've known since we were in Valdosta together, enjoyed a plate of fruit, and yet I suddenly could feel my blood sugar dropping. The room started the spin as I started to feel extremely warm and see spots. I've fainted before, and knew I was on the verge, so I went into the powder room and splashed water on my face, trying to cool off. I went outside to get some fresh air and couldn't see colors- it was like everything was spotty and black and white. I carefully walked back inside, grabbed my friend Kelly (a nurse) and told her I was seeing spots. "Sit down!! I don't want you to faint. Let's get you some juice." She handed me a glass of orange juice, which I finished off, and almost immediately felt better.
Except, I still felt weird.
I took the picture of T-bone on the Boppy and saw 4 missed calls from Tom. It's not unusual for him to call me more than once, since I lose my phone so often, and I figured I could just catch up with him when I left.
Then the other girls' phones started to ring and beep.
"Turn on the news- channel 4."
We all scurried over to the TV, expecting the worse, and then eventually learned that the base was on lockdown.
Immediately, I called Tom- he answered right away.
He told me something was going on that he couldn't talk about, that everyone was ok (he promised), and to stay away from base, since no one was allowed to get on or leave. From watching the news, we later found out that it was a civilian shooter.
Anytime before 6 months ago, I would have politely said goodbye to the girls, cried the entire way home and stayed here, glued to the news until Tom was back. But instead, for the baby, I took a deep breath and tried to remain as calm as possible, even though I wanted to go into serious freak-out mode. I think it may have been my first glimpse of what being a mom must feel like. I stayed to hang out with everyone, and we distracted ourselves by talking about baby carriers and cloth diapers.
This whole time I've been so focused on how happy and thankful I am that Tom is here with me during the pregnancy, and not deployed, but today really made me double-take on how lucky I am to have him just in my life, in general. Deployed or not deployed, just safe and alive… my husband.
We've said a lot of "I missed you"s "see ya later"s and "goodbyes"… and every time he comes home from work, I hug him like I haven't seen him in  a week.
Tonight's going to be even more intense.