a whole day, from start to finish
Hi friends! Hope you're having a wonderful morning. Sorry for the blog downtime yesterday! We are in the processing of upgrading another server, so hopefully the crashes will end. When we did the blog survey a while ago, I got a few requests for a full day post. I got another request last week, and thought it would be fun to go for it. While it isn't exactly riveting haha, it's a little glimpse into a pretty normal day around here. 🙂 It also reminded me of the "old days" of blogging and the types of posts I've always enjoyed reading.
Here we go!
3:12 am: P is yelling from her crib. It's the second night we have her in the crib, unswaddled, so I was ready for her to wake up often, since she still doesn't have great control over her arms while she's sleeping. She's usually a great sleeper, but finally mastered rolling from her back her stomach, so it's not safe to keep her arms swaddled, so I've been swaddling below her arms. Her arms are out, and she's screaming, but she smiles at me while I put the pacifier ("binky") back in her mouth. She rolls to her side, closes her eyes, and I head back to bed. I don't usually check the clock when I wake up with her -it makes me crazy to think about how much sleep I'm losing, so I just take care of her and go back to bed- and I also try to avoid eye contact. I try to get her back to sleep with my eyes almost-closed because she's smiling the ENTIRE time and it's everything in my power to keep from laughing, even though it's the middle of the night.
Maybe an hour later: screaming, arms flailing. I run back in, binky back in, back to bed.
Maybe an hour later: forget it, I'm sleeping in her room. I sleep much better, and P seems to be OUT, finally, with her arms up by her head.
7:05 I'm awake and can hear P stirring next to me. I sneak out of bed, say hi to Liv and the Pilot, who are in the kitchen, and head to the bathroom to quickly wash my face, brush my teeth, and put in my contacts.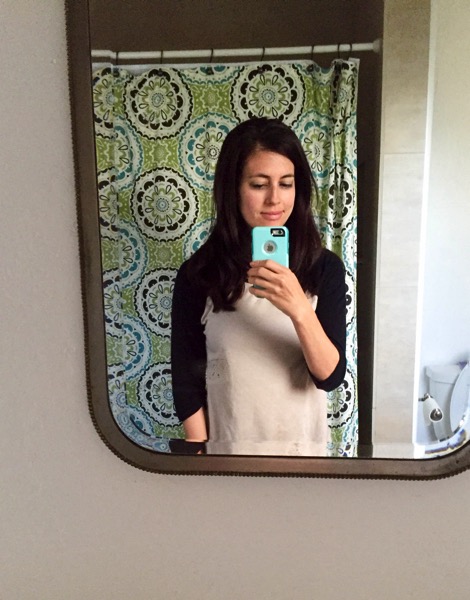 Liv is eating oatmeal that the Pilot made for her (he makes her breakfast when he doesn't have to be at work super early), and I start heating a bottle as I go in to get Miss P, who's cooing and happy as can be in her crib.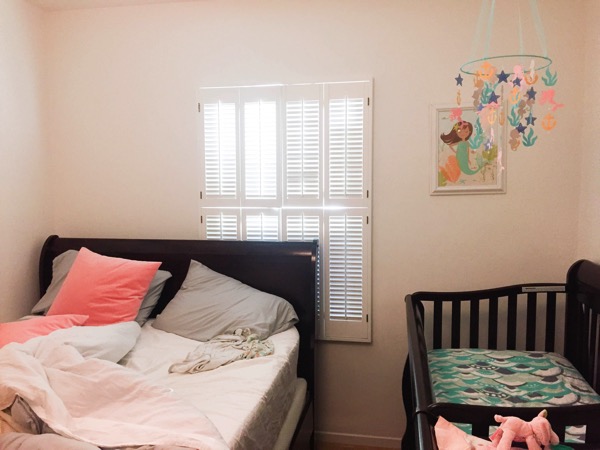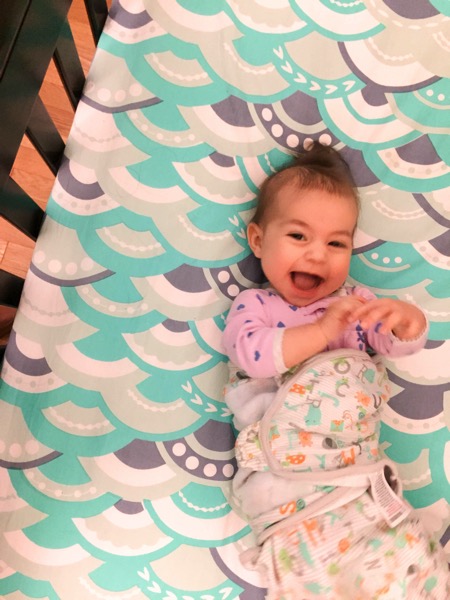 I feed P at the dining room table while Liv eats, and put P in her bouncy seat to get Livi dressed, teeth brushed, and hair braided. I put her lunch into her backpack, set it by the door, and throw on an old U of A sweatshirt and sneakers with the leggings I slept in. Sometimes I'll get dressed before dropping Liv off at school, but most of the time, I go halfway in pajamas and pray that we're not late. When we're late, I have to park and take her inside. When we're on time, we drive up, and the teachers get the students from the car. It's the most glorious thing ever.
8:10 out the door and ready for school!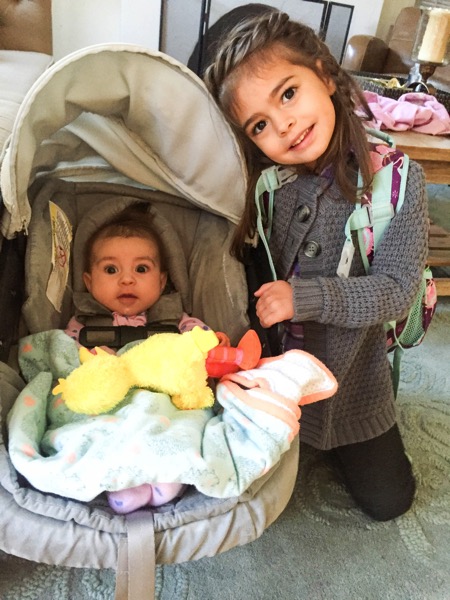 (Don't worry, I adjusted the head support on P's left side before getting her into the car)
I stop at Starbucks on the way home since I didn't have a chance to chug any coffee yet, and look in the mirror to see P FAST.ASLEEP.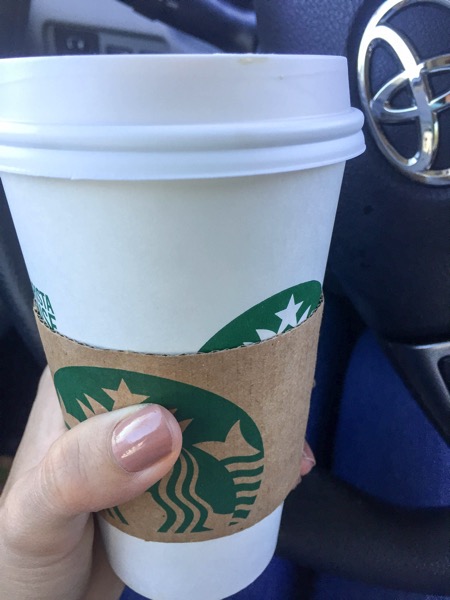 Fellow mamas know that a car nap is a wasted nap. We venture back to the house, and I transfer P to the crib. Of course, I wake her up in the process, but she magically rolls over and falls back asleep.
8:56: WORK BLITZ. I'm ready to tackle everything on my to do list for this nap: upload and edit photos for this post, make the workout graphic, send two contracts to partners, send an invoice, answer emails, respond to comments, and pre-write my newsletters for the weekend. (Two videos for my PBB friends, which I'd like to film during nap time this afternoon, and my Winter Shape Up email.) I'll add to the latest Livi-isms post (she said a zinger this morning), add a photo, and set it up to publish later this afternoon. I use Co-schedule to plan my posts and social shout outs, and it makes it so much easier to post when I can't physically be at the computer.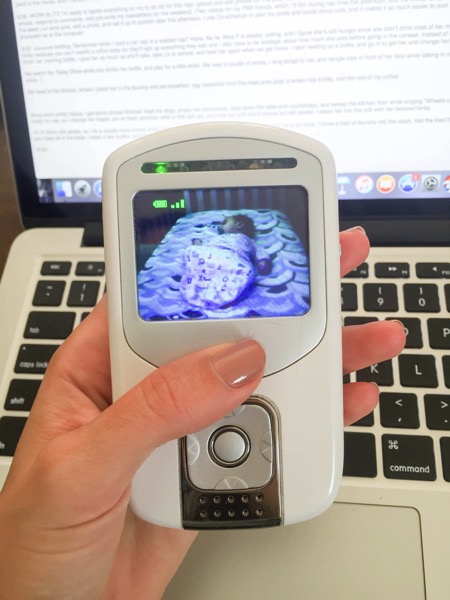 9:02: Juuuuust kidding. Remember when I said a car nap is a wasted nap? Haha. No lie. Miss P is awake, yelling, and I figure she's still hungry since she didn't drink most of her morning bottle. It's tricky because you can't overfill a reflux baby (or they'll spit up everything they eat) and I also have to be strategic about how much she eats before going into the carseat. Instead of trying to get her to finish her morning bottle, I give her as much as she'll take, take Liv to school, and feed her again when we get home. I start heating up a bottle, and go in to get her and change her diaper.
We watch the Today Show while she drinks her bottle, and play for a little while. We read a couple of books, I sing songs to her, and dangle toys in front of her face while talking in my high-pitched mom voice. 😉
We head to the kitchen, where I place her in the bouncy and eat breakfast: egg casserole from this meal prep post, a brown rice tortilla, and the rest of my coffee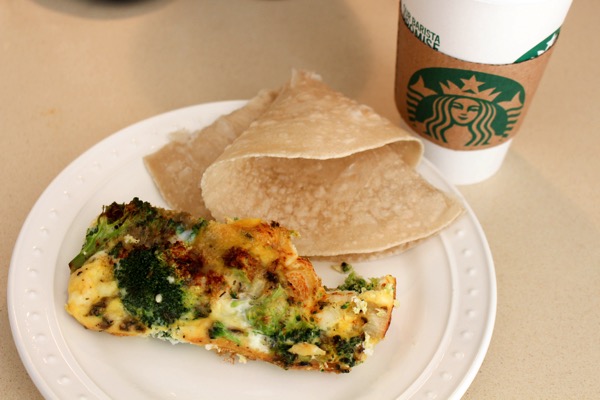 Since she's still happy playing, I get some chores finished: feed the dogs, empty the dishwasher, wipe down the table and countertops, and sweep the kitchen floor while singing "Wheels on the Bus." From the outside, that probably looks a little nutty, but I talk and sing to P as much as I can. She's ready for nap, so I change her diaper, put on fresh jammies (after a little spit up), and rock her until she's drowsy but still awake. I place her into the crib with her beloved binky.
10:15 She's still awake in her crib, so I do a couple more chores while I wait to see if she'll crash, or if she needs me to rock her a bit more. I throw a load of laundry into the wash, fold the load that's in the dryer, and make all of the beds. I wash a few bottles, and BOOM. She's finally asleep! Back to the work stuff.
10:25: I start to crank through the to-do list: edit photos, make graphic, write my post, and
10:59 She's awake! She's talking to herself in her crib, so I try to tie up some loose ends until next nap time while she does her thing. If she's not beckoning for me yet, I'm going to let her chill for a sec. She falls back asleep in 5 minutes. Yesssssss. Continue to blitz.
11:45 I have my post published, the Livi-isms post in the queue, but didn't have time to do the newsletters or contracts/invoicing. I figure it's probably time to get dressed so I put some makeup on, throw on jeans and a plaid shirt, and am ready to go just as P wakes up.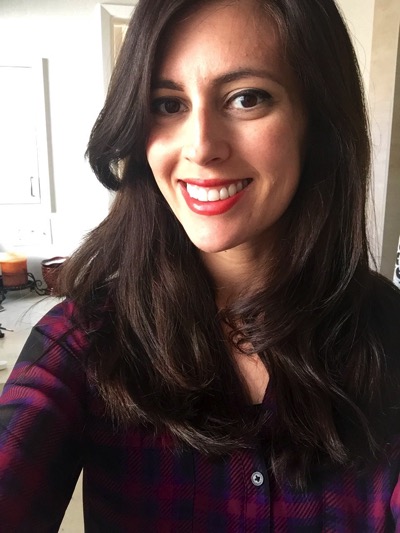 I heat a bottle, change her diaper, and feed her her bottle on our bed. We play for a little while -mostly smiling and making dinosaur noises back and forth, and she practices rolling- and I decide to head out for a walk since it's a rare occasion where we don't have a doctor's or another appointment mid-day.
Grab two amazeballs and out the door: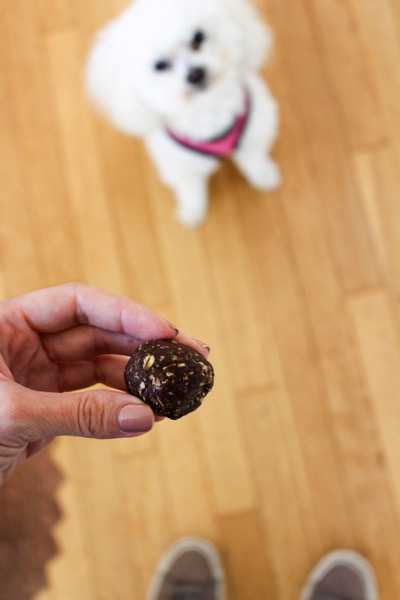 12:45 We drive to Mission for a lovely 40-minute walk. [I've learned with babies, it helps to have zero expectations. When I put her down to nap, I don't expect her to sleep very long, and when we go out, I don't expect us to last very long without something going awry. This way, I'm almost always pleasantly surprised. For example, I thought maybe our stroll would last 15 minutes, and I was stoked when we were out there for 40.] Bell is SO happy. (Caro stayed home. It's too hard for me to wrangle both dogs + the stroller since Caro takes a lot of encouragement to walk. I gave her a bone before we left, and she seemed happier about that than anything.)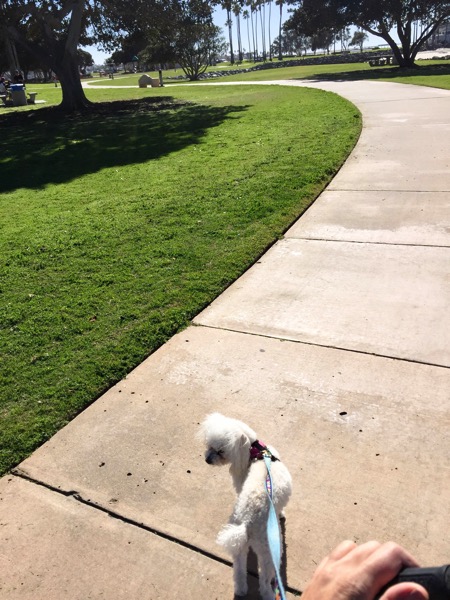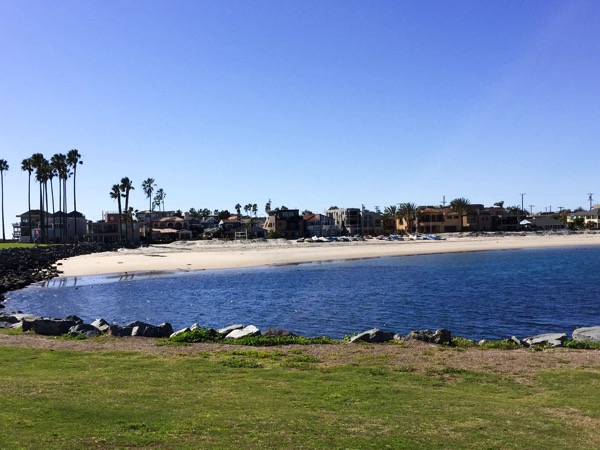 1:45 back home! P is snoozing, so I transfer her to the crib and think about lunch. I eat some tortilla chips out of the bag, and heat up a leftovers creation:
chicken coconut curry with a sweet potato and salad.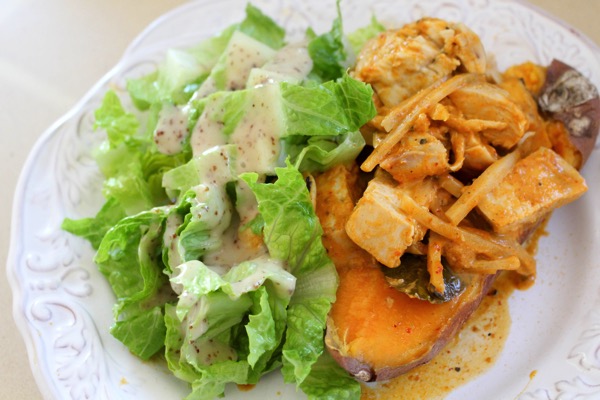 I eat my lunch at the computer: start to answer comments, pre-write Friday Faves, and edit photos for Winter Shape Up. In between, I go back to P's room to rock her back to sleep 3 times. She's so tired, but still not used to the "no swaddle" thing.
2:30 She's awake, and sad, so I go get her. We snuggle on the bed for a while, and she's full of smiles, so I guess that's it for that nap.
2:45 Pick up Livi from school, who can't wait to tell us everything about her day. It was "cooking day" at school, so they made waffles. She also tells me about the games she and her friends play on the playground.
3:15 back home, feed P a bottle, make Livi a snack. We hang out together, read a couple of books, and P starts to get fussy and is ready for a nap.
4:00 rock P, in between getting Livi water, helping her go potty, and getting her another snack.
4:15 P is asleep, so Livi and I hang out in the kitchen and I start dinner while she draws at the table. We're having a Champagne Turkey meal the Pilot picked out; a super simple slow cooker recipe that looked amazing. Our turkey is still semi-frozen, so the slow cooker isn't happening. I defrost the turkey in the microwave while I layer everything else in a casserole dish: mushrooms, fennel, celery, onions, turkey, thyme, salt and pepper. I add the turkey, the champagne sauce goes on top, and it goes into the oven.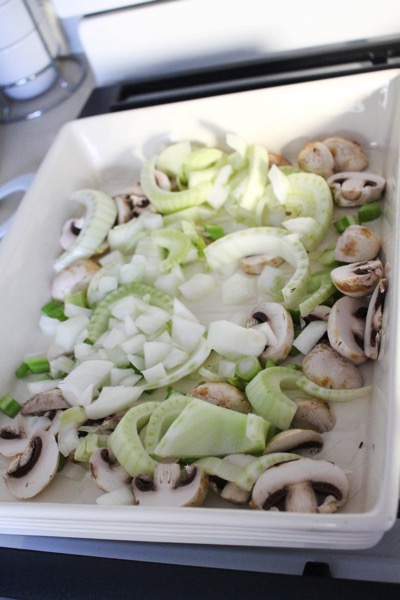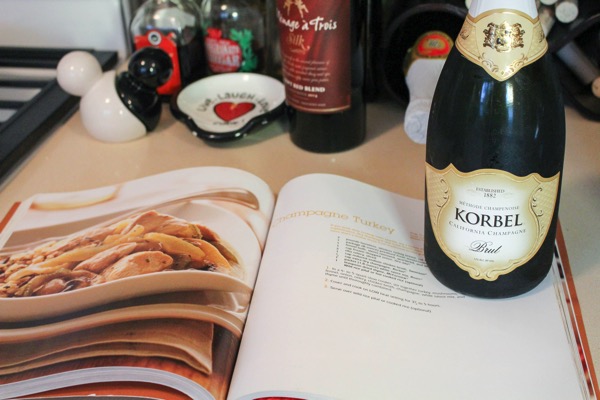 (Sandra Lee recipe. Lots of cocktail hour and tablescape jokes ensued later that night.)
4:45 P is awake. Not feeling the afternoon nap today, either. I start to heat up her bottle, change her diaper, and I change into my yoga clothes as she lies on our bed and Livi sings her "Old MacDonald" (had a banana…. haha).
5:00 The Pilot is home! We high-five, he takes over for the girls, and I head out to yoga!
5:30-6:30 I take a beautiful vinyasa class at Yoga Six. (Also wanted to remind you guys of the amazing discount code they offered for readers: fitnessista6 will get new students 6 weeks for $49, and fitnessista20 will give current students 20% off their next purchase. It only works online and is an AWESOME deal!) Class includes some arm balances (my favorite!) and a powerful flow sequence. I leave feeling sweaty and amazing.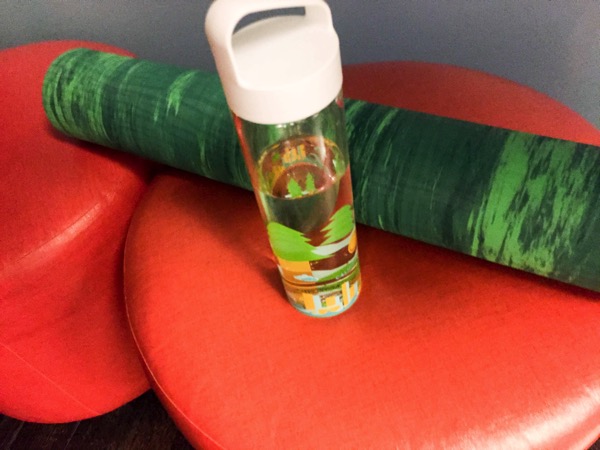 6:45 I'm back home, Livi is eating dinner, and the Pilot has just started putting P to sleep for the night. The Pilot comes out to join us and the three of us enjoy dinner together: Champagne Turkey over brown rice.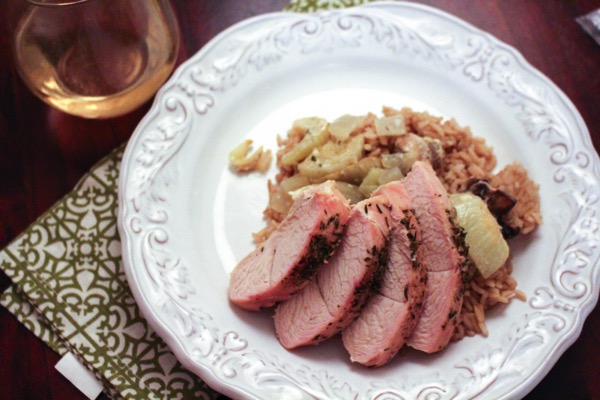 7:15 I start to get Livi ready for bed, and change her into jammies, brush and floss her teeth.
7:40 Take my glass of champagne to the den, and it's time to get back to work! The Pilot reads to Livi and tucks her into bed, then heads to the gym. (We alternate bedtime rituals each night.) I pick a giveaway winner and email her, finish my Friday Faves post and set it to post in the morning, invoice, send contracts, and start my newsletters. Then, I spend an hour editing and adding to the post baby bod plan, answer comments and emails.
9:40 The Pilot and I hang out in the kitchen. The Pilot washes bottles and makes the formula for the next day, while I clean up from dinner and pack Liv's lunch. We get to chat, uninterrupted, for a while, and I look forward to it at the end of the day.
10:00 I take a shower, then heat up a fresh bottle that the Pilot prepared for P's dream feed. I change her diaper as stealthily as possible, put on her Owlet, and snuggle with P as she drinks her bottle. I hold her upright for a little while so she can digest, and put her back to bed. (This is a technique we picked up from the Baby Whisperer. In a nutshell, you pick up the baby while they're still asleep and feed them between 10-11pm. It's helped both of our girls get longer stretches of sleep at night, and before the swaddlemaggedon, P was sleeping 7pm-6am or so. Also, for us, it's been a great way to get in an extra feeding for P since she wasn't gaining weight appropriately for a little while. All of the details are in the book.) I read in bed for about 20 minutes before calling it a night!
Did you make it to the end of this post?! *high five through the computer screen* haha
11:00 Lights out… and ready to do it all over again 😉