1 hour, $60, 5 days of daytime eats
That's breakfast, lunch and a snack each day! PLUS, everything is gluten-free.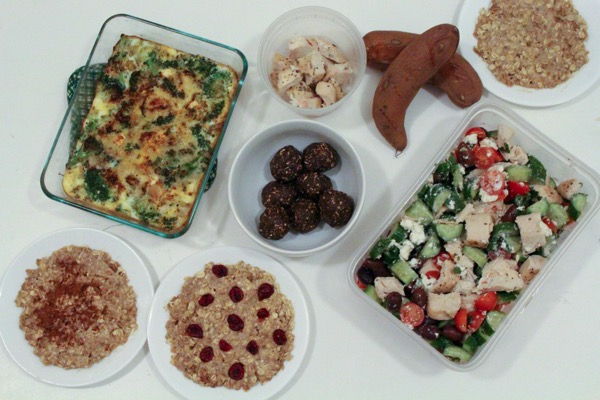 So last time I did a similar post to this one, I counted a lot of pantry essentials. I later realized that a few items may not commonly be on hand , and for that reason the title was skewed. Fail to meeeeee. I really wanted this to become more of a regular thing on the blog, especially because I love getting ideas like this from friends, but I was determined to do it right. So, I went to Trader Joe's and bought all the things.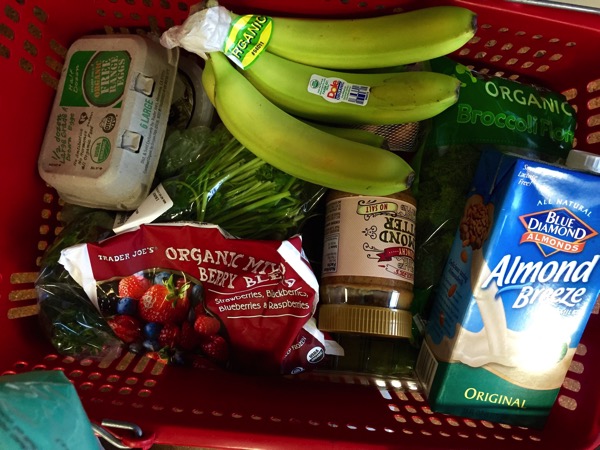 Here's what I budgeted for the recipes I wanted to make: (many of these are things I usually have on hand, which would bring the cost way down)
Shopping List for a Week of Healthy Eating
oats (2 cups) -$3 (for gluten-free, be sure to buy certified gf oats)
nut butter (jar) -$6
protein powder (2 packs) -$6
frozen berries -$3
4 bananas $1
6 eggs $5
2 cucumbers $4
2 bell peppers $3
grape tomatoes $3
kalamata olives $3
goat cheese (log) $4
2 lemons $1
mint $1
fresh chopped broccoli $3
2 sweet potatoes $1
3 chicken breasts $10
almond milk $4
Pantry staples:
Butter
Olive oil
Cinnamon
Sea salt
Pepper
Oregano
Paprika
Garlic powder
Thyme
Maple syrup or honey
Mix-ins for breakfast cookies (optional. Examples: dried fruit, chocolate chips, etc)
And here is the grand total!! Pretty amazing, right?! 🙂 Thank goodness for Joe the Trader and his awesome prices. I think you could certainly get everything for the same price at Sprout's, especially if you get the oats from the bulk bin, the fresh-ground nut butter (just 1/2 cup) and the olives from the salad bar. Also, many of the items were certified organic, so conventional options would shoot the prices down. Even though the total was $50, I did not find protein powder packs at TJs and had a few types here at the house. If you buy packs of protein powder, they're usually about $4 a piece, which is why I erred on the conservative side and put $60 in the post title.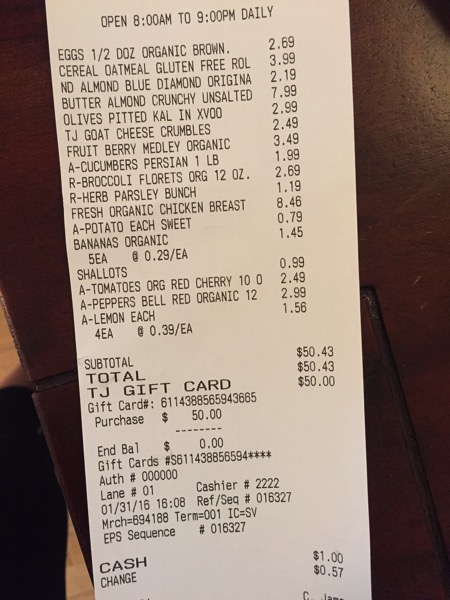 Here are the recipes for the week! I really wanted to have enough daytime meals for each day, since they're the most challenging for me to make with two littles around. When I set myself up for success, I eat so much healthier, and also, I like to have variety on hand. Last week, we never did a big shopping trip and I was scrambling to get full meals together. Every day when I finally had time to eat some lunch, I'd open the fridge and stare blankly inside. It's hard to feel inspired when you're looking at random condiments.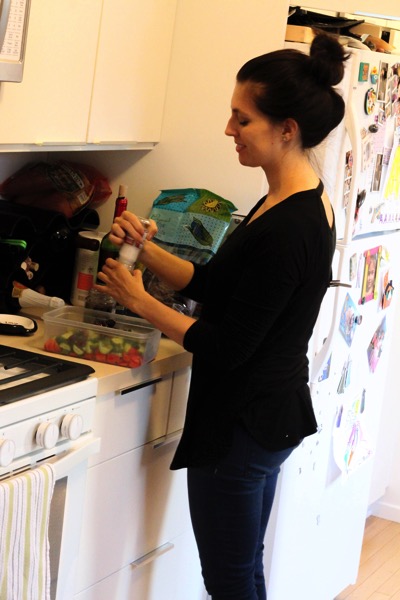 Menu Plan for Daytime Eats
Breakfast cookies (3 breakfasts)
Egg and broccoli casserole (2 breakfasts, 1 lunch)- cooking time: 35-40 minutes
Amazeballs (3 snacks)
Protein smoothie (2 snacks)
Chopped Greek salad with chicken (3 lunches)- chicken cooking time: about 25 minutes
Stuffed sweet potatoes (2 lunches) with chicken, broccoli and goat cheese- cooking time for sweet potatoes: 1 hour
Prep it All in One Hour
1) Start the oven to bake chicken and sweet potatoes. Preheat the oven to 375 and spray a baking dish with olive oil or nonstick spray. Place the chicken in the dish and season well with oregano, salt, pepper, and garlic powder. Slice one lemon and place the slices on the chicken. Set to bake for about 25 minutes until cooked through and the juices run clear. Wash the sweet potatoes, poke with a fork, and place on a baking dish to bake for an hour.
2) Chop veggies for salads. While the chicken is cooking, chop the tomatoes, cucumber and bell pepper in a large container. Stir in 2/3 jar of pitted kalamata olives and 1/4 cup chopped fresh parsley. (I wanted mint, too, but TJs was out.)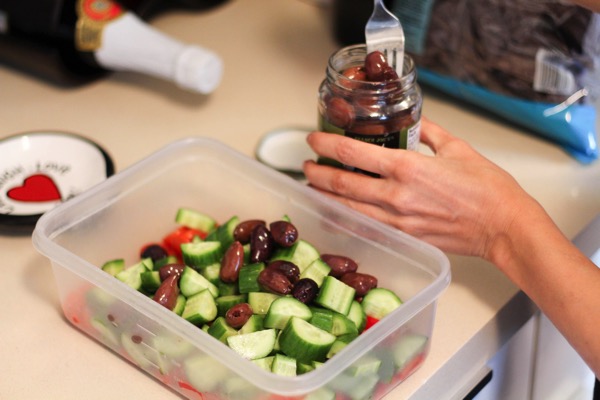 3) Prep casserole and place in the oven to bake, while the chicken and sweet potatoes are still cooking. (The chicken should be almost done by the time it goes into the oven.) In a large mixing bowl, add the eggs (6 eggs), 6 oz chopped fresh broccoli, 1/3 cup almond milk, 1/4 cup goat cheese, and season well with salt and pepper. Stir in 1/4 teaspoon each of garlic powder, oregano, thyme and mix well. Pour into a medium, greased baking dish and sprinkle the smoked paprika on top (about 1/4 teaspoon). Bake for 35-40 minutes until set and cooked through. It should be finished exactly when the sweet potatoes are done!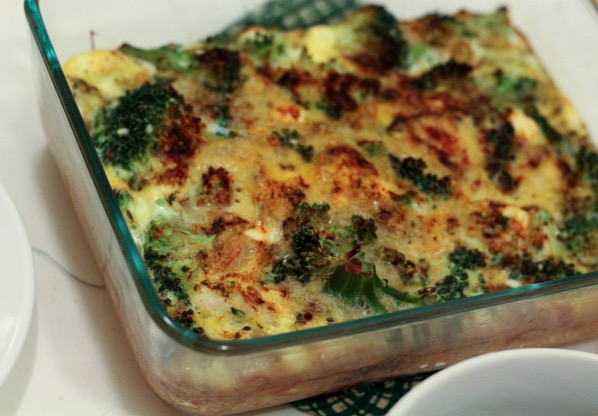 4) Make breakfast cookies. I made three breakfast cookies on plates, with plastic wrap on top to seal. Remove the chicken from the oven when it's finished cooking, and set on a cutting board to rest.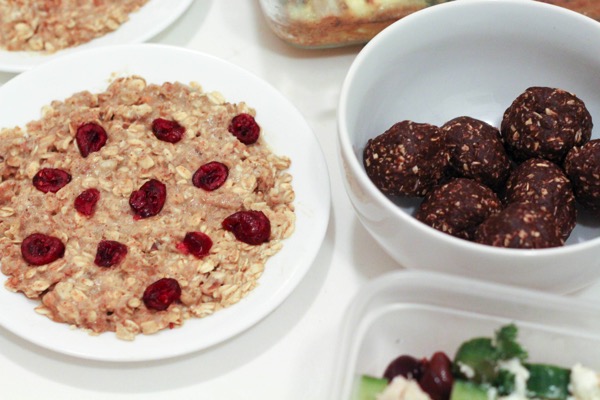 5) Make amazeballs. Add in any mix-ins you'd like and store in a container in the fridge.
6) Assemble salad. Add in the chopped chicken (save 1/2-1 breast for sweet potato topping if you'd like), and 2 oz goat cheese. Cut the other lemon in half and squeeze on top of the salad. Drizzle with olive oil and season well with salt, pepper and garlic powder. Stir to combine and cover in the fridge. This is enough for 3 generous lunch salads.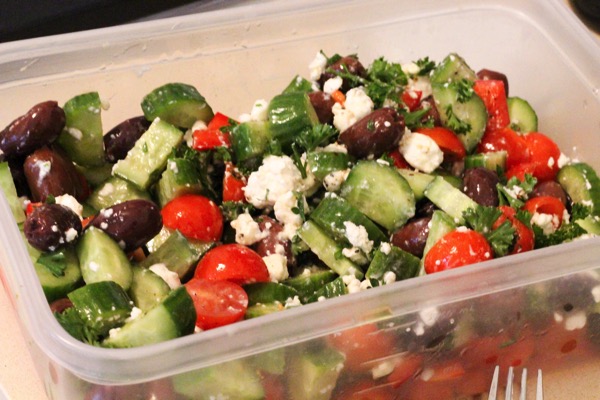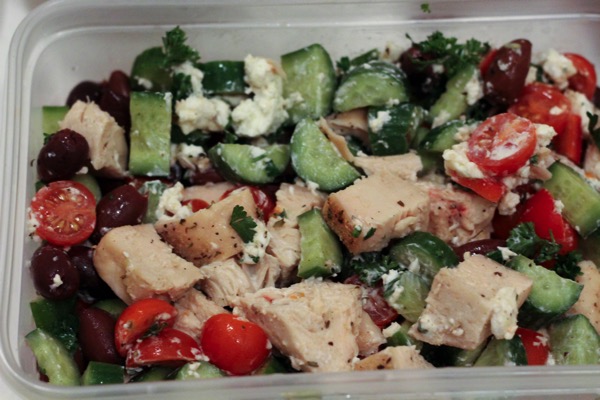 You have ingredients to also make simple smoothies with protein powder, nut butter (optional), banana, frozen berries and almond milk for snacks. With the oats, you can also enjoy them hot with frozen berries mixed in. For the stuffed sweet potatoes, you can try them with extra chicken, broccoli and goat cheese. I also enjoy them plain with the salad.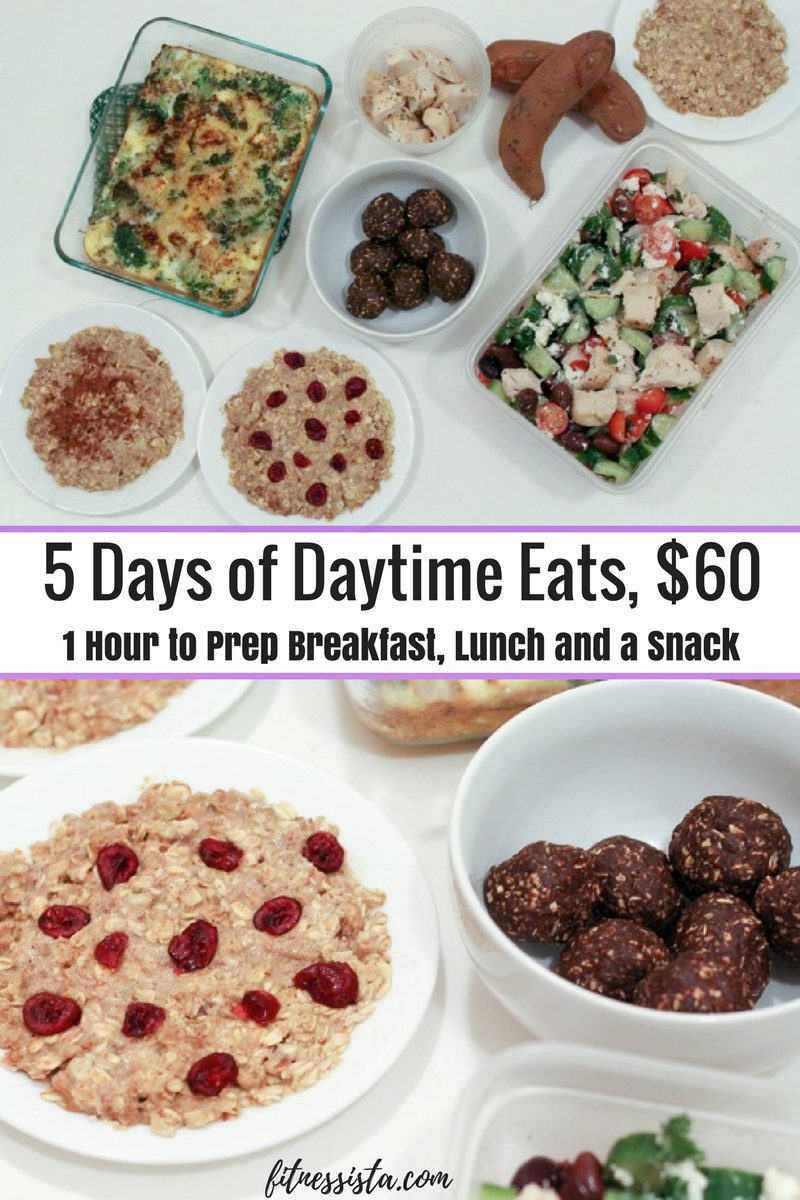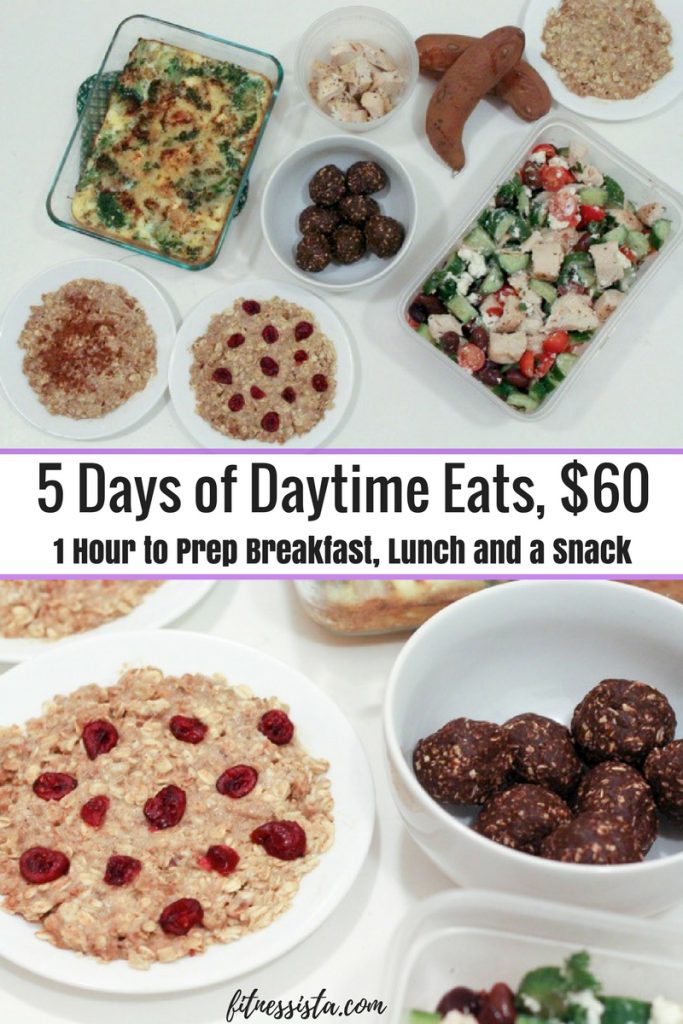 Did you meal prep this week? What's on the menu? The Pilot actually planned our meals for dinner, so I'm excited to try out some new recipes. 🙂
xoxo
Gina
More meal prep posts:
Reader's request: meal planning