Bow Pose with Oikos and a GIVEAWAY
Hey everyone! Hope you're having a great night <3
Thank you again, so mucho, for all of the wonderful birthday wishes!!! You made my day a million times brighter and I'm so fortunate to have found bloggy friends in all of you 😀
So on top of the celebrating (which I'll re-cap tomorrow!!) I did some birthday yoga in a toga.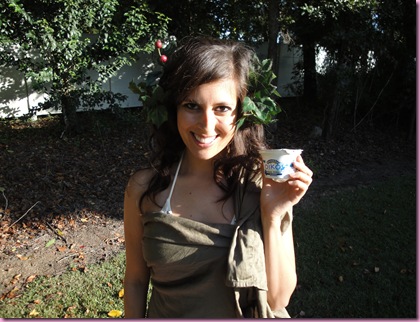 With Oikos!
You guys know, I'm not a huge fan of dairy. I prefer goat cheese and almond milk over cow dairy any day, but the pilot on the other hand, is a dairy fanatic. I keep a ton of milk, yogurt and cheese stocked in the fridge and you can bet your booty it's organic. Organic farming is SO important, especially for those of us who care deeply about the quality of fuel we're putting into our bodies. This is why I'm a HUGE fan of Stonyfield—they work so diligently to reduce their environmental impact which producing high quality organic products.
So that being said, I showed the Oikos some yoga love today.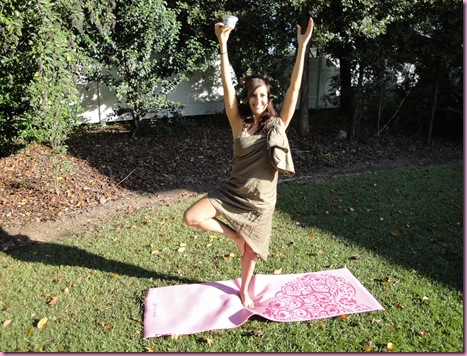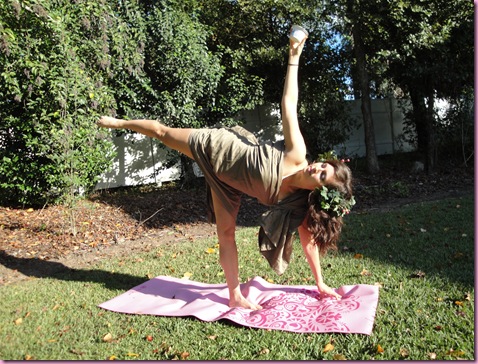 Just so you don't think I'm a bigger goofball than I already am, this post is to enter a contest Stonyfield is having for bloggers: The NaMOOste Giveaway
It's super easy to enter and the prize package is an all expenses paid weekend trip for two to the beautiful Kripalu Center for Yoga & Health in Lenox, MA to be taken at your leisure in 2010, has an estimated value of $3,000!
There are three ways to enter and you only need to choose one:
A)    Share a brief story about why you need to relax and say "Ohm."
B)    Share a recipe you create or tip using Oikos yogurt – it can be as simple as a holiday dip or dessert or breakfast idea.  (Here's a link to some existing recipes if you need a little inspiration: http://www.stonyfield.com/oikos/recipes_using_oikos/index.jsp.)
C)    Post a photo of you doing yoga in a toga (Oikos is Greek yogurt after all!).
All entries (your post is your entry) must include a link to the Facebook fan page, and be emailed to oikos@360publicrelations.com by November 30, 2009 – and you'll be entered to win!  The winner will be selected at random and notified by 12/15/09. 
In honor of this awesome contest, the lovely people at Stonyfield have generously offered a spa-themed giveaway for a lucky Fitnessista 😀
To enter… *****CLICK HERE!******
I'll see you all tomorrow morning!
I have a hottie chef making me dinner…..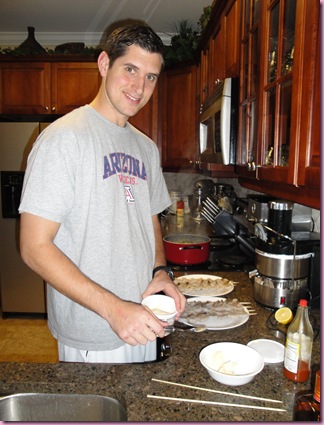 Hubba, hubba 😉
Have a great night <3
G$