Hiiii 😀 Happy Friday!! We're actually on the road to Jacksonville right now for a fun little project 😀
We love road trips 😉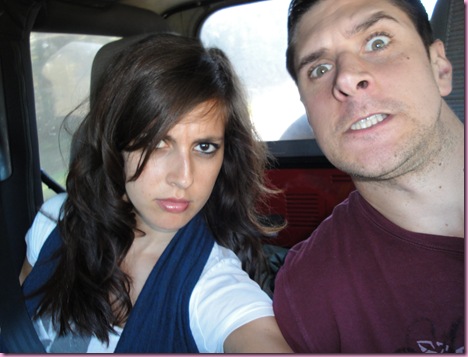 It feels SO WEIRD because we're traveling without dogs!!! Viesa is at the kennel (which she loves) and Bella is at Meara's house playing with her two Shelties. We feel like the parents who got a baby sitter and went out on a date – let's see what kind of shenanigans we get into 😉
So my bday was pretty much amazing. Having the pilot home was probably the best gift ever –we've only each had one birthday with each other out of the 4 years we've been together- and that, on top of all of the lovely bday wishes from all over made it a fabulous day 😀
It was a birthday full of…
SHRIMP!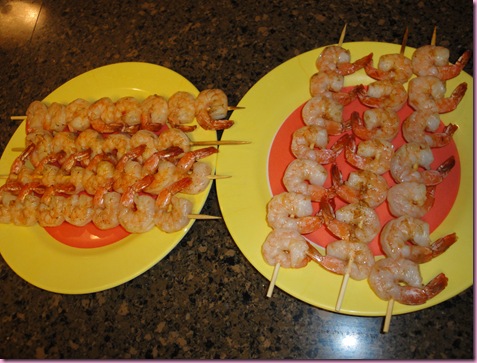 The pilot made these on the grill and marinated them in Earth Balance, garlic, lemon juice, Texas Pete and paprika
Veggies!!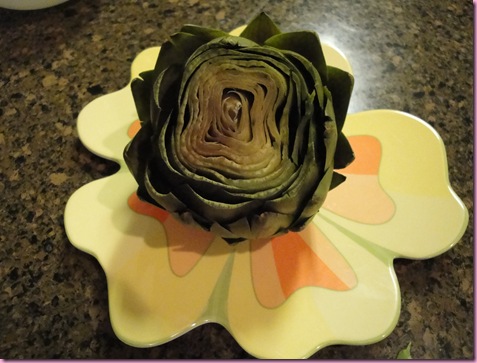 'Choke that the pilot made with dinner, and my veggie-filled lunch of roasted brussels, summer squash, onion and okra on a bed of spiralized zucchini with Annie's Goddess dressing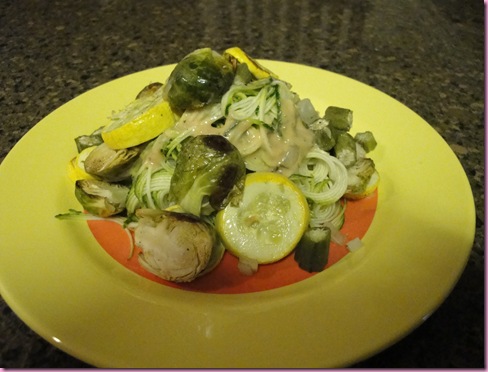 Roasted spiralized sweet tater with chili powder, sea salt and cayenne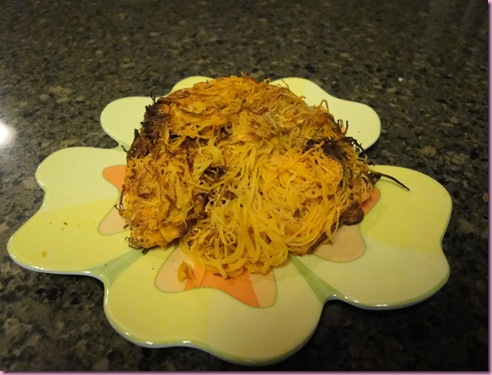 Bday love
-Jeni stopped by and brought gifts and cards from her and Ashley (who's out of town) 😀
-An awesome package from my Dad's side of the familia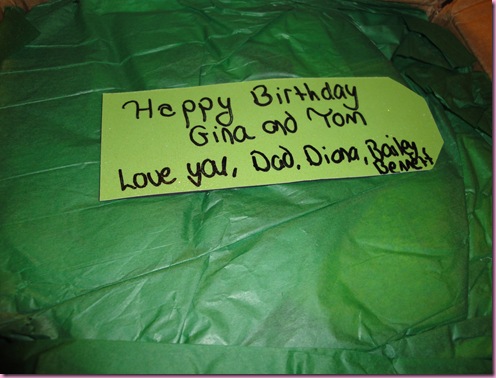 Including the cutest measuring cups I've ever seen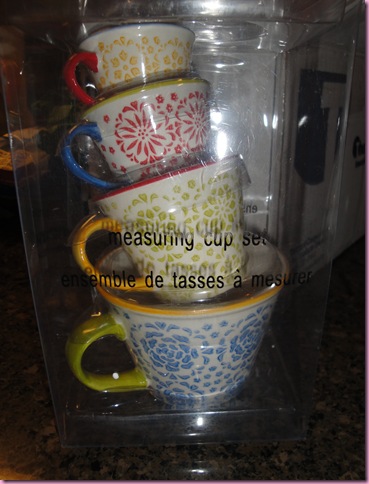 and a super SASSY kitchen brush!!!
Check out her HAIR!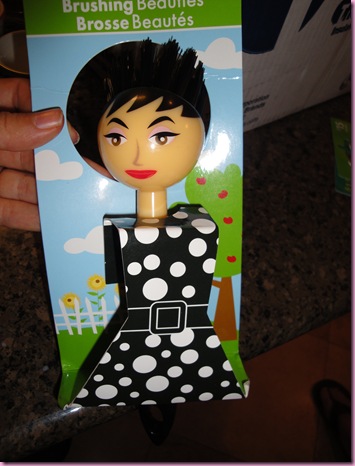 So freaking cute!!!
-An almond butter replenishment package from my good friend HEABY 😀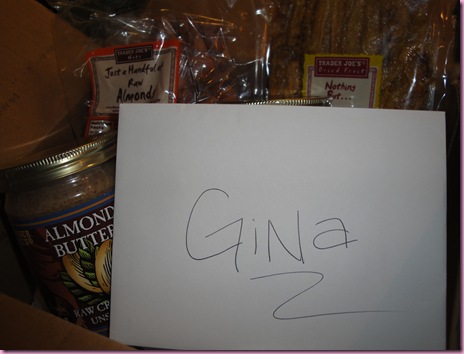 TWO jars of beloved Trader Joe's almond butter, dried bananner and almonds with a wonderful card—love you, HEAB!!
-A gorgeous personalized card from the amazing Gliding Calm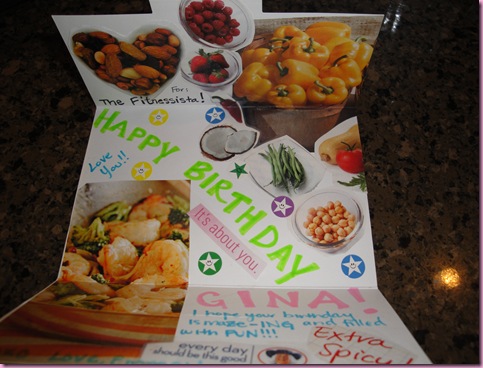 She cut out pics of all of the things I love 😀 So insanely awesome- thank you GC!
Bday card stash!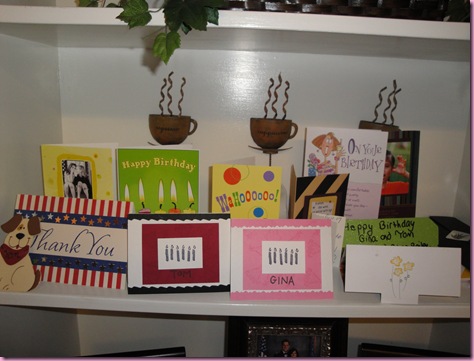 YOGA!
Not only the goofy toga yoga….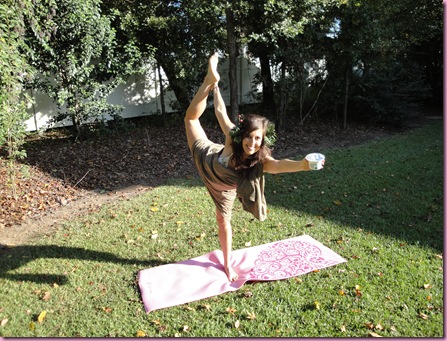 I also did a 60 minute Yoga To the People podcast with the guest room heated to a glorious 90* 😀
And last, but certainly not least….
PIZOOKIE!!!!
Pizookie! Pizookie! Pizooooookkkkiiiiieeeeeee!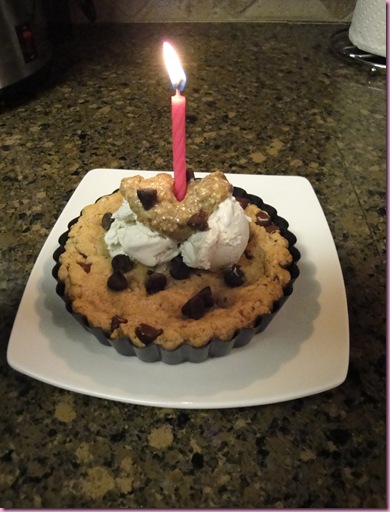 I made a small batch of my vegan almond butter chocolate chip cookies, pressed them into individual tart pans for the pilot and I and baked them for 8 minutes, so they were still nice and gooey. Topped with Coconut Bliss vanilla ice cream, almond butter and more chocolate chips 😀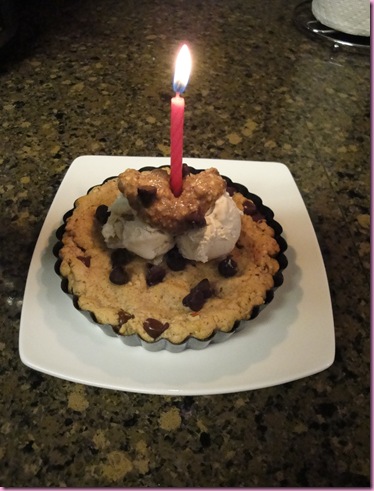 It ended my bday with a proper foodgasm followed by some snuggling on the couch watching Confessions of a Shopaholic. The plot was as thin as that green scarf, but I'd been wanting to see it and the pilot was a good sport 😉
We're just getting into Jax and I'm going to publish this from the glorious complimentary WiFi at Beefcake and Noble, then it's adventure time 😀
See you soon!
xoxo,
G
Something to do: Don't forget to enter the Spawesome Oikos giveaway!