Hey everyone! Here's a lovely afternoon pick-me-up… a GIVEAWAY from Vega!!!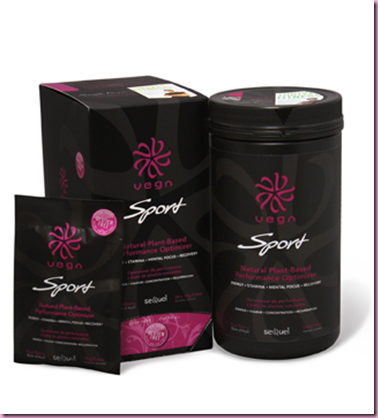 (source)
As you all know, I'm a huge fan of Vega for their 100% REAL plant-based ingredients — their smoothie infusion rocks my face off. I was beyond psyched when Kelly (a rep from the lovely company) let me know that they were launching a sports drink.
Instead of the high fructose mumbo jumbo, artificial ingredients and colors, the new Vega Sport contains organic plant-based ingredients.
Here's some info from the website:
Vega Sport Performance Optimizer provides a complete array of key performance enhancing benefits including:
Immediate and sustaining energy
Increases endurance, aerobic and anaerobic capacity
Enhances mental focus and motor performance
Reduces stress and enhances immune system function
Replenishes electrolytes lost during exercise
Reduces inflammation, joint and muscle pain
Improves body composition and reduces body fat
Supports healthy weight management
Ingredients:
Coconut oil
Kombucha
Yerba Mate
Green Tea
Rhodiola Extract (which improves mood, physical and mental performance)
Panax ginseng extract (for immune system and stress reduction)
Devil's claw extract (for joint vitality)
Tumeric extract (increase circulation)
Ginger extract (reduces inflammation and aids digestion)
Electrolytes
Sprouted whole grain brown rice syrup (for healthy carb fuel)
Palm nectar (for sustaining energy)

So in a nutshell, it's the perfect pre-workout beverage and I CAN'T WAIT TO TRY SOME!!!!
So here's what the lucky winner gets:
– A tub of Vega Sport (valued at $49.99) in lemon lime or acai berry
-Vega shaker cup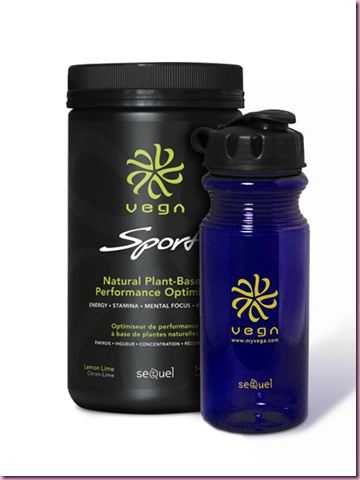 You have three ways to enter:
Leave a comment describing which activity you would drink this awesome fuel for
Tweet "I want to win Vega sport! @fitnessista"
If you have a blog, link this contest on your blog and if you don't have a blog, no worries, just send me an email at fitnessista at gmail dot com
Ready…. set…. go!
<3
G
*****Winner will be announced Thursday morning at 8AM EST