Hi friends 🙂 How's your day been? Mine has been bueno- a killerrrrr yoga sesh and a photo shoot. We took a lot of fun pictures!! Can't wait to show you 🙂
For now, I'm super excited for BRIDAL BOOTCAMP 2010!!
When I met the Pilot, I had JUST started weight training. I loved thinking about the fact that *maybe we'd get married* while I pumped iron. I'm a dreamer like that 😉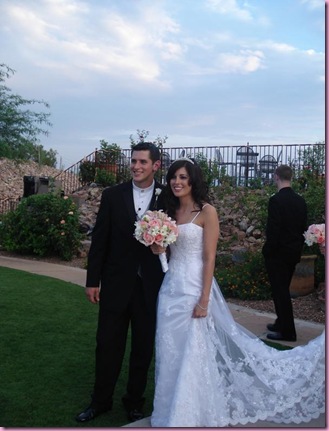 Every bride wants to look and feel amazing on her wedding day. The white dress is definite motivation to clean up eats and re-vamp fitness routines in order to prepare for the big day. The endorphins can also help out with all of the pre-wedding stress. On days when I worked out, even the craziest wedding snafus -like the restaurant *forgetting* that 80 people were about to show up for a rehearsal dinner…..- were much more manageable 🙂
Since quite a few of you reached out to me asking for a Bridal fitness routine, I thought fall would be the perfect time. Summer brides had the option of doing the Summer Shape Up, but I haven't offered fitness programs in the fall… until now 😀
Here are the deets:

–One total body workout will be posted each Wednesday for the next 4 weeks– you can do the workout as little as one time, or as many as three times (on non-consecutive days) before the next workout is posted.

–These workouts combine high intensity cardio with circuits and superset training and emphasize arms and back for strapless dresses.

-Use the whole body workout in conjunction with your usual cardio and yoga routine, alternating Bridal Bootcamp with cardio or yoga days, if you'd like

–Need help cleaning up your eats? A sample meal plan can be found *here* and meal ideas are *here*

–Always, always check with your doc before making any fitness or nutrition changes.

-Remember, this isn't a *challenge*- the info is just here for those who'd like to use it 🙂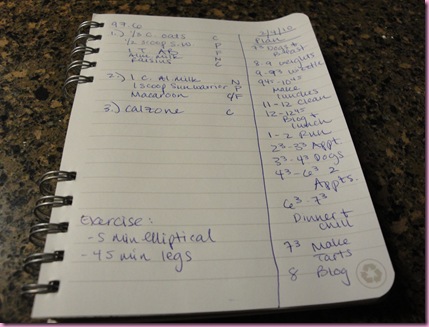 Keeping track:
I recommend keeping track of fruit and veggie intake (at least 5 servings each day), water intake (at least 8 glasses) and workout schedule in a small notebook.
Another great idea is to have your body fat percentage checked, if you want to. I find that its a much better way to gauge progress (as muscle is more dense than fat, it's very possible to "shrink" and weigh more.. weight is really just a silly number), and its interesting to see how your fat percentage drops as you increase weight training effectiveness. (I don't ever recommend body fat going below 18% to protect reproductive health)
Remember, you can cardio until your legs fall off, but weight training and healthy eating is going to make all the difference in the world. I always recommend a balance of cardio, strength and flexibility training.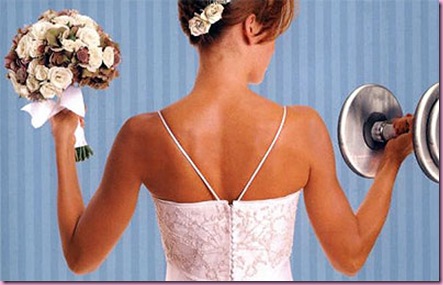 Source
Week 1 Workout:
This workout is done superset style, moving quickly from one exercise to the next in that particular superset. For example, for the first superset you'll do 15 bicep curls immediately followed by 15 tricep dips. You'll rest for a little while (15-30 seconds), then go again until you've repeated the superset 3 times. Then you'll move on to the second superset (step ups and sumbo squat and crunch) and so on.
Use a weight that's challenging but not too difficult. If you can easily do more than 15 reps, add in some weight. The idea is to push yourself so it's challenging to finish, but don't hurt yourself. If something doesn't feel right or isn't working for ya, don't do it, mmm k?
-Warm up 5 min cardio of choice

–Superset 1: Bicep curl and tricep dip (15 of each, repeat 3 times)

–Superset 2: Step-ups on the right (10), on the left (10), sumo squat and crunch (10), left (10)– repeat 2 times

–Cardio blast: 5 min. Start at an easy jog or walking pace with 5-6% incline. Add 1% incline every minute until you have reached 5 min (if you need to take it down before then, do it)

–Superset 3: Pushups (12- start in full plank and drop to your knees to finish if you need to), bent-over wide row (15)- repeat 3 times

–Superset 4: Stability ball back extension (12-15) and Stability ball crunch (hold a weight at the ends with both hands,keeping your arms close to your ears to make it more challenging- 15)- repeat 3 times

–Cardio blast: 5 min sprints. Go for 1 min at an easy pace, 30 seconds at a very challenging pace, alternating for 5 minutes total.

–Bent over fly and dumbbell front raise (15 of each)- repeat 3 times

-Cool down (5 minutes), stretch.
So who's got an upcoming wedding??
Not getting hitched anytime soon (or already hitched) but want to join in the fun?? 🙂
Happy training,
Gina