Hey guys! How are you?? It's Indian Food Wednesday! I may need some roti in my life again soon 😉
Breakfast this morning looks innocent enough: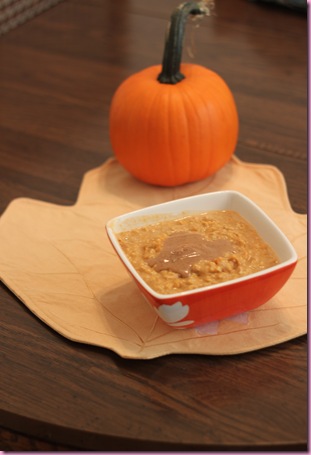 but this bowl of oats FILLED ME UP to the max!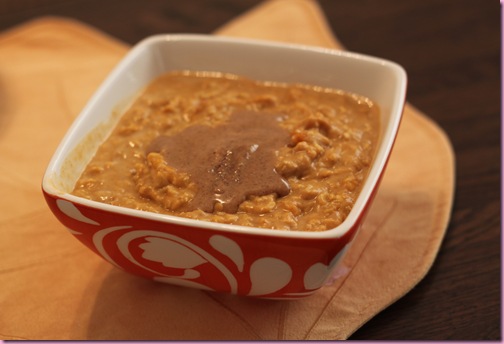 This is a good thing, but trying to work out with a giant pumpkin food baby wasn't happening 😉
The beast:
-1/2 C oats
-1/2 C pumpkin
-1 T almond butter
-almond milk, cinnamon, cloves, gingah and Stevia
-1 scoop Sun Warrior
The plan was to do weights and then cardio, but cardio wasn't in the cards. I may go back later today or take an off day- we shall see 🙂
Speaking of weights and cardio, it's time for the second week of Bridal Bootcamp workouts!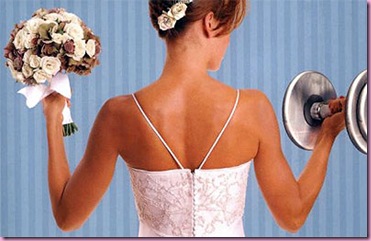 Thank you so much to those of you who tried last week's workout and for all of your awesome feedback- I'm so, so happy you're loving it 🙂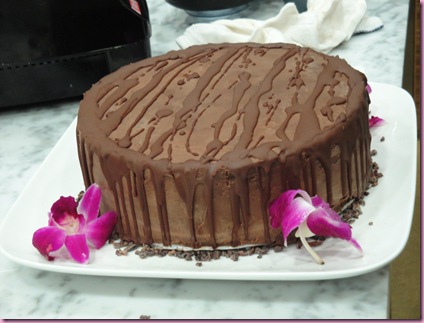 (Wedding cake of my dreams- raw chocolate! mmmmm)
Here's what's going down this week:
-This workout is meant to be done circuit-style, meaning you'll do 1 set of each exercise and complete all exercises, and then repeat the entire thing 1-2 more times. In between each circuit, you'll do a cardio blast as indicated.

-As always, check with a doc before making any fitness changes and be smart- if it hurts, don't do it!

-For the initial Bridal Bootcamp post, *click here*

-Do this workout 1-3 times over the next week on non-consecutive days. Week 3 workout will be up next Wednesday 🙂

1. Warm up: 5 minutes, cardio of choice, bringing it from low to moderate intensity (ie, start by walking and then bring it up to a jog by the end of 5 minutes)

2. Plie squat and bicep curl– do 10 squat and curls, then hold the squat position and curl 10 times

3. Bent-over row and tricep kickback (15- I like to do it with both arms at once and feet under my hips, knees slightly bent. Make sure to gaze at the floor to keep your spine straight)

4. Lateral lunge and overhead press (10 on each side)

5. Single leg deadlift (10 on each side)

6. Saxon side bend (10 on each side)

7. Bosu calf raises (or calf raises on a step if you don't have a Bosu- 15)

8. Push-ups (15- start in full plank position and drop to your knees, keeping your booty down if you need to)

Cardio blast 1: Burpees (1 minute) – repeat circuit #'s 2-8

Cardio blast 2: Suicide runs (run to right, touch the floor and run back to the left) 30 seconds, floor sprints 30 seconds – repeat circuit #'s 2-8

Cardio HIIT: 1 minute easy (walk or easy jog), followed by 30 seconds sprint (or add heavy, heavy resistance)- repeat for 15 minutes total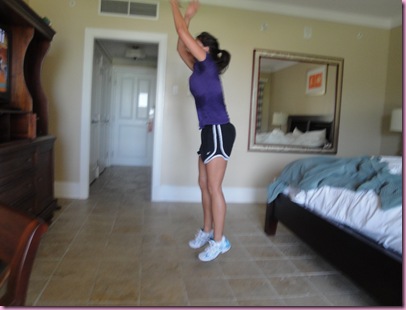 Please use this post to cheer each other on via the comments 🙂 Let me know what you think of this week's sweat sesh and HAVE FUN <3
Happy training,
xoxo,
Gina