Hi guys! How are you?? It's Indian Food Wednesday! I've REALLY been slacking in the Indian food department lately… time to bring it back, yo. 😉
So glad you liked the yoga post! Yoga is amazing because it doesn't matter what kind of shape you're in- it challenges everyone! 🙂 Definitely give it a whirl if you don't already practice regularly <3
Last night was pretty amazing- it started off with a bootcamp workout with the lovely Meghann.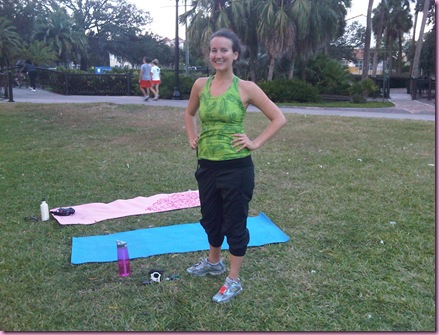 When she put out the call for strength training help, I was more than happy to set up a workout with her. Strength training is my bread and buttah, but I was looking forward to getting out of the gym for a workout.
We met at Lake Eola, which served as the track for our bootcamp sesh 🙂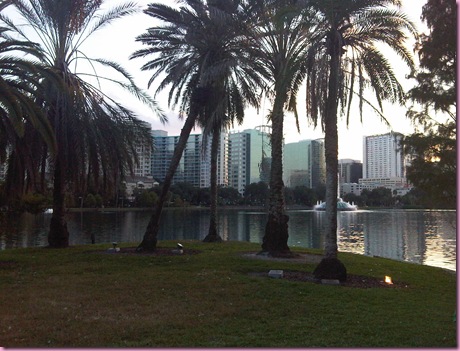 Here's an almond shell version of what we did:
-Jog half way around- walking lunges (2 minutes)

-Jog then squats- squat pulses and holding squats

-Jog then push-ups, frog crunches and tricep dips

-Jog then core fusion legs, calf raises

-Jog then tricep push-ups, leg lifts

-Plie squats, burpees, side crunches, leg extensions

-Cool down and stretch
While we worked out, I made sure to avoid the wild ducks and geese… they were HUGE! And scary.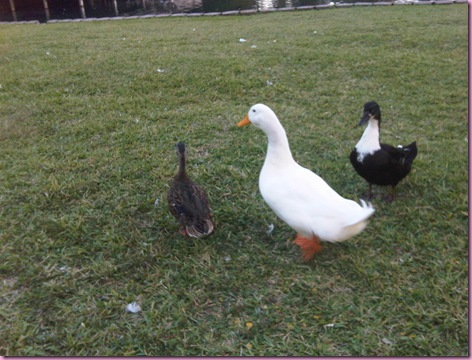 Bootcamp such a blasty- gabbing with Meghann the whole time made it fly by 🙂 Can't wait to do it again!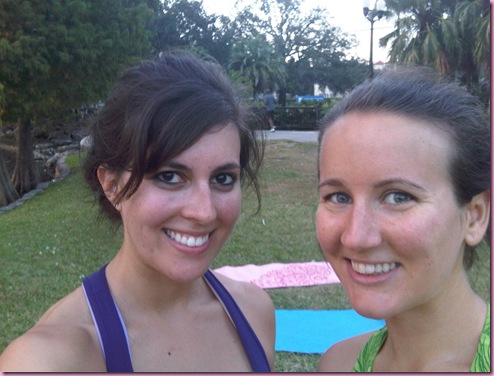 After bootcamp, I went to Dance Trance with my lulu friend Sarah, Katy and my cousin- it was a double doozy kinda night… and it was awesome <3
I spent some time chatting with the Pilot, who was so kind to send me a picture.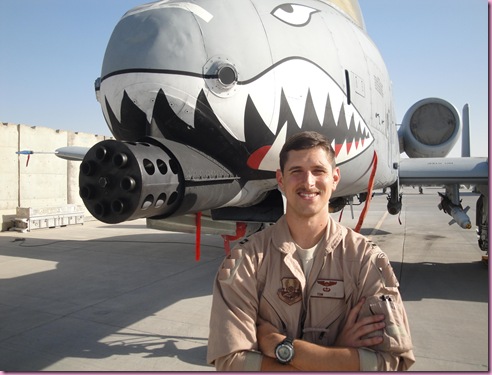 Pilot, I love you more than anything in the world, but the deployment mustache has to go. So creepy, haha.
This morning, I just drank a smoothie: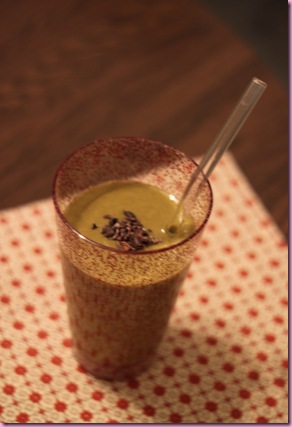 -1.5 C almond milk
-1 frozen banana
-1 packet Vega smoothie infusion (I'm out of Sun Warrior, so Vega is my second choice- love all of the nutrients they add to it)
-1/2 C pumpkin
-nutmeg, cinnamon and Stevia
–cacao nibs for garnish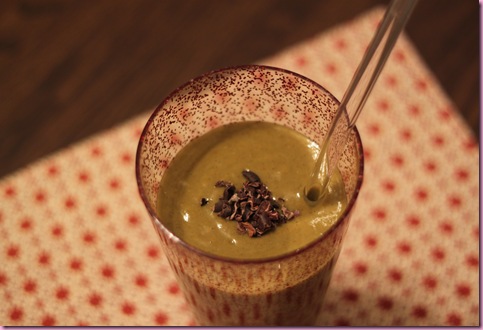 Perfect pre-yoga snack- practicing on a super full belly es no bueno 😉
Have a lovely morning <3
xoxo,
Gina
Something to think: I'm listening to "A New Earth" right now on CD, since I've been driving so much lately. I love it so far, and this part which I heard last night really spoke to me:
Do you want peace or drama?

You want peace. There is no one who does not want peace. Yet there is something else in you that wants the drama, wants the conflict. You may not be able to feel it at this moment. You may have to wait for a situation or even just a thought that triggers a reaction in you: someone accusing you of this or that, not acknowledging you, encroaching on your territory, questioning the way you do things, an argument about money…
Can you then feel the enormous surge of force moving through you, the fear, perhaps being masked by anger or hostility? Can you hear your own voice becoming harsh or shrill, or louder and a few octaves lower?
Can you be aware of your mind racing to defend its position, justify, attack, blame? In other words, can you awaken at that moment of unconsciousness?
Can you feel that there is something in you that is at war, something that feels threatened and wants to survive at all cost, that needs the drama in order to assert its identity as the victorious character within that theatrical production?
Can you feel there is something in you that would rather be right than at peace?

– A New Earth by Eckhart Tolle
Something to do: Meet me back here later today for Bridal Bootcamp 2010! 🙂
*Need a foam roller?? They're only $22 right now! Check it out if you'd like <3