Hey hey! Happy humpday! What are you up to today? Here's the Summer Shape Up intro post and 4-week plan if you're looking for some workout inspo this morning. I've been hard at work behind the scenes putting the fitness graphics together and getting everything to go; I finally have some time to post a *real life* post with some adventures from lately.
Last weekend was such a fun whirlwind. We ended up doing a lot, and had a blast taking to girls to what have become the usual staples around here.
Friday afternoon, the Pilot had a BBQ at work, so I made a peach crisp for dessert. I ended up using this recipe, and doubled it, since there was an abundance of gorgeous, ripe peaches at the store. They were destined for crisp.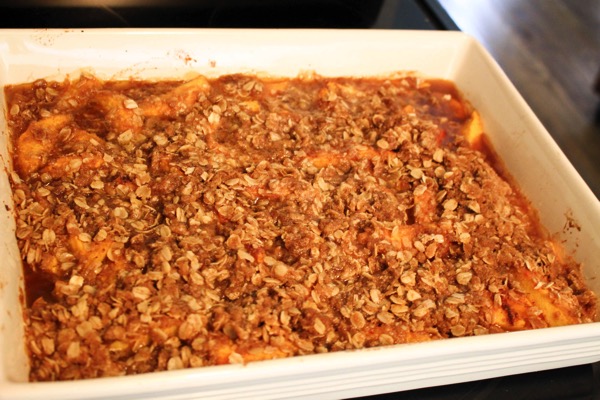 I grabbed some vanilla ice cream to go along with it + ice cream sandwiches for the kids. Both of the girls wore new dresses from their Mac & Mia boxes -so stinkin' cute- and P actually sat still for me to do two French braids in her hair.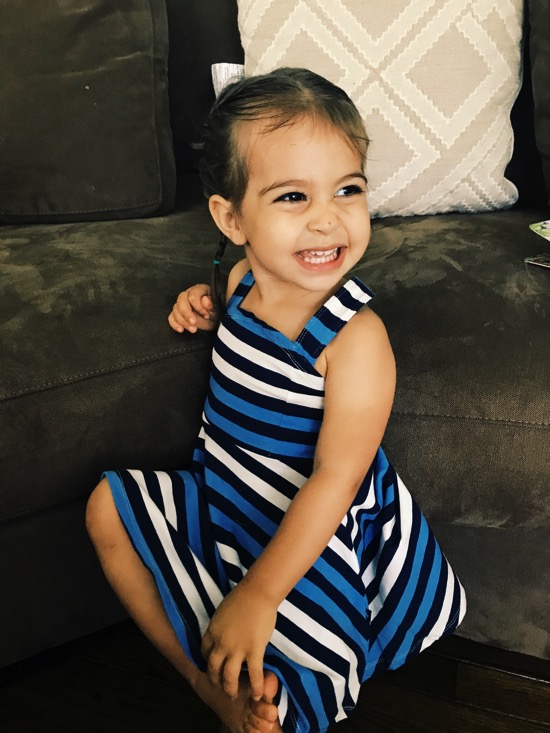 Saturday was DONUT SATURDAY, courtesy of Tinkerbell. She texted me to let me know she had a box of hot donuts for us, from Dixie Cream (where they make everything fresh each day, and often run out of a lot of flavors earlier). She's a real-life angel. It made our day, and I woke up to a chocolate glazed donut to go along with hot coffee. Heaven.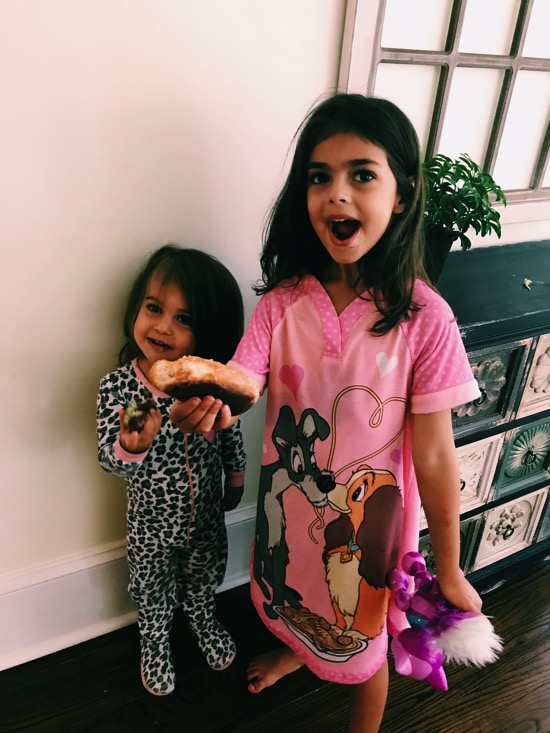 Later that afternoon, our sitter came over to chill with napping P, and we took Liv to go see Shrek: The Musical. The show was part of a summer production series at the college.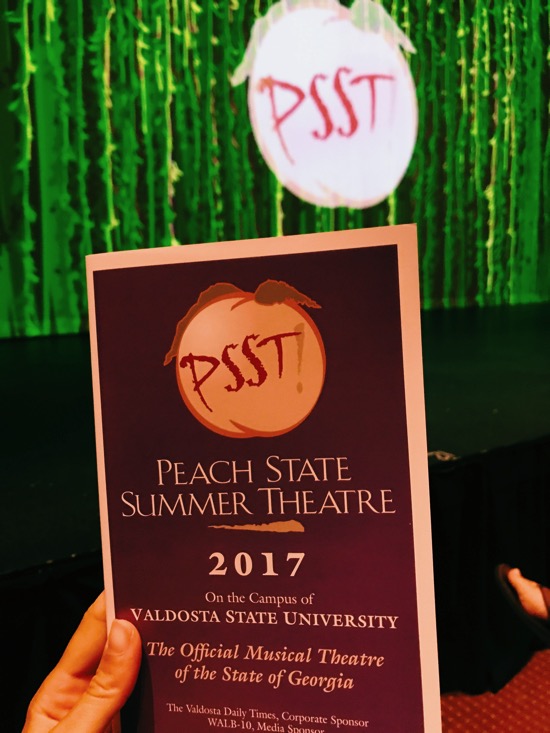 I accidentally bought front-row tickets, which ended up being amazing since Liv could see all of the actors up close. To be honest, I didn't have super high hopes for the show, but was blown away. It was SO good. The cast was so talented, and we were especially impressed by the girl who played the dragon (I lurked her website from the program). The Pilot and I were both like, "Damn girl. You go."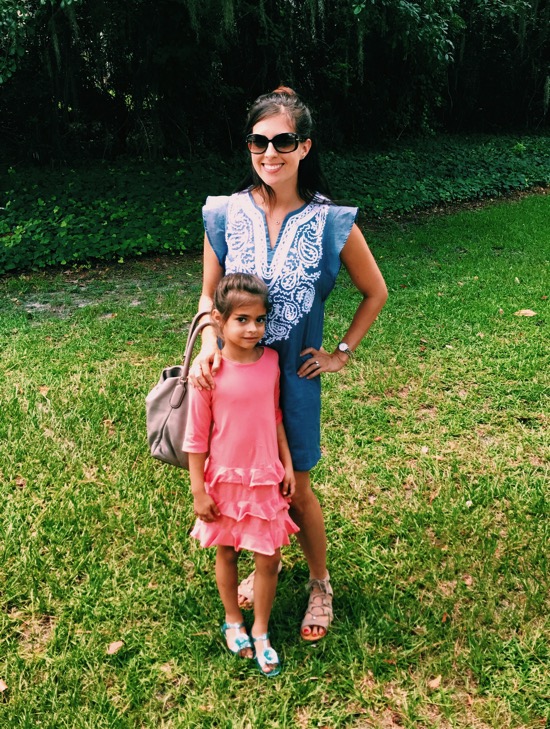 (Dress is THML; I bought it half-off at a boutique here in town that was closing, but can't find it online. Shoes are here from Nordstrom. They're on sale and so comfy.)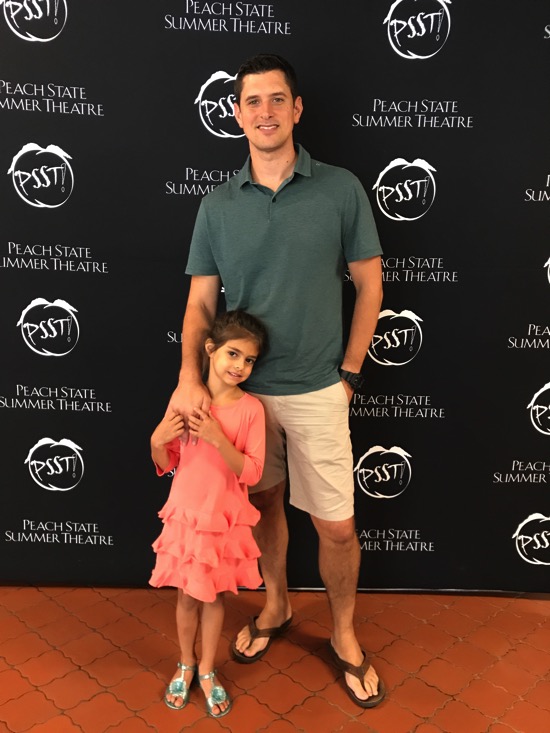 We had Sunbasket for dinner,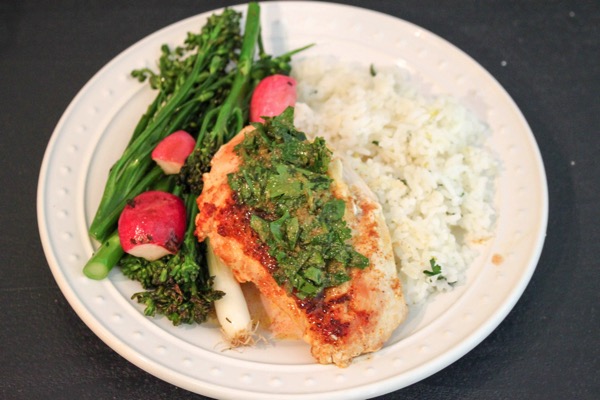 and Sunday morning, we headed out to Wild Adventures to hit up the water park. As soon as we walked into the doors, we could hear Tejano music and smell tamales. I was like I'M HOME. Turns out, it was Hispanic heritage day at the park. They had stands of Mexican food, enormous vats of horchata and agua de piña, and papusas on the grill.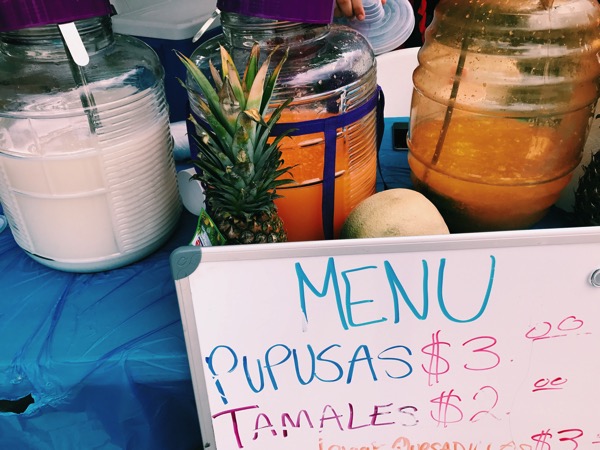 I started gravitating towards the papusa tent, when it began to POUR, complete with gusting winds, thunder and lightning.
A group of us huddled under a covered stage area, waiting for the rain to blow over. The Pilot, aka the weatherman, had the radar pulled up on his phone, and told me it would be done in 20 minutes. Sure enough, in 20 minutes, it turned to sprinkles, the sun came out a tiny bit, and after the lightning was outside 10 miles, we could finally play in the water.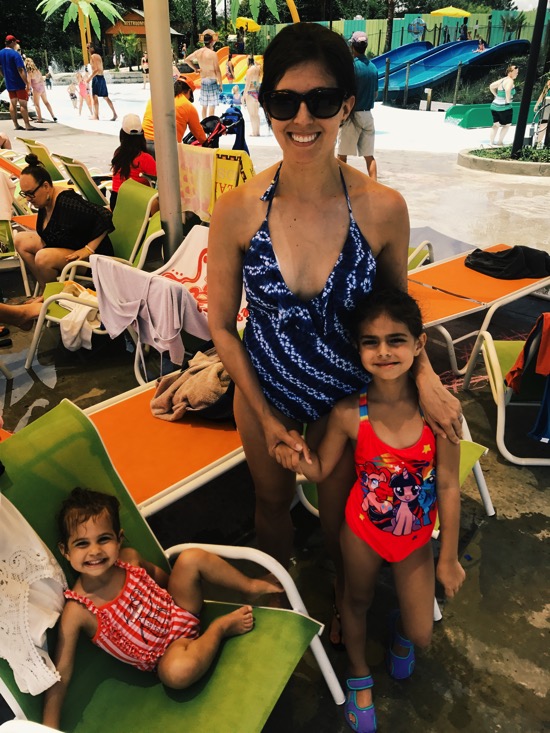 It was worth the wait because it was so much fun. Liv rode the slides, P splashed around in the splash pad, and we all floated on an inner tube in the wave pool. Nap time was sufficiently busted (worth it), and I ended up getting a papusa after all.
A good day indeed.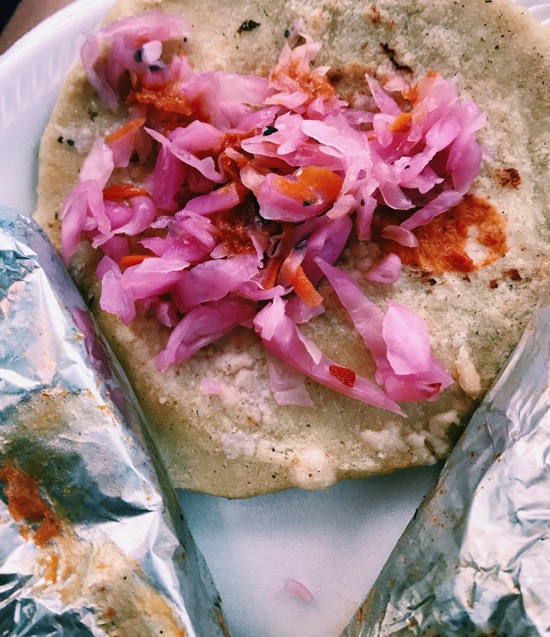 We headed over to a friend's house for a b-day celebration, and then grabbed dinner at the Salty Snapper. (<— worst name, one of my favorite places here haha)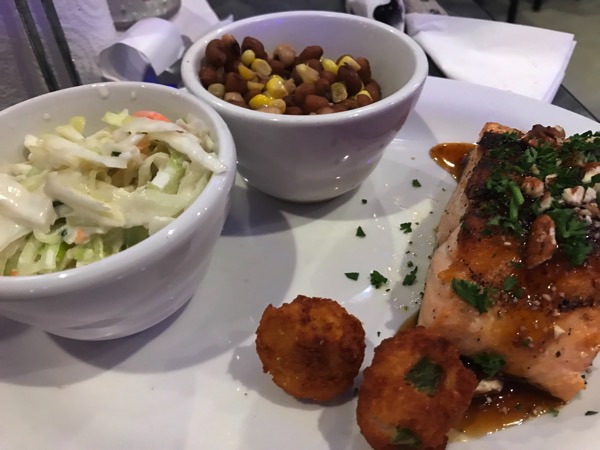 The rest of the week has been back into the usual stuff: teaching, child wrangling, and catching a yoga class with friends.
Hope you're having a wonderful week, too!
When you go to summer parties, what's your go-to side dish or appetizer recipe?
See ya in the am, and thanks for stopping by the blog today.
xo
Gina
PS. Happy happy birthday to this blog's first reader, ever: my nana! We love you so much. <3