Summer Shape Up 2014 Intro Post + Week 1
Summer Shape Up is finally here!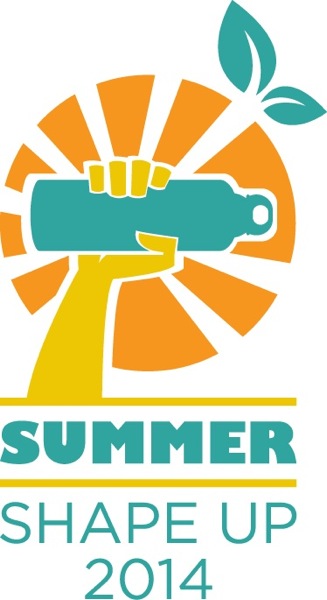 I've been doing Summer Shape Up since the early blog days, and it's been so much fun to watch it evolve and grow each year. I'm so excited that you'll be joining in with Anne and myself for the next 4 weeks to shake up your routine, share motivation with some seriously awesome ladies (and dudes!), enter fantastic giveaways, and potentially enjoy fantastic results from your hard work.
What is Summer Shape Up?
Summer Shape Up is 4 weeks of workouts and meal plans, provided for you for free from myself (a certified personal trainer and weight loss specialist) and Anne (a Registered Dietitian). The workouts are designed to be completed anywhere at any time with your own body weight and a pair of dumbbells. They contain a variety of high intensity intervals, steady state, strength training, rest and flexibility. The meal plans include whole, healthy ingredients, are easy to make ahead to enjoy during the week and are totally delicious 🙂
Here's what Summer Shape Up is NOT: a weight loss plan.
As many of you may know, weight is not a sufficient indication of body composition. As muscle as more dense than fat, you could essentially gain weight and shrink at the same time! This is another reason why you should throw your scale in the trash can. Instead of focusing on weight, Summer Shape Up is a plan to increase strength, fitness performance, promote lean muscle growth and fat loss, and increase energy levels. The best part about a new routine and the satisfaction of achieving your goals cannot be calibrated by any scale.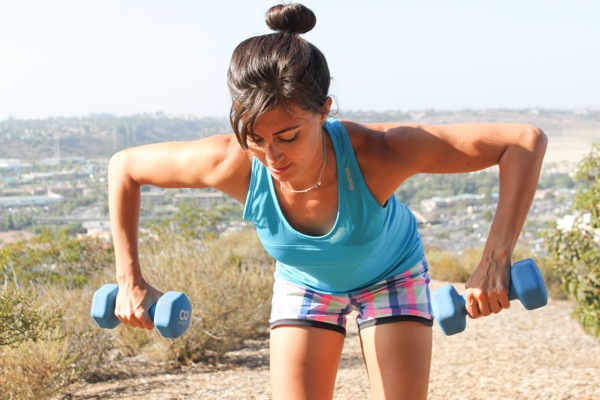 Some ways to measure change:
-Photos. Take some "before" pictures. Bonus points for bad lighting and a grumbly look on your face 🙂
-Measurements. Take some measurements before getting started and take them again at the end of the challenge. (That's right; you need to wait 4 whole weeks to do it again! There's no point in doing it more than that.)
-Energy levels throughout the day. Hopefully you feel invigorated from your new workout routine and healthy eats! I've found that when I make an effort to get daily exercise and balanced eats, I tend to evade the afternoon slump.
How do you get each week's workouts and meal plans?
The workouts will be posted here on the blog each week, and the meal plans will be on Anne's blog. We'll also have at least one giveaway running on each of our sites for the weeks during the challenge.
How to enter giveaways:
Make sure to check in EVERY day with your workout and meals. Check in on my blog for your fitness and on Anne's blog for clean eats to be entered in each weekly giveaway. The more you check in, the higher your chances of winning a sweet prize! You can also check in on our Facebook group, Facebook, Instagram and Twitter (#summershapeup @fitnessista @fannetasticfood)
Speaking of giveaways, let's send some love to the amazing sponsors of Summer Shape Up: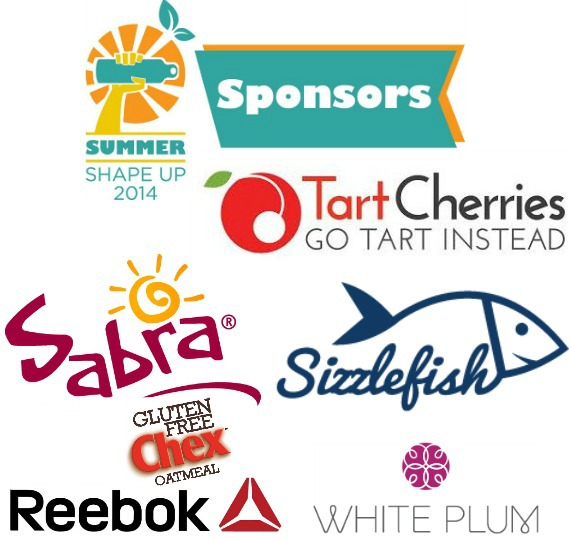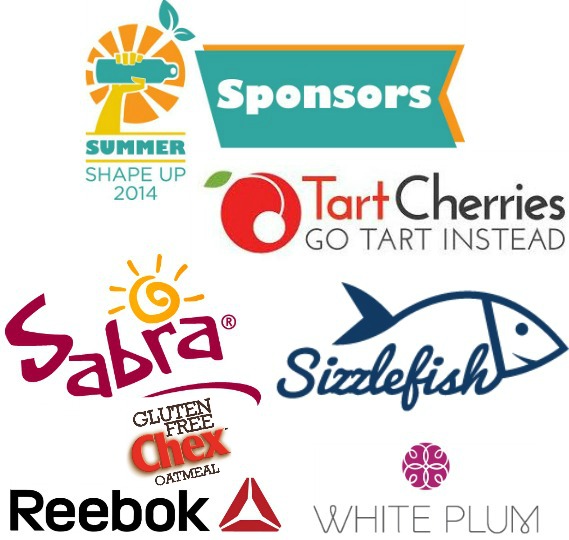 Sabra (makers of my favorite hummus ever!)
Cherry Marketing Institute (the fruit staple of the summer)
Chex Gluten-free Oatmeal (a hearty and healthy breakfast option)
Reebok (my fave fitness apparel)
White Plum (gorgeous and affordable fashion for women + kids)
Sizzlefish (sustainable fish already portioned and delivered to your door, so you can easily cook and enjoy)
Thank you to all of our sponsors for their support with this challenge, and for supplying the amazing prizes you'll be entered to win along to way 🙂
Time to get started!
-Get your tools together: a notebook (jot down your eats, workout, water intake and how you feel each day), a large water bottle (to tote around with your for the next four weeks), get yourself access to a pair of dumbbells and cardio of choice (running, jump rope, spinning, rowing, stairs, your choice) and join our Facebook group
-Snap some "before" pics or take measurements (right bicep, chest, narrowest part of waist, widest part of waist, right thigh, right calf)
–Join our Facebook group! It's a great place to ask questions, share motivation, and overall, a very fun place to be 😉
-Here's a badge to share on your blog if you'd like, too.
I'm joining the
Summer Shape Up
Keep this post in a safe spot because it will be your home page for everything Summer Shape Up-related. I'll update it each week with the weekly workout and meal plans. Pin in or bookmark it so you can easily check back.
Check out your Week 1 workout here. I hope you love it! The meal plan is up on Anne's page, too!
Stay tuned for the details on our first fitness giveaway from Reebok. It will be up in the am 🙂
Are you joining in the Shape Up?
Have you done a Shape Up on the blog before or is it the first one?
What is your goal? Shout it out in the comments!
Sending lots of love and wishes for a successful 4 weeks. I'm cheering for you <3
xoxo
Gina