Hiiiii friends! How's the day going? Hope you're having a great afternoon! <3 Thanks for all of the awesome feedback on the homemade Bitchin' Bowl! Let me know if any of you give it a try.
Smoothie in the sun after yesterday's BODYPUMP, while I waited for the Pilot and Liv to meet me for her gymnastics class: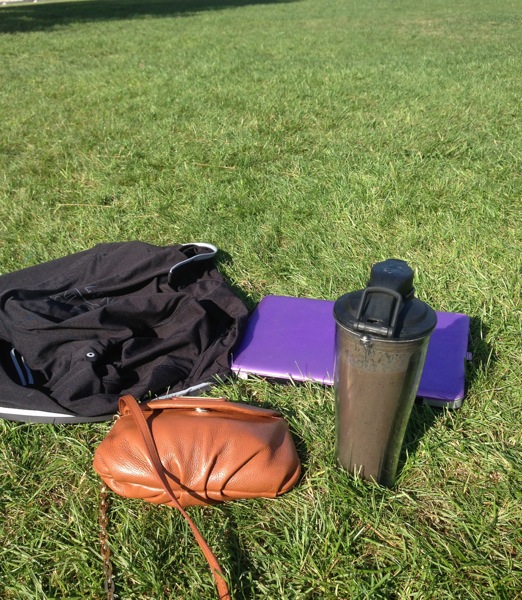 This post is going to be a little random, because nothing in the day had anything in common. So, here's something crunchy, sweet and spicy. 🙂
Crunchy: (and no, it isn't anything hippie-ish I've been doing lately, though we all know that list is loooonnnnggg)
This glorious salad. The inspiration started off with the spinach salad I had added to our meal plan, and while I started to make it, I was reminded of a salad that I love from Eclectic Cafe in Tucson with walnuts, feta, berries and chicken. I used crunchy romaine, chopped raw walnuts, blueberries, strawberries, grain-free baked chicken tenders (similar to these), and a creamy dairy-free Ranch dressing. It was GLORIOUS. I forgot how sweet and delicious fresh berries are in salads! Will definitely be making again soon.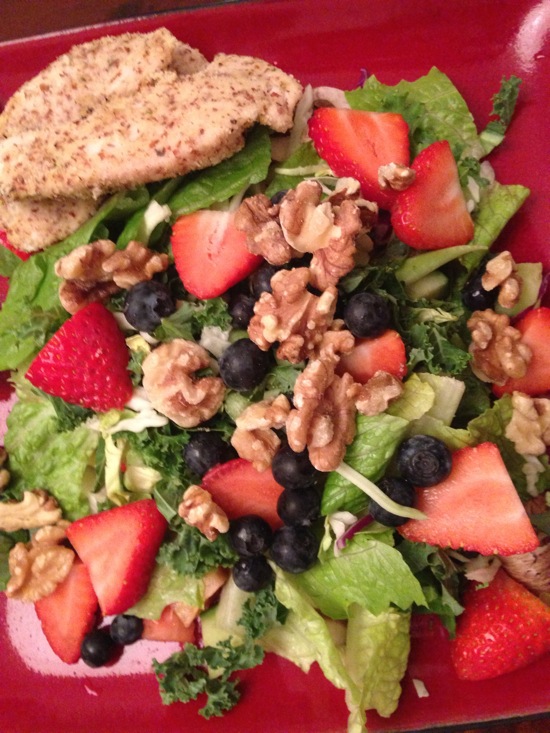 Sweet:
These Trader Joe's cold-pressed juices. I wish they were organic, but for the price ($4.99), they are awesome! I really liked the green one, but the yellow one wins so far. It has bell pepper, which I adore in juices but feel like I should eat bell peppers instead of juice them (organic ones are kinda pricey), and it gives it a great little kick. The pineapple in the juice is also super refreshing, and I can't get enough pineapple lately. 🙂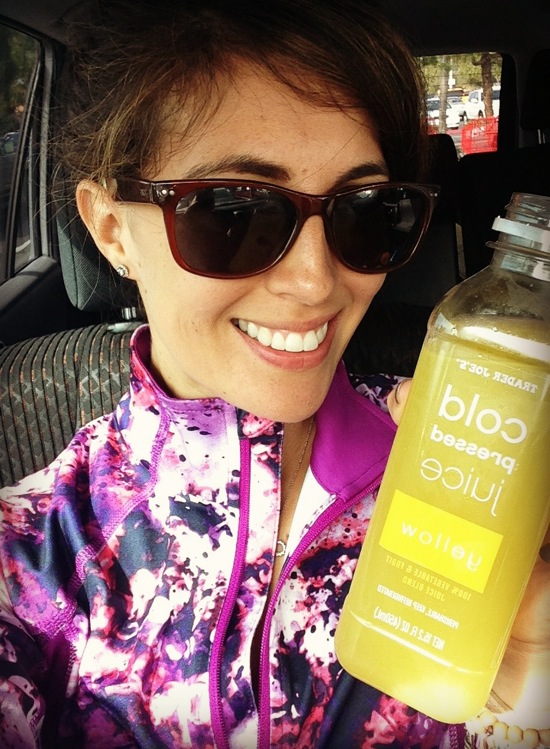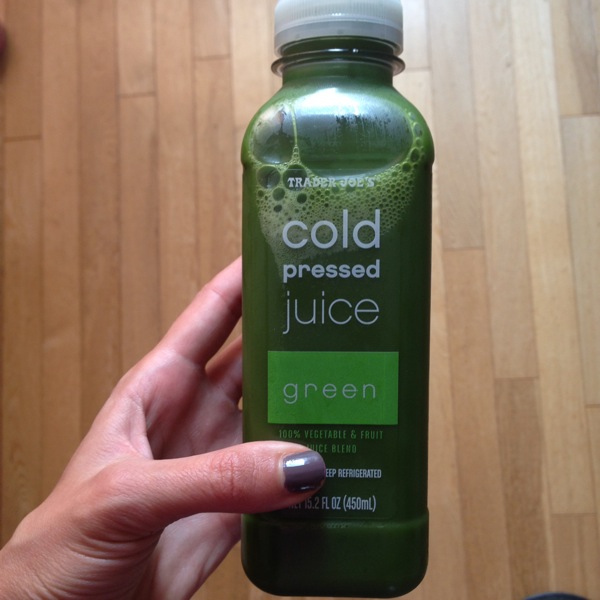 Spicy:
Flamenco today! I'm so glad I decided to finally take a class last week, because it is so.much.fun. The instructor is SO good (talented, sassy, kind), and the ladies in class are super sweet. It's definitely challenging, as flamenco is extremely technical and it's all new to me, but it's been such a nice way to shake up my routine. It's funny because we started off with the footwork for the Sevillana, and I was like YEAH I GOT THIS and then she added in the arm and wrist movement and I was like oh noooo. I'm excited to keep up with class, keep practicing and learning.
One of my very favorites, which is actually from Riverdance:
What's something sweet, spicy or crunchy from your day? Anything you did lately that was new or challenging, or inspired you to change up your routine?
Have a great night!
xoxo
Gina
PS I'm doing my first radio interview for "HIIT It!" tomorrow! I'll be sure to post the link when it's live.. if I don't sound like a goober. 😉