Or a week of weeks?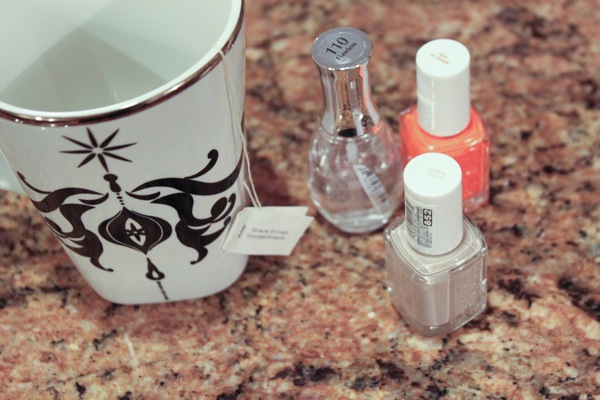 (My "down time" last night was a mug of tea and painting my nails. Business on top, party on the toes)
I think the universe cursed me for thinking to myself that I was so happy we made it a year without Liv getting sick. Even though we were at frequent squadron and family events, baby classes and playgroups…. a whole year! And now I've been punished.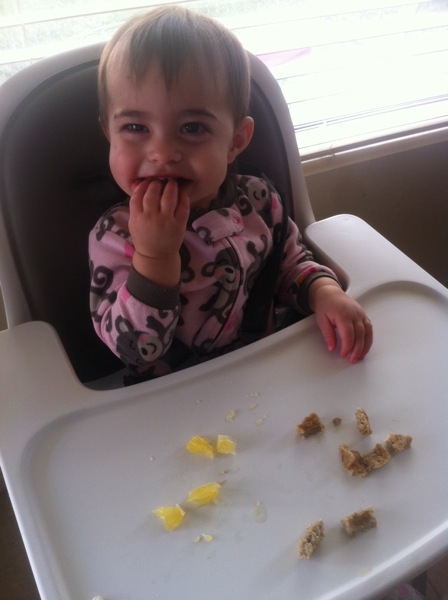 (Still smiling, though! Such a sweet girl.)
She got a one-year immunization on Monday and seemed to be doing great, but the past couple of days have been a little rough: sniffles, mild fever, crankiness. She's doing much better today, but I woke up with body aches and a sore throat. Fingers crossed that I'm just overtired and not actually sick. I'm home from work (a friend covered my classes), and am going back upstairs to sleep when nana comes over to play with Liv in a little while.
Jalapeños to burn it away: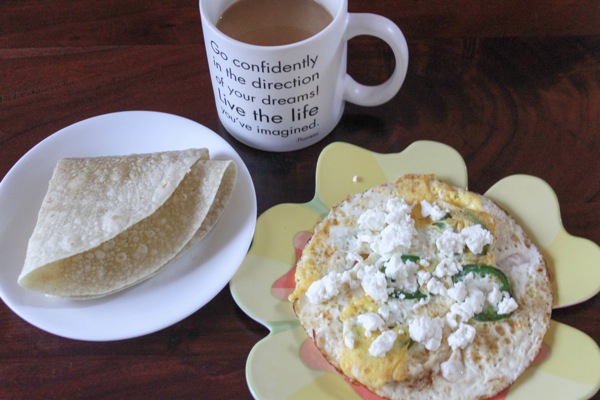 The goat cheese and jalapeño combo is still going strong. I picked up a container of fresh jalapeños at Trader Joe's for the week, and they're almost gone.
I'm also glad I took some time Sunday to prep lots of snacks for Liv and myself for the week:
Turkey lentil muffins (I skipped the loaf part and have been eating 3-4 as a snack)
baked 6 sweet potatoes
made a large batch quinoa
and chopped some veggies.
The Pilot is still eating softer foods since he got his wisdom teeth out, and it's pretty amazing- he hasn't experienced much pain and ZERO swelling. When I got mine taken out (maybe 10 years ago) my face doubled in size: chipmunk, fo sho.
I've been joining him in lots of soup dinners and cold foods: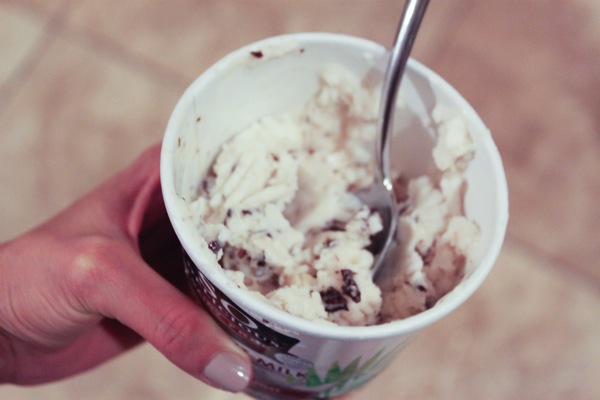 Moral support, you know. (Though I will say that ice cream isn't nearly as good when you've hunted all of the cookie dough bites out)
Hope you're having a good morning!
Get in a good workout for me, mmmm k?
xoxo
Gina
Something to read:
10 healthiest foods on the planet
Does drinking water help you lose weight?
A relaxing restorative yoga sequence
Miss America and 9 other celebrities that love CrossFit