Booty burning Walking Workout + the runner's dilemma
A few fitness tools that can be deceiving:
-playground balls (they look nice and whimsical, but can make your thighs feel a fiery fury)
-the Stairmaster (it's easy scoff at the 'master since you're moving slowly, but it's one of the most challenging cardio workouts for me)
-kettlebells (before I really knew how to use them, I thought they were NBD)
-foam rollers (don't look too scary, but I've seen them make grown men whimper and cry)
aaaaaaand
walking!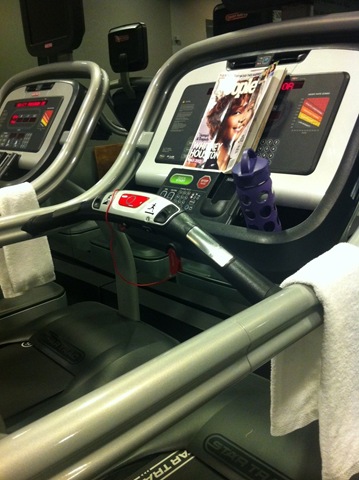 When I first got into fitness, walking was my cardio of choice. While my body was used to dancing -when you do the same activity for years and years, you get used to it- and I wanted a challenge. At first, I was kind of discouraged that I couldn't run -I had this silly preconceived notion in my head that if you couldn't go fast, it wasn't worth it- and was happily surprised when walking helped me accomplish my fitness goals. I started adding in small jogging intervals after I had lost the 40 lbs, but up until that point: I walked and I loved it.
I didn't really start to get into steady state running for a few years and still like to go back to walking when I'm not feeling high impact and want to get in a good cardio workout.
Just a couple of reasons to play around with the incline button:
Incline can help target your hamstrings and glutes. (Hello higher, tighter booty)
Hill walking is also a great way to enjoy an intense workout without additional impact, while receiving all of the cardio benefits of a killer session (calorie burning, fat burning, afterburn, heart health, list goes on and on…)
Here is a workout that I tried and loved recently: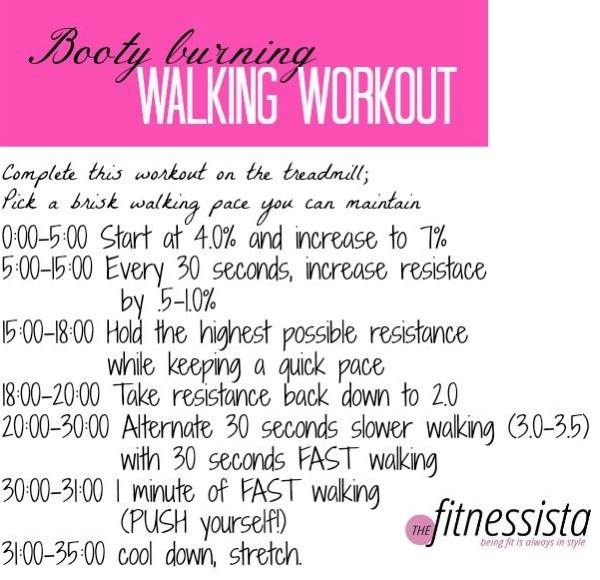 Make sure to check with a doc before making any cardio or fitness changes. Also, feel free to adjust the incline and speed as needed <3 Let me know if you give it a try!
Now that we've talking a little bit about walking, let's talk about running 🙂
I have a half marathon coming up that I want to run, but am thinking about following an adjusted training plan. Since I've recently done two halves, I feel like I can push myself for my next one. I'd love to claim a new personal record (my previous one is 1:56) but also avoid overtraining and injury.
Here's the plan I've been looking at: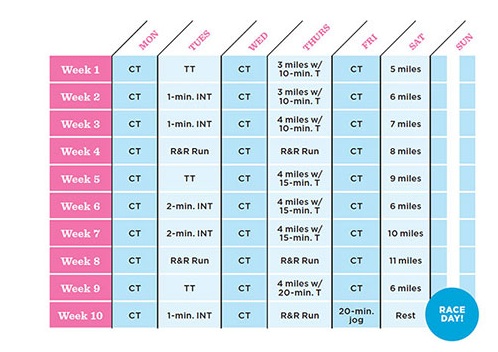 and how I'd like adjust it:
-shift everything forward a day. I like Sunday as long Runday 😉
-Add strength training (or know I'll be teaching a strength-based class on the other day)
-Cross training days = teaching days (usually Wednesday and Saturday for cardio)
-Strength train on the more challenging run days (with intervals or tempo runs)
One thing about common running plans that irks me is lack of strength training emphasis. I'm not a running expert by any means, so I'm not sure how many professional or hardcore runners strength train on a regular basis.  However, it seems to me that for the average Jane, strength training would be a great way to help prevent injury while training for a race. For my last half, I wasn't strength training as often as usual (I'm lucky to get in 1-2 sessions a week), and my knees definitely felt the hills.
Here's the thing: when your quads aren't strong enough to support your running (or any endurance cardio), it's easier for pain to transfer to your knees.
So tell me, friends: do you strength train? How often do you work your legs? Remember to let them rest and recover for 48 hours minimum before your next challenging speed run or long run.
Fellow fitness instructors, how do you train for races? One thing that works well for me is having one long run each week and that's it. I'd love to hear any of your tips!
xoxo
Gina