Pesto zucchini pasta with roasted veggies
Hey everyone! Happy Indian Food Wednesday! Who's celebrating?!
The pilot and I ended up staying awake until the wee hours of the morning, trying to get Viesa acclimated to her new muzzle. It proved unsuccessful.. she HATED it. We got one of the nice mesh ones, and even cut it in half so she could open her mouth wider, and she was not a fan. Since I'm picking up Bella in Orlando tomorrow, we need to think of something to keep them from fighting until we can find a home for Vies. Bah for puppy problems. 
This morning, I slept in like a lazy bum and grabbed some fruit before beginning the cleaning extravaganza.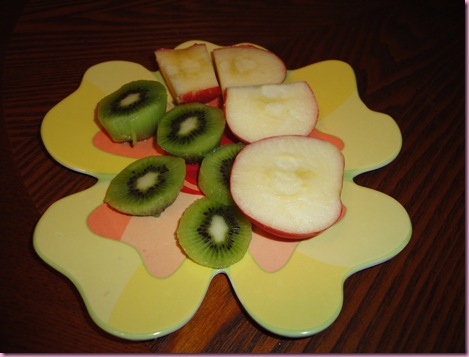 I picked up around the casa –still a lot to do, the pilot has been living bachelor-style for the past month and our road trip stuff is everywhere- and then hit up the commiscary for some groceries.
It felt nice to make a bfast for the pilot and pack his lunch, just like the good ol' days 😀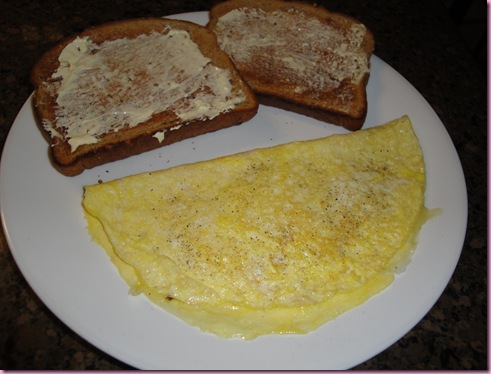 (He had a two-egg omelet with pepper jack cheese, two slices of Earth grain bread with Smart Balance and jelly)
And I glanced outside expecting my basil and herbs to be dead, but to my surprise, they were flourishing!!
They screamed, "MAKE PESTO WITH ME!!!!"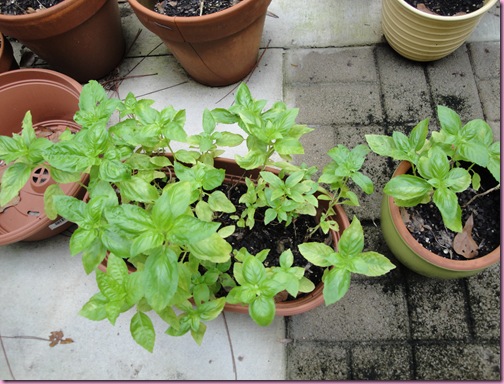 So I listened.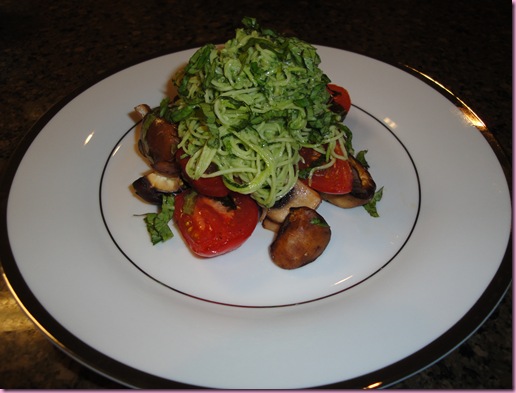 Pesto Pasta with Roasted Veggies
For the veggies:
Cut up veggies of choice (I used baby bella mushrooms, campari tomatoes and onion) and toss with EVOO, sea salt and pepper. Spread onto a Texflexx sheet and dehydrate for 1-2 hours until "roasted". (If you don't have a dehydrator, no worries, just toss them onto a baking sheet and heat your oven up to 300. Turn the heat off, and put the veggies into the oven with the door slightly cracked for an hour or so )
Before: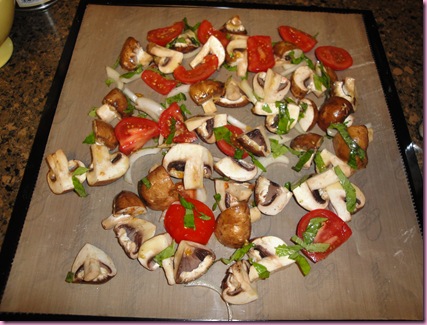 After: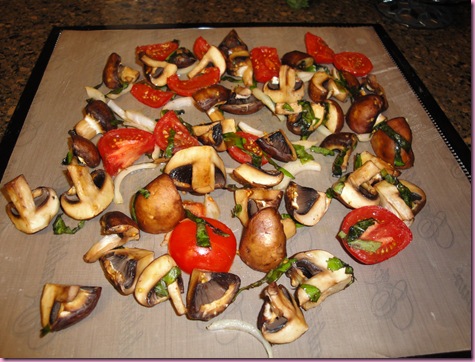 For the pesto: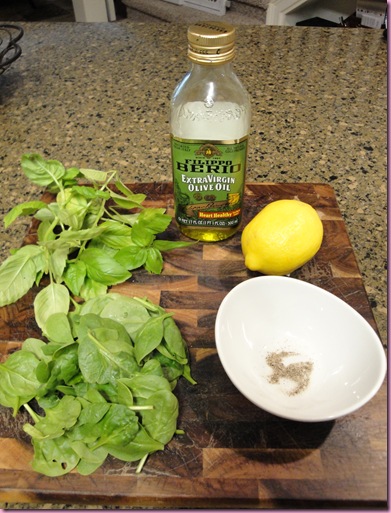 -1/2 cup fresh basil
-1/2 cup spinach
–1/4 cup raw walnuts
-juice 1/2 lemon
-EVOO, salt and pepper to taste
-1-2 garlic cloves
Pulse to combine all of the ingredients except for the olive oil. Stream the olive oil in last, taste and adjust seasonings as necessary.
For the pasta:
1 medium zucchini, spiralized (If you don't have a spiralizer, just cut it into thin strips.
Toss the zucchini with the pesto.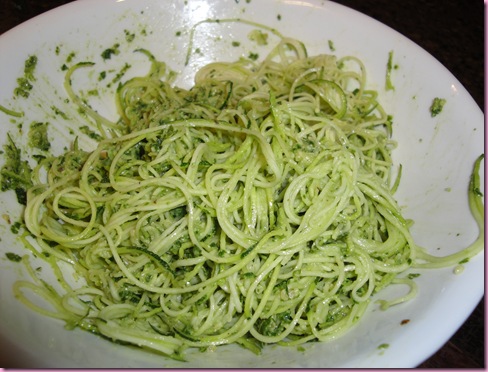 And serve with the "roasted" veggies.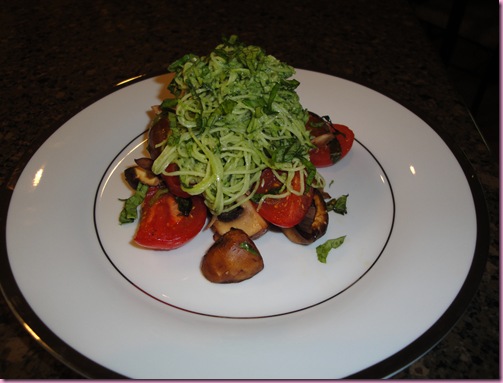 Ehh, it was pretty darn tasty 😉 Let me know if you give it a try!
As far as the workout situation goes, I'm planning on doing a yoga podcast as soon as my pasta digests and then meeting Jeni for cardio, weights and dinner.
Hope you have a wonderful day!
xoxo,
G
Today's tip: Spinach is excellent in pesto because it has a very mild flavor and can the reduce the amount of basil you need; another great thing about spinach is that it doesn't oxidize, so when you pulverize or blend it, it retains its lovely green shade. A lot of herbs turn murky brown when you process or blend them—spinach and parsley are great alternatives 😀