Zucchini pasta salad with creamy cashew sauce
Bringing back wacky out-of-the-box salads with this zucchini pasta salad.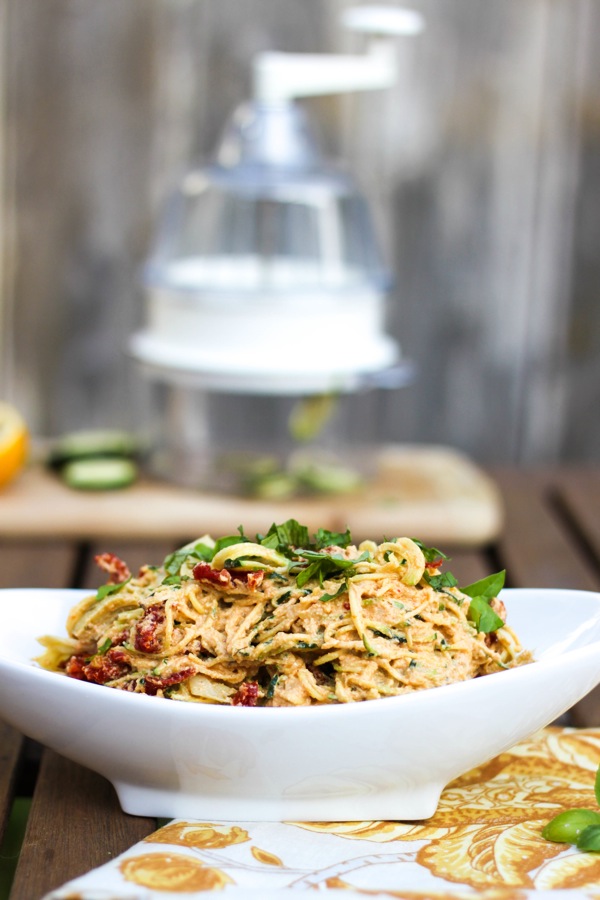 Even though, let's be real, they're around our house pretty much every day 😉
During the summer, I tend to get a little overzealous with the produce options and create some pretty interesting salad combos. Sometimes they're home runs, and other times, they're FGO (For Ginas Only). This one was particularly amazing, and I'm excited to share the recipe with ya.
The secret is the noodles….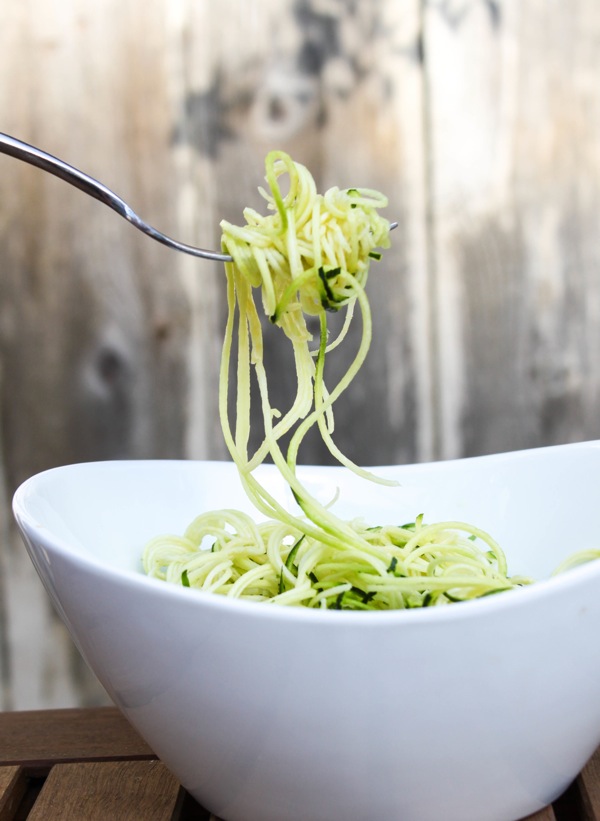 or "zoodles." 😉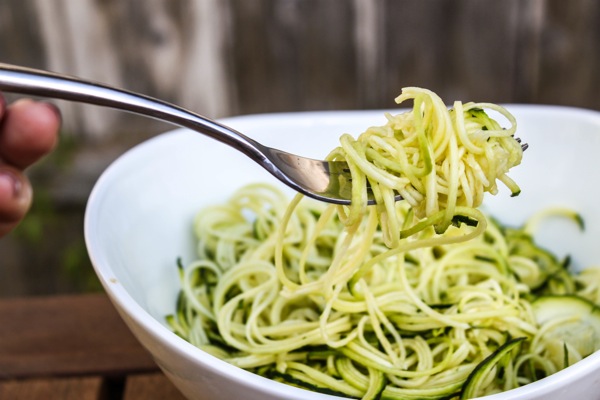 There was a bit of the reunion with the spiralizer this weekend -lots of embracing and Bruno Mars songs were shared- and I couldn't wait to spiralize some zucchini from the co-op. (PS. The co-op here is pretty incredible; you pay a $15 annual fee to receive member pricing and the produce selection is always abundant.)
How to Use the Spiralizer to Make Zoodles
The key with the spiralizer is to make sure you cut the zucchini into 3 chunks.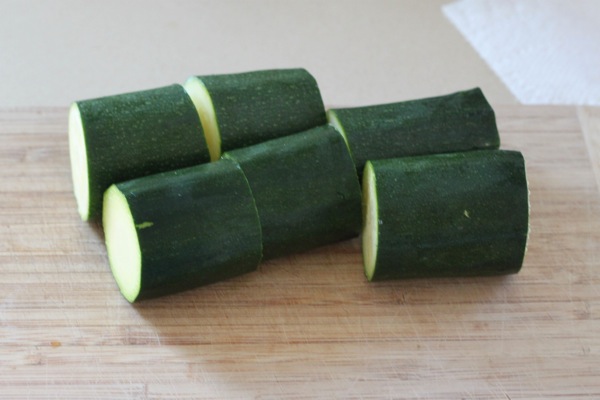 Place into the spiralizer prongs: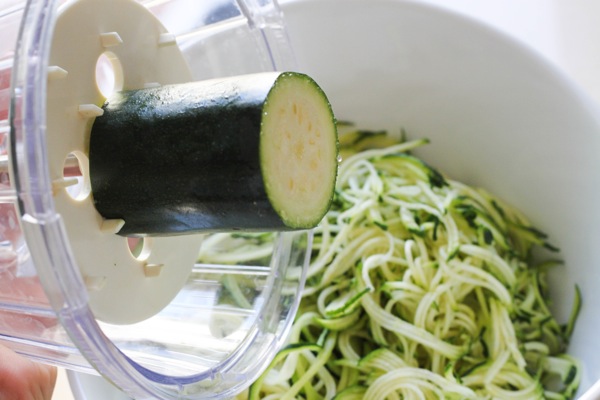 and whirl away to noodle glory.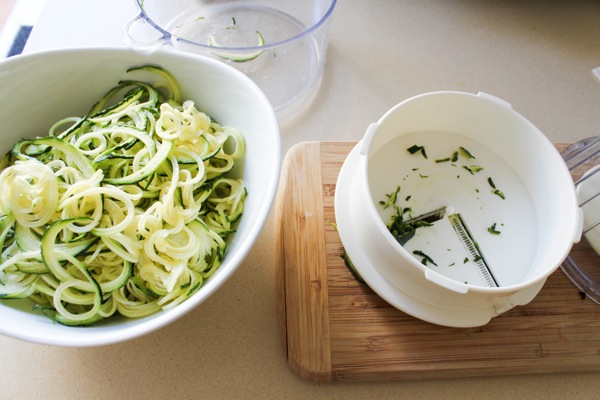 (A few people have asked about the spiralizer I use. It's the Joyce Chen model, which is $22, and I absolutely love it! Think it's five years old now?)
I've also learned that it's important to tell other people that they're "zucchini noodles." Don't try to play it off like regular pasta… it doesn't turn out well.
For this batch of zucchini noodles, I made a creamy vegan sauce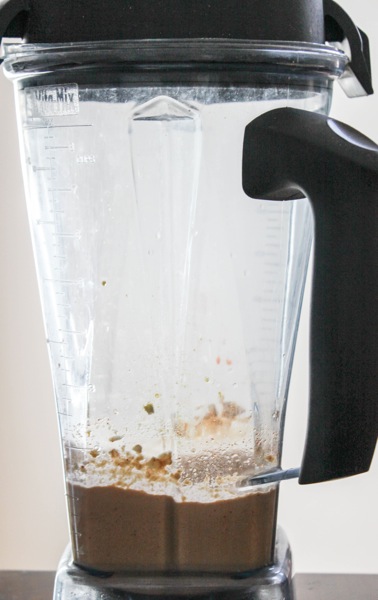 and added marinated artichokes, sundried tomatoes and fresh basil.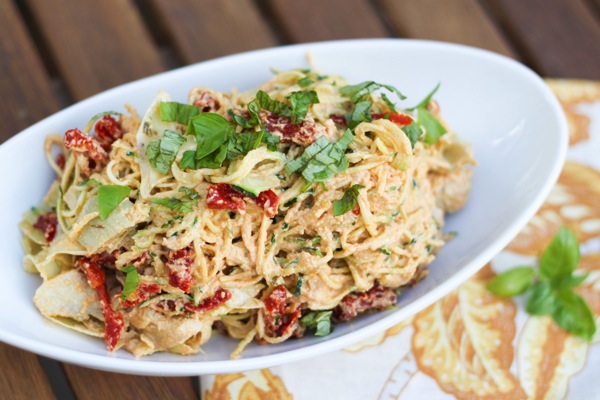 Here's the recipe if you'd like to give it a try! This one is completely vegan, mostly raw, but would also be wonderful with grilled tempeh strips or diced chicken mixed in.
Hope you enjoy! <3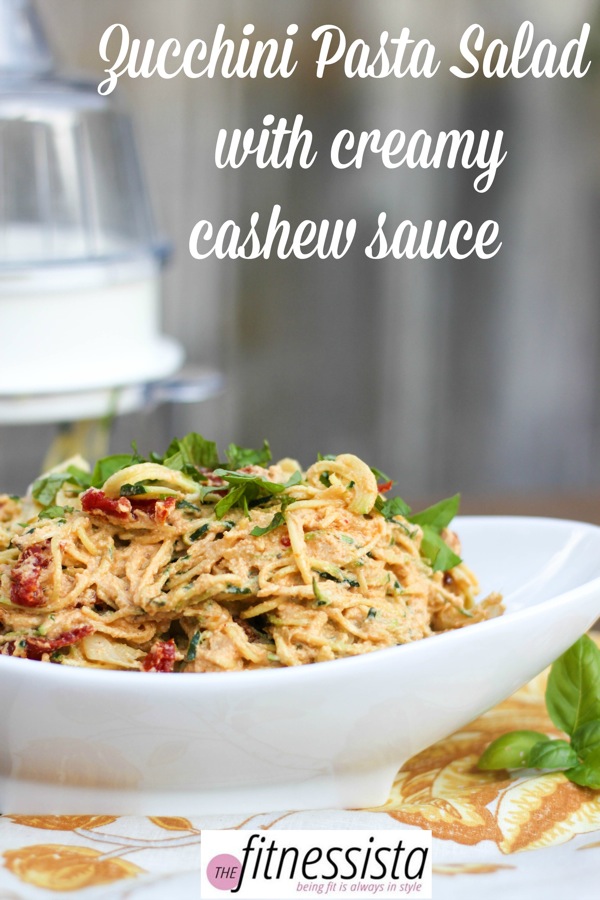 Zucchini pasta salad with creamy cashew sauce
A creamy, savory summer salad using zucchinis as the noodles. Feel free to customize with any mix-ins! Cashews provide the texture for the dressing, and this recipe is gluten-free and vegan
Prep Time:

10

Total Time:

70

Yield:

2

1

x
For the "noodles:"

2

large zucchini, spiralized or sliced with a veggie peeler
For the sauce
1 cup

raw cashews, soaked in water for

1

hour and rinsed

3 tablespoons

nutritional yeast

1 teaspoon

smoked paprika

1/2 teaspoon

garlic powder
Juice of

1/2

lemon
Sea salt and pepper to taste
Mix-ins
3

heaping tablespoons sundried tomatoes

6 ounces

marinated artichoke hearts, drained

2 tablespoons

fresh basil, chiffonade cut
Instructions
Place the zucchini noodles in a large bowl.
Next, make the dressing by combining the sauce ingredients in a high-speed blender. Blend until smooth and taste to adjust seasonings as necessary.
Pour the sauce on top of the zucchini noodles and stir to coat. Mix in the sundried tomatoes, artichokes and top with the basil to serve.
Notes
This recipe also tastes fantastic the next day! (I wouldn't go two days though; it would get a little soggy)
Nutritional yeast is found in the supplement section or bulk bins of many health food stores. It's a great source of protein and B vitamins with a rich, cheesy flavor.
Any interesting salad combos lately?
Where do you usually get your produce? We shop at Trader Joe's for almost everything, but I'm also a huge fan of organic meats and berries from Costco.
Hope you have a wonderful night!
xoxo
Gina
More of my favorite salads:
Fruit salad with orange and honey