Hi friends! Happy Monday! Anyone else moving verryyyyyy slowly after the weekend's festivities? I hope you had a wonderful weekend.
Ours was packed with tons of fun:
movie night at the pool with friends
miniature golf with the crew
a wine and barre girls' night
Easter festivities
and Trevor's birthday celebration at the fair.
Friday afternoon, Liv had pictures at the dance studio, and then we headed to the pool to meet up with friends. Last summer, we spent almost every Friday night at the pool with them: the adults with margaritas in hand, and the kiddos munching on quesadillas or chicken fingers in between swimming their little hearts out. Sometimes they'll project movies onto a giant screen. This weekend it was Incredibles 2 and the kids had the best time. It made me feel like summer is officially here. 🙂
Our big adventure for Saturday was putt-putt golfing at Golf n' Stuff, plus arcade games and riding the bumper boats. It's funny because I used to go to Golf n' Stuff as a kid, and literally nothing has changed. The weather was perfect for walking around golfing, both kids were into it (No tears of frustration! We made it to the sweet spot), and Liv got not one, but TWO holes in one. Oh hey, tiny Tiger Woods.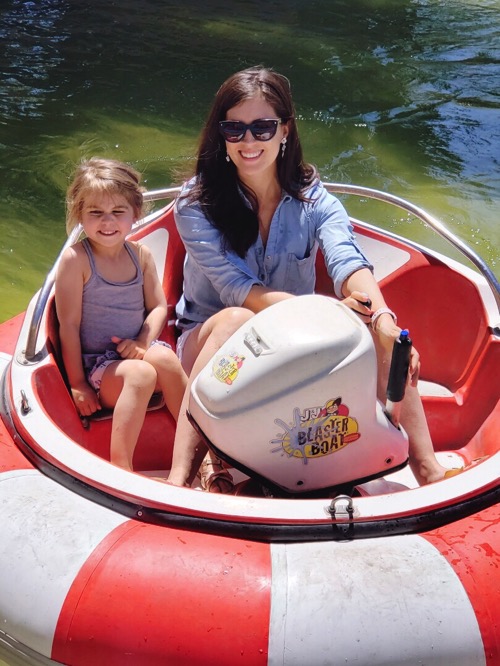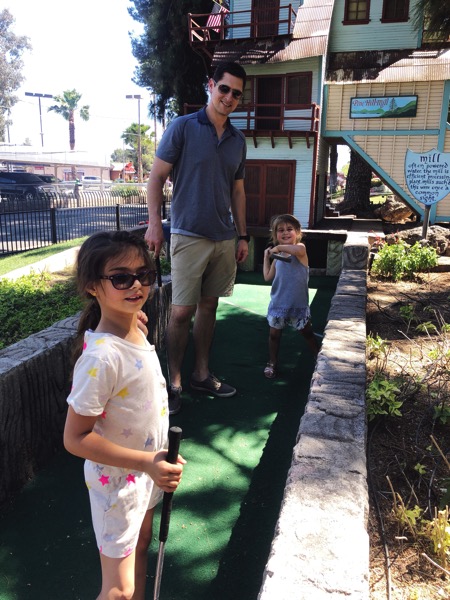 Later that evening, I my friend Sam for a wine and barre event at BC Dance. You know, just a casual Saturday night in a tutu, sipping some wine lol.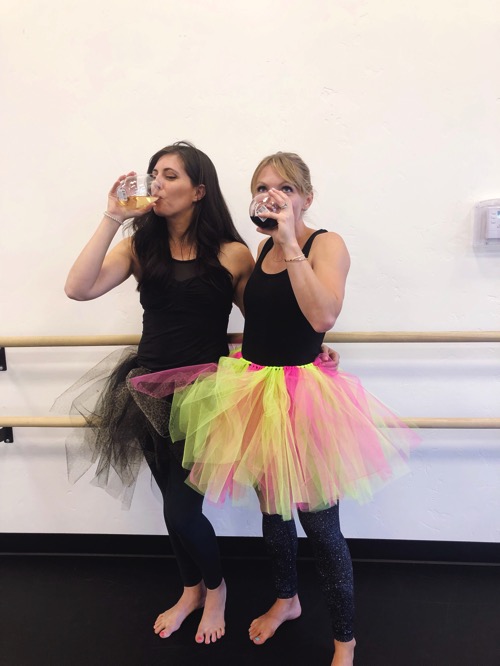 We enjoyed drinks and appetizers, were fitted for our tutus (heh), the spa next door offered $10 per unit Botox (quite a few of the ladies took advantage of this special and we both totally had a "everyone else is doing it, so maybe we should, too?" moment. In the end, we ended up spectating. I LOVE the idea of a smooth forehead but knowing my luck, I'd be allergic to it or something), they had raffles (I won $50 to Athleta! yeah yeah), and then we took a ballet class from the fabulous Mr. Cory. He is a treasure of a person; so fun and talented. I can absolutely see why his studio is so successful. (Confession: the girls dance at another great studio but after this experience, we're considering switching over.) We did some work at the barre – I could feel the squandered dancer inside of me break free, just a teeny bit – some turns, and a short combo. It was even more fun with the fact that everyone in the room had enjoyed at least a glass or two of wine at that point. 😉 I'm convinced that a couple glasses of wine makes anyone a ballerina.
After class, we walked over to Fleming's and sat at the bar. We chatted, ate steak, calamari, and veggies, and it was perfect. I got home with enough time to finish prepping the cinnamon rolls for Sunday morning and set out the girls' Easter baskets before crashing into bed.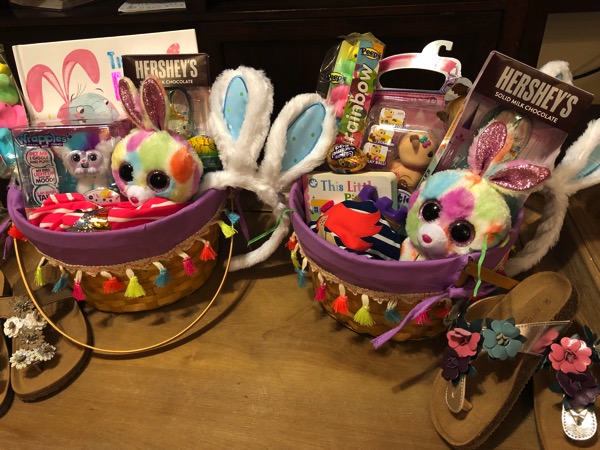 The year, they got some candy (the only thing they actually requested), the same flip flops they wore all summer last year (I wish they had these in my size!), swimsuits (Liv got a unicorn and P got a mermaid), books, Kinetic sand, a small stuffed bunny, bunny ears (which they wore all morning), and a toy for each. When they woke up in the morning, they were SO pumped and cute with their baskets,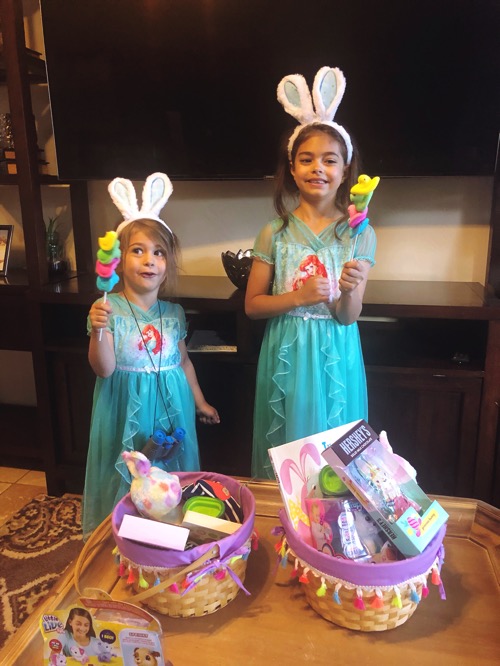 and couldn't wait to hunt for eggs outside. Liv was so sweet helping P find eggs, and they they shared the "goods" at the dining room table, swapping chocolate for jelly beans and coins for dollars.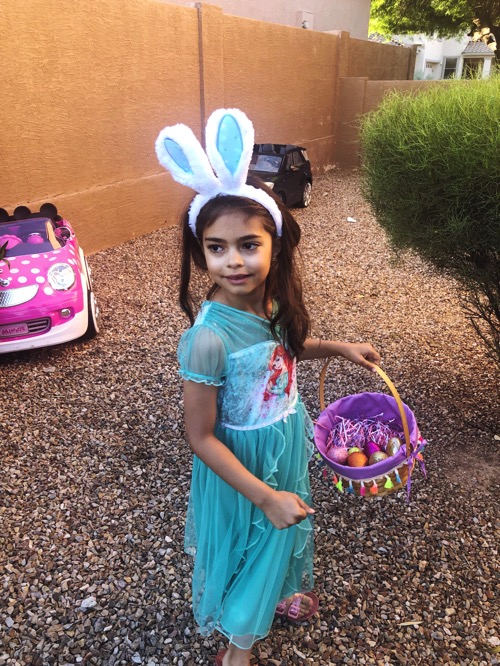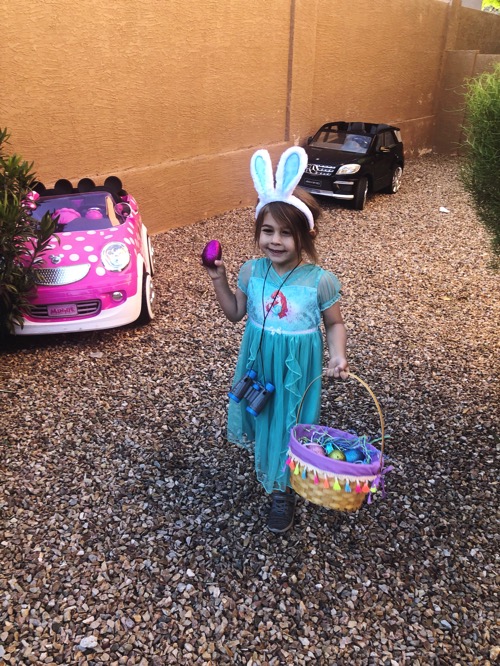 They played with their new toys, ate a ton of candy, I put the cinnamon rolls in the oven, and then we headed to my nana's house for the classic Easter brunch. I look forward to this pretty much all year. Easter is one of my favorite holidays; there's not a huge focus on gifts, you get to spend time with the family together, and you can drink mimosas and eat amazing food.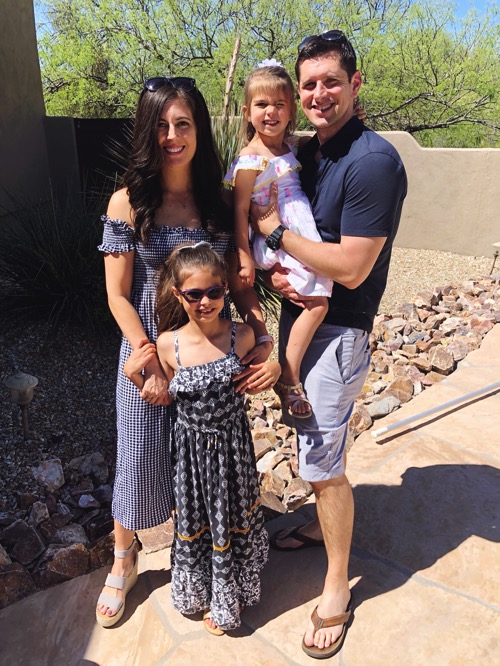 (My dress is here; wedges are from last year butt the brand is Dolce Vita)
Dessert table!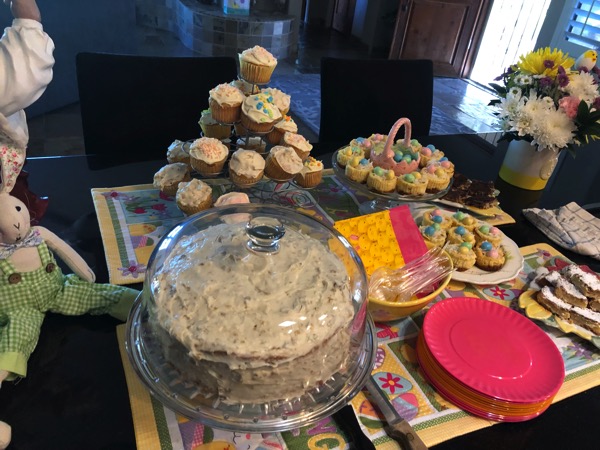 These two kept randomly disappearing inside and totally cleared out every caramel chocolate egg my nana had in a little dish haha.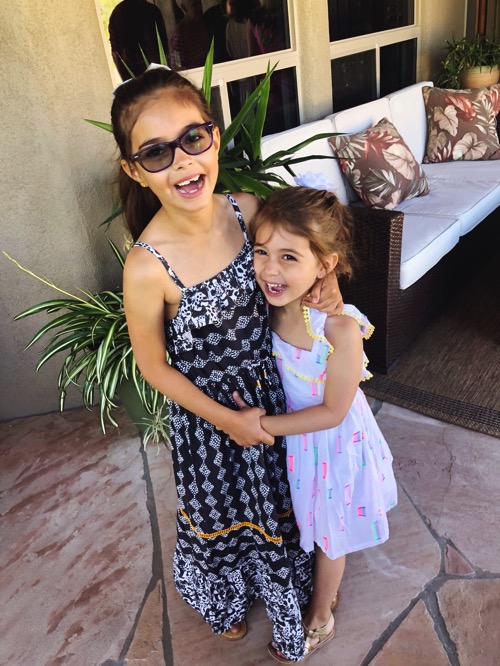 Kyle, Meg, EJ, and Baby August made it to brunch, too, and everyone loved getting to see the newest member of our family. He's still so sleepy and snuggly, and smells so, so good. The sweetest.
After brunch, we came back home to relax for a bit and recharge for the evening. Easter coincided with my brother Trevor's birthday this year, so we headed to the Pima County Fair to ride the rides and hang out with him. The girls pretty much lived their best lives all weekend. <3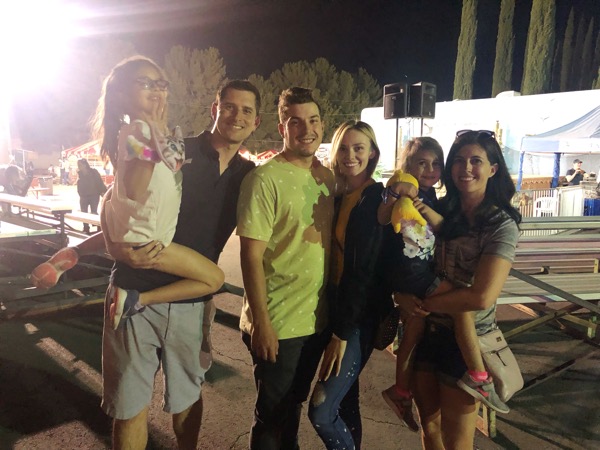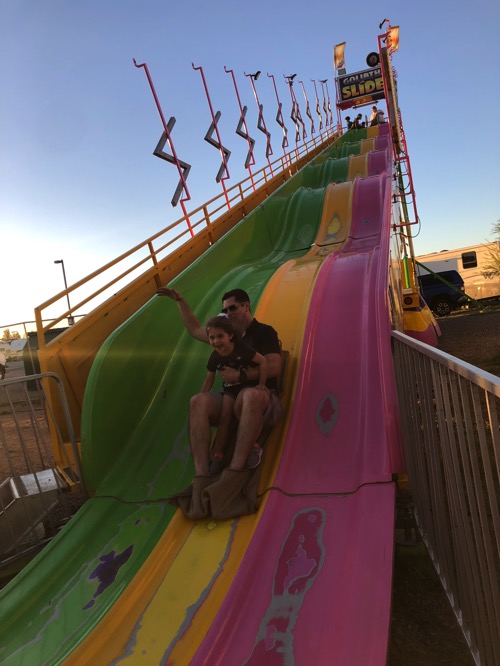 This morning, it's back into the swing of things and starting to get excited because Betsy and the fam are visiting this weekend! We CAN'T WAIT to see them and have some fun Tucson adventures planned. I'm also teaching a spin class later so I need to get a playlist together.
I hope you have a happy Monday and I'll see ya in the am with a new workout post.
xoxo
Gina
Looking for a workout? Try this barre workout; it has some of my very favorite moves.